Fantasy Sports Betting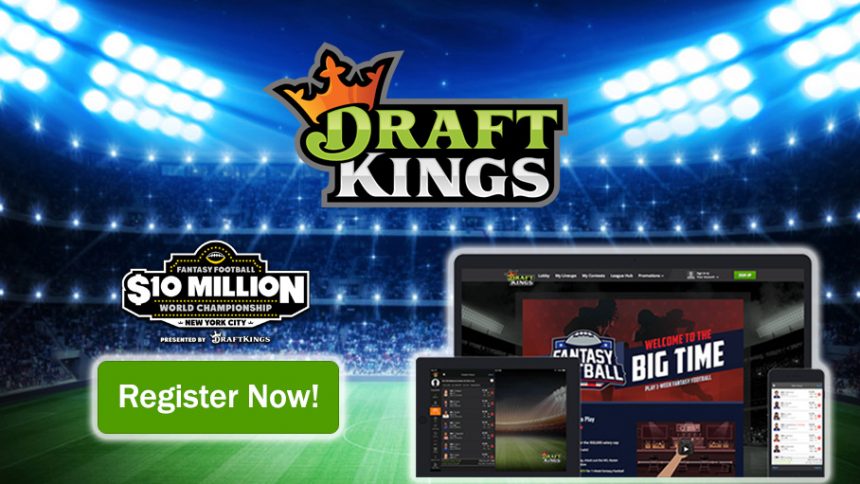 DraftKings Review
September 8, 2016
DraftKings
Bonus
Welcome Bonus: First deposit of $5 or more, get free $3 ticket to play in any $3 paid contest.
Promotions
NFL: $10 Million Fantasy Football World Championship, $1 Million King of the Beach, Free $100,000 Fantasy Football Contest, $50,000 Monster Energy Fantasy Football Series
MLB: $500,000 Bracket Challenge
PGA: $2 Million Fantasy Golf Championship Month, $1 Million Fantasy Golf World Championship
NAS: $150,000 Fantasy Racing World Championship
MMA: $75,000 Fantasy MMA Main Event, $100,000 Rumble in Gotham
Other Promos: Free Contest Arcade, Bucket List: Once-in-a-Lifetime Experiences, 10 Days of Giveaways, Flash Bonus Blitz (every Saturday), Refer-a-Friend ($20 DK Dollars)
(UK site promos: $5 Fantasy Football Millionaire, $28,000 Golazo, Deposit £5 to get 4 Free Entries + win a share of £20,000 this Saturday)
Loyalty Bonus
Player Rewards Program
($1 = 1 Frequent Player Point (FPP))

Sports
NFL, MLB, NBA, Golf, NHL, NAS, SOC, MMA, LoL, CFL, eSports
(UK site offers specialized FOT (Football/Soccer) feature)
Founded
2012
(UK site: 2016)
Owner
DraftKings Inc.
License
(UK site: UK Gambling Commission)
Currencies
USD
(UK site accepts GBP, but is converted to USD)
Languages
English
Depositing Methods
Visa, MasterCard, Discover, American Express, PayPal (giftcards from these providers are also accepted)
(UK site: PayPal)
Available in US
Yes
Mobile
Yes
Customer Support
Support Hours:
Mon – Fri: 9:00 AM EST – 11:00 PM EST
Sat – Sun: 11:00 AM EST – 7:00 PM EST
Live chat
Email form
Email: [email protected]
Excluded States
Residents of the following States can open and maintain accounts for use only in games that do not offer prizes: Alabama, Arizona, Delaware, Hawaii, Idaho, Iowa, Louisiana, Montana, Nevada and Washington.
(Legal residents of Alabama, Delaware and Idaho who are physically located outside of the Excluded States are eligible to deposit funds, enter contests and earn prizes.)
DraftKings
 is at the very pinnacle of Daily Fantasy Sports (DFS), providing the most exquisite services to players from the US and the UK – opening in those markets in 2012 and 2016 respectively.
With a total of 10 sports to choose from, DraftKings has no parallels when it comes to Daily Fantasy Sports. The US site boasts all the most popular sports, with some of the classic ones being: NFL, MLB, SOC (soccer), MMA and many other sports options. The UK site features nearly all the same options as the US site, with the exception that SOC (soccer) is instead titled FOT (football).
The playing experience is one-of-a-kind, considering that DraftKings features all the important sports elements expected of the biggest Daily Fantasy Sports provider. A big plus is that DraftKings follows a no-nonsense approach, so everything is simple and to-the-point. You don't have to go through a range of options before you can play your team; just simply create the best lineup with your budget, pick your contests and leagues, and you're already on your way to winning one of the many major prizes!
Open an account with DraftKings in under 60 seconds, as all it requires is the most essential info, while the rest of the details (banking, bonuses, etc.) can all be filled out later. Right after you sign-up, claim the Welcome Bonus ($600 in Bonus Credits) and then go ahead and assemble your dream team for the next event. (For every $25 that you invest in any contest, DraftKings will reward you with $1 in Bonus Credits.)
But the greatest thing about DraftKings is that this is the smallest bonus; other offers can see you earn anywhere from a few thousand up to a jaw-dropping $10 million with the Fantasy Football World Championship – the top prize for this promo stands at $2 million. Not bad, eh? Every major sport at DraftKings has its own set of promotions, so you can easily be making money simply through the promotions. Create a winning team and then enter any one of the championships to win the biggest prizes with the best provider of Daily Fantasy Sports.
DraftKings use their own special currency called 'DraftKings Dollars' that are basically cash-equivalent credits, and can be used to enter real money contests that can see you win millions in prizes. (But, as you might have expected, you can't withdraw DraftKings Dollars, but can only be used on the site itself.)
Certain competitions will give out Frequent Player Points (FPPs), which can be redeemed for other items in the VIP Store, like: contest tickets that range from a few Cents up to a few thousand Dollars, special DraftKings merchandise and apparel. (Note: $1 = 1 FPP)
DraftKings can be played all over the US, except a few jurisdictions that are referred to as the Excluded States – please refer to this section above for more info. If you have any concerns or questions regarding your sports action, DraftKings' customer support offers a quick solutions to your problems.
Since DraftKings is a US-based Daily Fantasy Sports site, you can only play in US Dollars, however it's a bit disappointing there aren't many depositing methods to complete your transactions with; you're limited to a few banking options and that's it.
DraftKings UK
The UK site features most of the same options as the US version, although there are a few differences in terms of sports and bonuses. Football/Soccer is abbreviated as 'FOT' on the UK site, and it features all the biggest names in football.
DraftKings UK offers a few extra promos that will make your playing experience all the more entertaining, if you're a UK player, of course. For a mere deposit of £5, you'll get 4 Free Entries to contests, and on top of that there's a whopping $5 million up for grabs with the Fantasy Football Millionaire offer.
Also, when you sign-up with the US site, you can't switch over to the UK version (and vice-versa) – it requires you to create a separate account with the Daily Fantasy Sports provider. When you deposit in British Pounds, your money will be converted to US Dollars based on the conversion rate on the site. But besides these small alterations, the layout and the overall gaming system are the same as the US-based DraftKings.
DraftKings