Betting Odds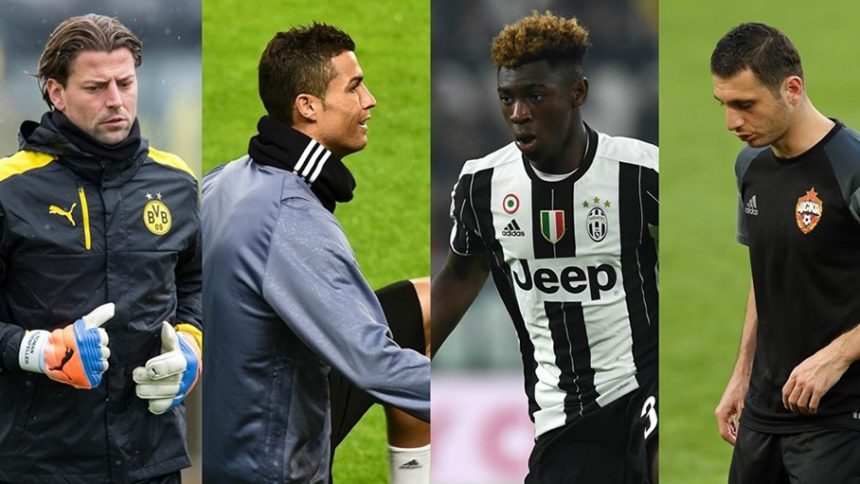 Champions League Betting Tips November 22 (2016)
November 22, 2016
Expect thrilling matchups in round 5 of Europe's elite competition with a total of 16 games on the agenda; follow Betting Herald's Champions League Betting Tips for a detailed report on the best encounters.
(Image credit: UEFA)
Tonight, we'll see clubs from Groups E-H go head to head as they chase the continent's most coveted trophy.
Champions League Betting Tips – Group E
Let's start off with the most exciting betting opportunity for tonight – the CSKA Moscow v Bayer Leverkusen match will kick off round 5 first (17:00 GMT), however the former side last in Group E with only 2 points and they are yet to record a win in the competition. Leverkusen – who are second with 6 points – need to get as many points as possible over the next two games to ensure they qualify for the knockout phase.
It's safe to say that Group E is one of the most uncertain groups in this year's tournament with only leaders Monaco (8 pts) so far showing somewhat of a promise. Tottenham – who are third with only 4 points – are at this stage very unlikely to qualify for the last 16.
We've got our bets on the top two sides making it to the next round – based on their form so far – but for tonight's Group E matches our Champions League Betting Tips are for you to place bets on draws in each game.
CSKA v Moscow v Bayer Leverkusen – H 4.50 (7/2) D 3.75 (11/4) A 1.85 (17/20)
Monaco v Tottenham – H 2.80 (9/5) D 3.40 (12/5) A 2.70 (17/10)
(Check out Bet365 Sports Review at Betting Herald for more info about the online sportsbook – it features the best betting markets and offers a range of sportsbook bonuses.)
Champions League Betting Tips – Group F
Group F is a no-brainer; Dortmund and Real Madrid will undoubtedly make it to the next round, rendering tonight's matches pointless, as the former has 10 points while the latter has 8 points, after 4 rounds in tournament. All Real Madrid need is a draw tonight to ensure their qualification, but we're still predicting a win for them against the Portuguese side. (Back Real Madrid to clinch a victory over Sporting Lisbon with Today's Enhanced Offer at Coral.)
Sporting Lisbon v Real Madrid – H 5.75 (19/4) D 4.33 (10/3) A 1.61 (8/13)
Borussia Dortmund v Legia Warsaw – H 1.11 (1/9) D 11.00 (10/1) A 29.00 (28/1)
Cristiano Ronaldo will visit his old stomping ground tonight.
(Image credit: All about CR7)
Champions League Betting Tips – Group G
With 10 points, Leicester City are top of Group G, which means that they've got one foot in the last 16, while second placed Porto (7 pts) and third placed Copenhagen (5 pts) will battle it out for second place in the group. The Foxes will host Club Brugge at the King Power Stadium tonight, in what should be a routine win, considering their great run so far in Europe. The Portuguese and the Danish sides could both use a victory tonight, as it would ensure Porto make it forward, while a win for Copenhagen would keep their hopes somewhat alive, dependent on the result they will have achieved in round 6. Today's Champions League Betting Tips for this group is a win for Leicester and a possibly X2 (draw/away win) for the Copenhagen v Porto match
Leicester City v Club Brugge – H 1.66 (4/6) D 3.80 (14/5) A 6.00 (5/1)
Copenhagen v Porto – H 3.80 (14/5) D 3.20 (11/5) A 2.25 (5/4)
Champions League Betting Tips – Group G
Group H is another no-brainer, as leaders Sevilla already have 10 points to their name, while Juventus –who are in second with 8 points – will probably come around and find their better form today than in previous occasions, despite the absence of some star players. Dinamo Zagreb (0 pts) has no chance of progressing, which leaves second place up for grabs, however Lyon (4 pts) have a very slim chance of making it to the last 16.
Dinamo Zagreb v Lyon – H 7.00 (6/1) D 4.33 (10/3) A 1.53 (8/15)
Sevilla v Juventus – H 2.90 (19/10) D 3.00 (2/1) A 2.90 (19/10)
Make sure to check out Champions League Betting Tips at Betting Herald whenever Europe's best are set to lock horns.