Betting Odds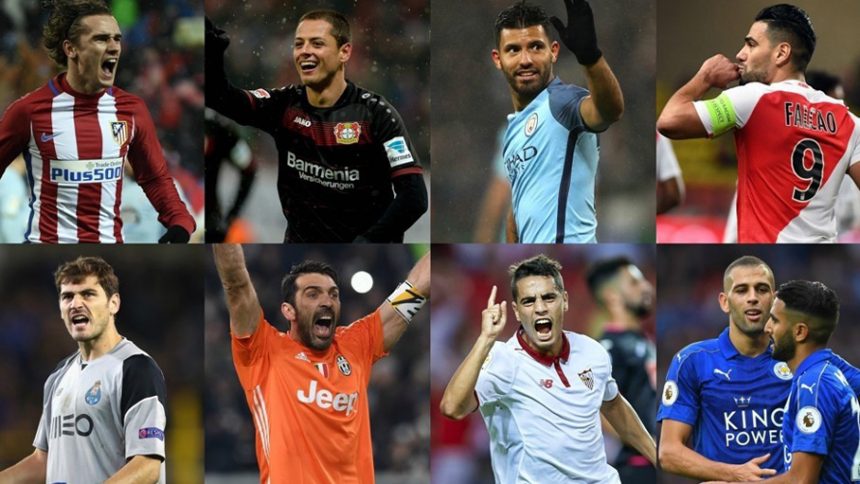 Champions League Betting Tips Round of 16 (February 21 & 22)
February 20, 2017
Take a look BH's Champions League Betting Tips for the second batch of the last 16 before placing a wager on the thrilling encounters.
(Image credit: UEFA)
Last week's encounters in the round of 16 were full of surprises and drama, so make sure to check out the hidden opportunities for this week's action with Champions League Betting Tips. Five-time European winners Barcelona were demolished 4-0 by PSG, while Bayern Munich thrashed Arsenal 5-1 in the first games of the round of 16 on February 14 & 15. We're expecting another great showcasing this week as some European heavyweights – that feature lethal attacking players – are set to go head to head.
Champions League Betting Tips February 21 (Tuesday)
Atletico Madrid reached the final of the Champions League last campaign for the second time in three seasons, but have once again failed to lift the most coveted trophy on the continent, against their cross-town rivals Real Madrid. But thanks to their achievements last season and their current impressive squad, they're one of the main favourites to clinch the trophy in Cardiff, on June 3.
Bayer Leverkusen have managed to reach the last 16 of the competition after finishing second with 10 in Group E, edging out Tottenham by three points. They've performed rather poorly throughout the group stage which saw them win only on two occasions, while the other four encounters ended with draws. Considering the great differences between the two sides that are set to go head to head at the Bayer Arena on Tuesday night, we're backing Diego Simeone's men for the win. It's quite simple, actually.
Bayer Leverkusen v Atletico Madrid – H 11/5 (3.20) D 21/10 (3.10) V 27/20 (2.35)
Arguably, the greater of the two matches on Tuesday night will be held at the Etihad Stadium between Man City and AS Monaco. This will see the return of Radamel Falcao to England, where he enjoyed unsuccessful spells with Man United (2014/15) and Chelsea (2015/16). However, since his return to the French Riviera, the Colombian has scored 22 goals until this stage, with four of those coming in five Champions League appeareances. So Pep Guardiola will undoubtedly look for ways to neutralize the threat posed by Falcao.
Man City have a case to prove in Europe's elite competition, after falling out of the title race domestically. Since the Sky Blues will be playing in front of their own supporters, they'll be expected to win the games, however Man City have blundered on occasion while playing at home this season. We're still backing them to win this first match, but we're predicting with our Champions League Betting Tips Guardiola's men will have to fight it out to get a victory away from the French side.
Man City v Monaco – H 4/7 (1.57) D 29/10 (3.90) V 21/5 (5.20)
(Check out Coral Sports Review for more info about the online sportsbook – collect big sportsbook bonuses before betting on the hottest Champions League markets.)
Radamel Falcao has been in for this season, finding the back of the net 22 times across all competitions, with 4 goals coming in the Champions League. (Image credit: UEFA)
Champions League Betting Tips February 22 (Wednesday)
Leicester City made a historic achievement last season by becoming champions of England, despite being complete underdogs. However, their fortunes have turned this campaign in the Premier League, but they seem to be going strong on the continent, having reached the last 16 round. But they will face an imposing opponent in the form of Sevilla, a side that has won three consecutive Europa League titles in the last three years.
Considering their greater depth and experience in European football, Sevilla seem like the obvious side to back for this match. However, Leicester have surprised on occasion during their European adventure so far, so they could pose a threat in front of goal, despite seeing their main forwards from last season – Jamie Vardy and Riyad Mahrez – cool off with their goalscoring efforts. With this in mind, we're thinking the Andalusian side will come out as victors from this game, with Leicester finding the back of the net once.
Sevilla v Leicester City – H 2/5 (1.40) D 19/5 (4.80) A 15/2 (8.50)
Get the most for your money with BH's Champions League Betting Tips by placing wagers on all four games for this week's matches; we suggest you place an accumulator to multiply your odds and get bigger winnings in the end.
It's face to say Porto face a tough challenge on Wednesday when they host five-time Italian champions Juventus, who are actually looking to stretch their Serie A winning streak to six Scudettos in a row. The Portuguese side finished second in Group G, behind Leicester City, having recorded three wins, two draws and one loss in the group stage of the competition.
Juventus on the other hand, have been one of the outstanding sides during the group stage, clinching top spot in Group H, ahead of Sevilla, thanks to four victories and only two draws. Massimiliano Allegri's men – which include the likes of fearsome forwards Gonzalo Higuain and Paulo Dybala – are the favourites for the encounter, but since they'll be playing away at Estadio do Dragao, the home side will be looking to make full use of home advantage. Nonetheless, we'd place our money on the Italians for this, thanks to their impressive crop of players.
Porto v Juventus – H 11/4 (3.75) D 2/1 (3.00) A 13/10 (2.30)
(For more info about the online sportsbook, check out William Hill Sports Review – it features diversified betting markets and lucrative sportsbook bonuses.)