Betting Odds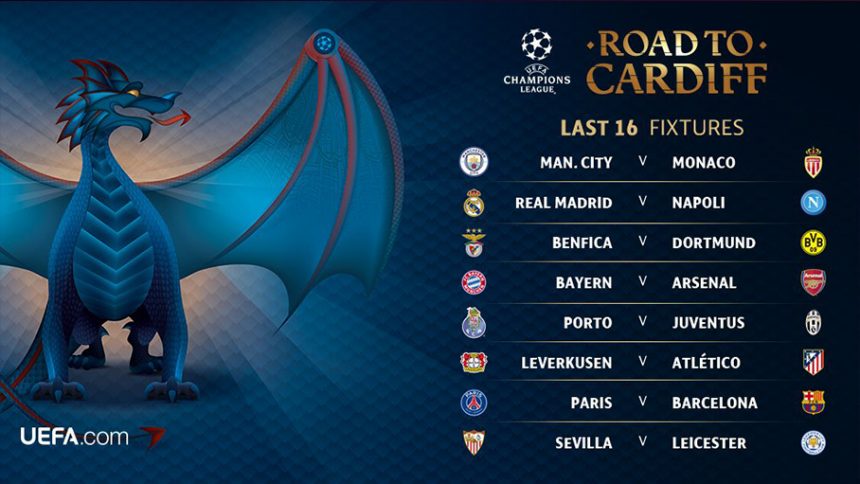 Champions League Draw Last 16 (2016/17)
December 12, 2016
Man City will face Monaco, while Arsenal are set for a reunion with Bayern Munich and Barcelona  have once again been paired with PSG, after the Round of 16 Champions League Draw.
(Image credit: Champions League Twitter)
Falcao will return to England in February to play against Man City, however this time he's enjoying much better form – 14 goals in 16 app overall – than he did during his two-year stint in the Premier League with both Man United and Chelsea. He could cause problems for Pep Guardiola's defence who have struggled without their captain Vincent Kompany lately. On the other hand, Man City also boast fearsome talent in front of goal, which could prove vital in their quest for Champions League glory.
The Gunners have once again struck bad luck with the Champions League draw after being paired with five-time champions Bayern Munich – they're the second favourite side 7/2 (4.50) to win the Champions League outright this season. We're predicting Arsenal will have a tough time coping with the Bavarian powerhouse both home and away, so we'd place our bets on Bayern Munich progressing through, after winning both of the games, considering their superior squad.
Barcelona are viewed as the ultimate club 3/1 (4.00) to lift the Champions League once again – it would be two titles in the span of three years – despite their average performances domestically. But first, they'll have to get through PSG's clutches which could prove challenging for them considering the Parisiens have boosted their chances with a new manager – former Sevilla boss Unai Emery – and a set of new singings ahead of the current campaign.
Patrick Kluivert – a former player that played for the Catalans between 1998 and 2004, but now serves as PSG's sporting director – commented on the massive test that awaits them following the results of the Champions League draw, but also warned that they'll be ready for the match.
"In this group, you knew the possibility was there to draw one of the biggest clubs in the world," said the former Dutch international. "We have played Barcelona two times, we know it is going to be a big match. We know everything about Barcelona, everybody does, but we have to face it. But Barcelona has to watch out for us."
William Hill Sports is already offering odds on the round of 16 encounters; join the online sportsbook and get ahead of everyone else before the odds alter. There's a whole two months before the competition resumes, which means odds could change due to players' injury, transfers and other unforeseen factors at this stage.
(Take a look at William Hill Sports Review at Betting Herald for more info about the online sportsbook – use specialized sportsbook bonuses for the matches of the Champions League draw.)