Betting Odds
Man United are Going Through a 'Little Crisis,' Admits Fellaini (Man United Betting Odds)
September 20, 2016
The Belgium international confesses the club is currently under pressure following three straight losses in the Premier League and Europa League – check out Man United betting odds with Bet365!
(Image credit: The Guardian)
Man United have succumbed to three consecutive defeats in their last games, with the first one being the most disastrous – a 2-1 loss at home to rivals Man City. That was followed by a Europa League encounter against Feyenoord away which saw them suffer a 1-0 loss – a match that many expected them to easily overcome.
Three days after the coming back from the Netherlands, Jose Mourinho's men succumbed to yet another defeat on the road, only this time it was at the hands of lowly Watford; after the final whistle was blown the scoreline read 3-1 for hosts, a real shocker considering Man United's heavy spending – which included a world-record fee for Paul Pogba – during last summer's transfer window.
Man United Betting Odds at Bet365
After five rounds in the Premier League, they sit in 7th position on the table with 9 points, while the likes of Everton and Tottenham – clubs that operate with significantly lower budgets – have performed better than the Old Trafford side by claiming second and third spots on the table respectively.
"We can say it's a little crisis because a club like Manchester United cannot lose three games," said the 28-year-old midfielder. "Yes, it's a low, but we are men and we must stand up together and show ourselves. To lose was a tough moment, but we must be ready to go again on Wednesday. We need to focus. At the moment heads are down but, as I said, we must stand together and fight and show that we are confident."
"At half-time, the manager told us to come out and play with confidence and we did that by grabbing the goal. We played with tempo and we need to start doing that from the first minute."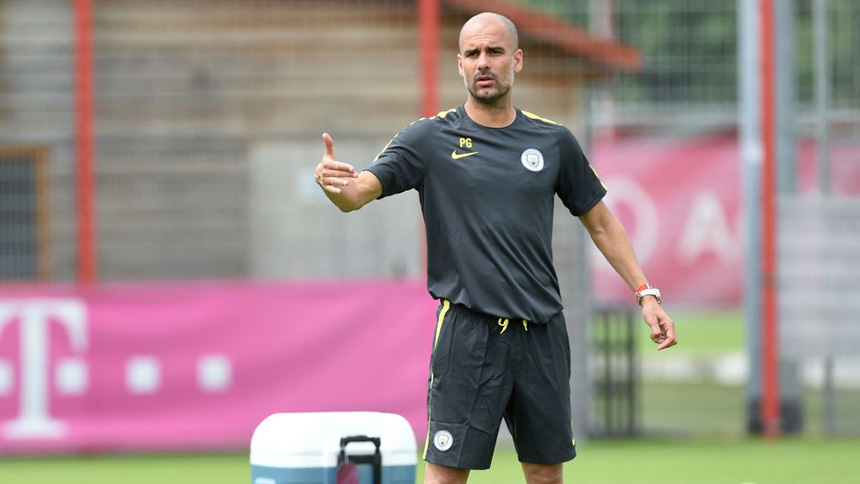 Man City boss Pep Guardiola has taken the Premier League by storm
(Image credit: The Sun)
Their next match will be against Northampton away on Wednesday (September 21) in the EFL Cup, however a number of top flight managers normally prefer to give youngsters a chance to shine in this competition, and we're guessing Mourinho might follow suit. Nonetheless, the Cobblers have been dealt outsider chances 11.00 (10/1) for this match, while Man United remain the favourites with odds of 1.30 (3/10), per Bet365 online sportsbook.
Man United Betting Odds at Bet365
(Check out Betting Herald's Bet365 Sports Review for more info about the online sportsbook.)
Following this match, Mourinho's men are set to face last season's Premier League champions Leicester City at Old Trafford this weekend (September 24) in the English top flight, in what could be their defining match. The Red Devils are the favourite side 1.66 (4/6), while a draw between the two stands at 3.80 (14/5), per Bet365 online sportsbook.
So far in the 2016/17 campaign, the Foxes have been less effective than last season; they've only recorded two victories from five games, granting them 11th spot on the table. That's why they're deemed underdogs 5.00 (4/1) for the encounter, although we're sure Claudio Ranieri will be aiming to exploit the pressure his Portuguese counterpart finds himself under.
Pep Guardiola's side are now the ultimate favourites 1.66 (4/6) to lift the title, while Man United – they were second in line before their three consecutive defeats – have been pushed down to fourth favourites with underdog chances 13.00 (12/1). Liverpool have emerged as the second favourites 6.00 (5/1) for the moment, while Chelsea are third in line with odds of 10.00 (9/1).
Man City are leading the table with a 100% record, which has seen them find the back of the net an impressive 15 times in the first five outings, and they've only let in four goals in the process. If they continue like this under their Catalan manager, they could even challenge the feat accomplished by Arsenal's 'Invincibles' from the 2003/04 season when they won the league without losing a single match.
Man United Betting Odds at Bet365