Betting Odds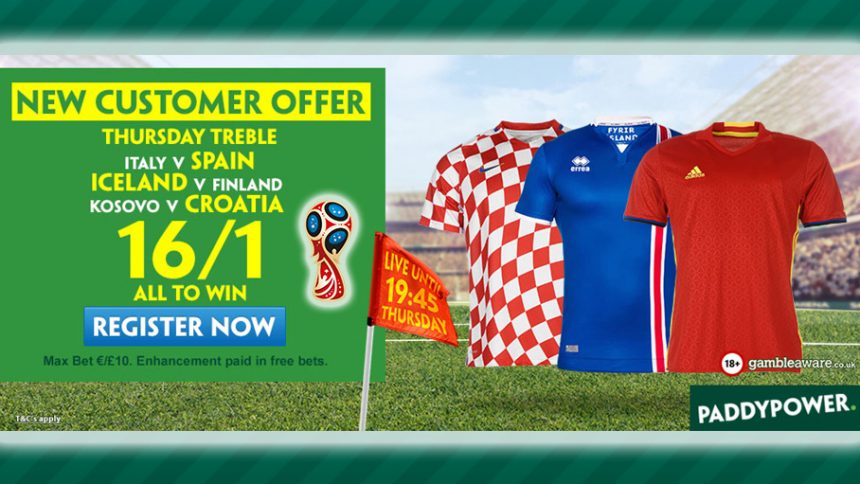 Today's Enhanced Offer 17.00 (16/1): Spain, Iceland and Croatia All to Win
October 6, 2016
| | Today's Enhanced Offer | |
| --- | --- | --- |
| | Promo Type | Enhanced Odds/Free Bet/Specials Bonus |
| | Promo | 17.00 (16/1) Spain, Iceland and Croatia All to Win |
| | Cashable | Yes |
| | Wagering Requirements | None |
| | Valid Until | 19:45 BST - October 6, 2016 |
| | Accepted Countries | UK and Ireland (only) |
Take up the chance to win £170 for tonight's WC qualifiers with Today's Enhanced Offer!
Back the trio of Spain, Iceland and Croatia all to win their respective games with a mere £10 wager, and you'll scoop a cool 17 times that amount with Today's Enhanced Offer. Take advantage of this deal before the games kick-off tonight at 19:45 BST (October 6) to pocket £170 for your efforts.
The qualifying games that count towards Today's Enhanced Offer are:
Italy v Spain – H 3.00 (2/1) D 2.87 (15/8) A 2.62 (13/8)
Iceland v Finland – H 1.61 (8/13) D 3.60 (13/5) A 6.00 (5/1)
Kosovo v Croatia – H 9.00 (8/1) D 4.20 (16/5) A 1.40 (2/5)
If each of the three nations seal a victory, you'll receive your winning based on the standard odds on the site, while the rest of the money will be credited to your account in Free Bets, taking the full odds to the advertised 17.00 (16/1) with Today's Enhanced Offer.
Italy and Spain are set to renew their rivalry in the qualifiers tonight which will mark the 32nd occasion the pair have played each other. Currently, Spain edges out Italy on their head-to-head record with the former claiming 11 victories to the latter's 9, while 11 other encounters ended in a draw. Spain last faced Italy in the round of 16 in last summer's Euro 2016 in France, which saw the 2010 World Cup winners succumb to a 2-0 loss. But with the energetic new manager Julen Lopetegui, La Roja will be looking to seal a win against the four-time world champions Italy.
(Take a look at Paddy Power Sports Review for more details about the online sportsbook – it offers daily sportsbook bonuses and tons of promos.)
Use this opportunity with the international break to make a killing with some of the other matches in the WC qualifiers:
Austria v Wales – H 2.25 (5/4) D 3.10 (21/10) A 3.40 (12/5)
Macedonia v Israel – H 3.00 (2/1) D 2.87 (15/8) A 2.62 (6/4)
Turkey v Ukraine – H 2.20 (6/5) D 3.20 (11/5) A 3.40 (12/5)
Ecuador v Chile – H 2.25 (5/4) D 3.40 (12/5) A 3.10 (21/10)
Paraguay v Colombia – H 2.80 (9/5) D 3.10 (21/10) A 2.60 (8/5)
Back the WC qualifying trio now with Today's Enhanced Offer and you could be pocketing a cool £170 at the end of the night!
Collect £170 with Today's Enhanced Offer!