Enhanced Odds Bonuses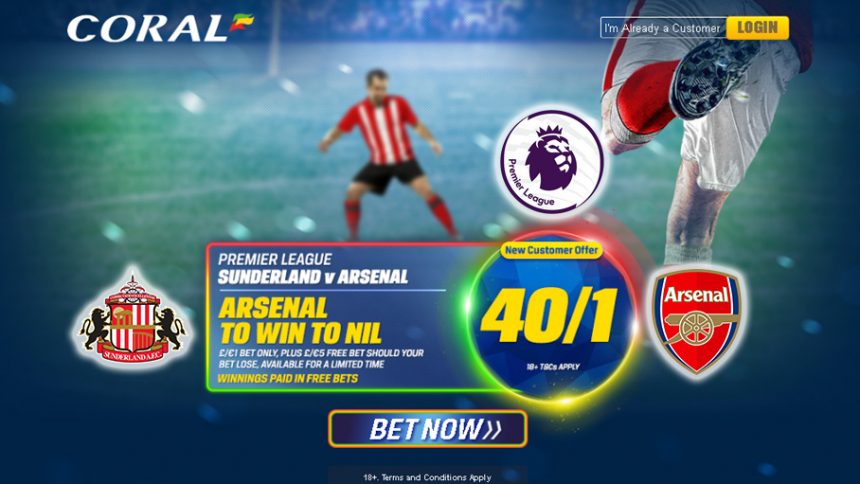 Today's Enhanced Offer: Back Arsenal to 'Win to Nil' Against Sunderland
October 28, 2016
Today's Enhanced Offer
Promo Type
Enhanced/Free Bet/Insurance/Specials Bonus
Promo
40/1 (41.00) Arsenal to 'Win to Nil' Against Sunderland
(+ £5 Free Bet)
Cashable
Yes
Wagering Requirements
None
Valid Until
12:30 BST - October 29, 2016
Accepted Countries
UK and Ireland (only)
Bet on the Gunners to clinch a victory – 'Win to Nil' – against the Black Cats this weekend with Today's Enhanced Odds.
Place a £1 wager on Arsenal to 'Win to Nil' when they face Sunderland at the Stadium of Light this weekend, and collect £40 as a reward with Today's Enhanced Offer 40/1! Just make sure you place your bet before lunchtime; the match begins on 12:30 BST this Saturday (October 29)!
Even if the Gunners don't 'Win to Nil' at the Stadium of Light, the good news is that Coral will reimburse you with a £5 Free Bet, so there's no way you can lose anything with Today's Enhanced Offer. You'll either win £40 or £5, which makes you a winner whatever way the match goes.
Your winnings will be credited to your account – if Arsenal 'Win to Nil' – based on the normal price on the site, while the rest of the winnings will be paid out in Free Bets, taking the full amount to the advertised 40/1 (41.00) odds with Today's Enhanced Offer.
Note: this offer is open to new customers only (18+) that reside in the UK and the Republic of Ireland. Please note that Terms and Conditions apply for Today's Enhanced Offer.
(Check out Betting Herald's Coral Sports Review for more details on the online sportsbook – it features the greatest daily sportsbook bonuses and promos.)
The Gunners have made a statement of intent over the summer by making some high profile signings as they bid to finally win the league for the first time since 2004.  Granit Xhaka (£ 38.25m) and Shkodran Mustafi (£34.85m) were bought from Monchengladbach and Valencia respectively, while Lucas Perez (£17m) was signed from Deportivo La Coruna, according to Transfermakt.
With the inflow of fresh blood in the squad and the way they've been playing so far this season, discussions have emerged about the possibility of Arsenal clinching the Premier League title – currently they occupy second position on the table, tied on points (20 pts) with league leaders Man City.
"This year we have obviously had a few additions and they've settled in really well," asserted Theo Walcott. "But it's not just the starting XI, it's the whole squad – 25 of us that are working hard, day in and day out. You can see that on the pitch. It gets the best out of everyone. When you're called upon you need to be able to make the difference."
And that 'difference' has been reflected in their form both at home and away, with Arsenal being the best side in the Premier League on the road with a total of 10 points collected from four games. This Saturday should be no different, as they'll face a side that is languishing at the very bottom of the table with merely 2 points to their name. (FYI: they're managed by David Moyes, so what did you expect?)
Back Arsenal to 'Win to Nil' with Today's Enhanced Offer with a mere £1 bet and in return you'll receive 40 times that amount after the encounter.
Win £40 with Today's Enhanced Offer!