Betting Odds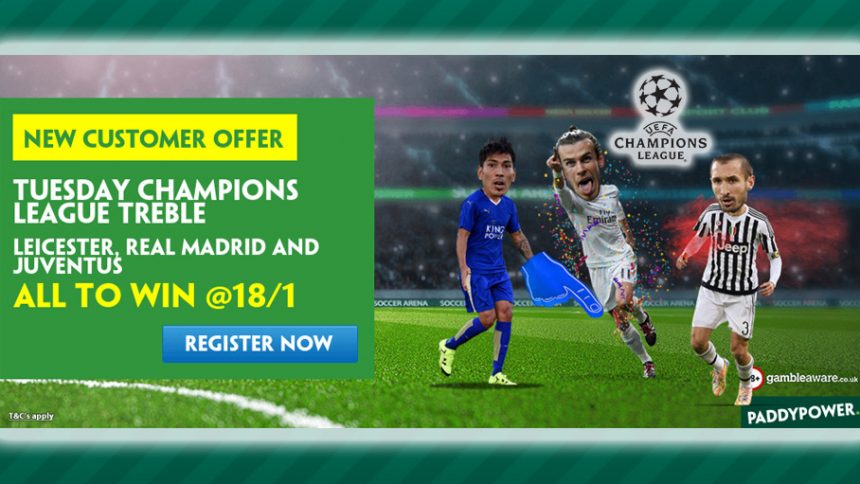 Today's Enhanced Offer: Leicester, Real Madrid and Juventus All to Win 19.00 (18/1)
September 27, 2016
| | Today's Enhanced Offer | |
| --- | --- | --- |
| | Promo Type | Enhanced Odds/Free Bet/Specials Bonus |
| | Promo | 19.00 (18/1) Leicester, Real Madrid and Juventus All to Win |
| | Cashable | Yes |
| | Wagering Requirements | None |
| | Valid Until | 19:45 BST - September 27, 2016 |
| | Accepted Countries | UK and Ireland (only) |
Get your hands on nearly £200 by supporting the Champions League trio with Today's Enhanced Offer!
Make a £10 bet on Leicester, Real Madrid and Juventus all to win their respective games in tonight's round 2 of Europe's elite competition. Wager with Today's Enhanced Offer before 19:45 BST today (September 27) to capitalize on this huge offer!
The qualifying matches for Today's Enhanced Offer are:
Leicester v Porto – H 2.29 (13/10) D 3.40 (12/5) A 3.00 (2/1)
Dinamo Zagreb v Juventus – H 11.00 (10/1) D 6.00 (5/1) A 1.25 (1/4)
Dortmund v Real Madrid – H 2.40 (7/5) D 3.60 (13/5) A 2.70 (17/10)
You'll get your money based on the standard odds on the site – if the Champions League trio win – while the rest of the funds will be credited to your account in Free Bets! This will take your full winnings to the advertised 19.00 (18/1) odds with Today's Enhanced Offer.
Note: Today's Enhanced Offer applies to new customers that reside in the UK and the Republic of Ireland.
(Take a look at Paddy Power Sports Review for more info about the online sportsbook – it features the very best enhanced odds and sportsbook bonuses in the industry.)
Real Madrid's all-time leading goalscorer and three-time Ballon d'Or winner Cristiano Ronaldo was substituted for the first time in his career with the Los Blancos, over the weekend in La Liga. With Zidane's men leading 2-1 against Las Palmas away, soon after the Portuguese was taken off in the 72nd minute the hosts scored an equalizer and the game ended with a 2-2 draw, which caused some corners to ponder whether that would have happened if Ronaldo had stayed on the pitch for the entirety of the game.
However, Los Merengues boss was quick to highlight that was a tactical move in anticipation of tonight's Champions League match against Dortmund.
"I did not take Cristiano off because he was playing badly, but because we play another game on Tuesday and he has to rest," commented Zidane. "He was playing well, like the others, but I had to think about Tuesday (game against Dortmund)."
Having a rested a bit, Ronaldo will now be ready for fire on all cylinders at the Signal Iduna Park in efforts to extend his record of 95 goals in the Champions League.
Besides the Champions League trio, don't miss out on this great opportunity to wager today on all the biggest sides in Europe's elite competition:
CSKA v Tottenham – H 3.00 (2/1) D 3.25 (9/4) A 2.45 (29/20)
Monaco v Bayer Leverkusen – H 2.75 (7/4) D 3.20 (11/5) A 2.62 (13/8)
Sevilla vs Lyon – H 1.75 (3/4) D 3.60 (13/5) A 5.00 (4/1)
Scoop a tidy sum for a minimal investment with Today's Enhanced Offer 19.00 (18/1) by opening a new account with Paddy Power now!
Win nearly £200 with Today's Enhanced Offer!