Betting Odds
Wheels in Motion for Govolkin v Jacobs Bout
September 22, 2016
The WBA is looking to organize a potential Govolkin v Jacobs fight slated for later in the year.
(Image credit: Boxing Junkie)
Just weeks after Govolkin beat Kell Brook, the WBA is now looking to arrange a Govolkin v Jacobs fight, with both camps so far showing reassuring signs about the bout. The Kazakhstani fighter now holds four titles (WBA, WBC, IBF and IBO) in the middleweight division, following his TKO over Brook at the O2 Arena.
Gilberto Mendoza Jr – president of WBA (World Boxing Association) – is looking to unify the middleweight title, and a Govolkin v Jacobs bout would serve as the perfect platform for achieving that aim. If both camps agree terms in due time, the two fighters could face one another on December 10 at the iconic Madison Square Garden in New York.
"They are negotiating. Already, Jacobs' handlers have sent an offer – the numbers – to (Govolkin's promoter) Tom Loeffler. That's what I've heard. I'm waiting," said the WBA president. "There will be a time, if nothing happens, then we will call for purse bids. I'm looking forward to having one champion in the division. I hope that by this time next year, we will have one champion in each division."
The Govolkin v Jacobs bout would precede a showdown between 'Triple G' and Saul 'Canelo' Alvarez, which could take place one year from now, in September, 2017, according to LA Times. Oscar De La Hoya – Alvarez's promoter – has purportedly offered Golovkin a guaranteed purse of $10 million plus a share of pay-per-view money for a match with his fighter. However, Tom Loeffler – Golovkin's promoter – has sent the opposing camp a counter-offer, believing his client is entitled to a bigger fee, considering his undefeated record of 36-0 that includes 33 victories by KO.
Speculated Mayweather v McGregor fight is officially off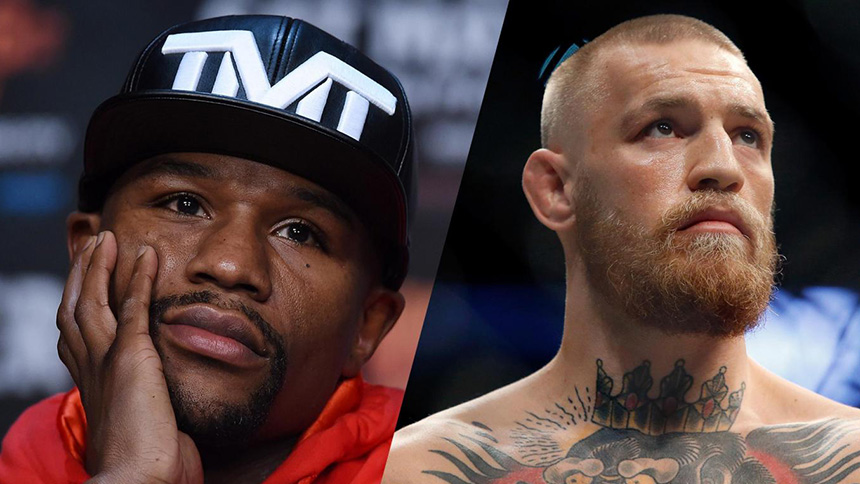 (Image credit: Independent)
The money-crazed trash talking fighters were rumoured to be in talks about a mouth-watering crossover fight, but now it seems that it will remain a beloved fantasy after all for many in the boxing and MMA community.
Former boxing champion Floyd Mayweather and current MMA fighter Conor McGregor have previously teased boxing fans about a potential bout between them, despite the former announcing his retirement in September last year. The fight would have pit together a traditional boxer with an MMA fighter – a novelty for a one-off fighting event.
"I tried to make the fight happen between me and Conor McGregor. We wasn't able to make the fight happen, so we must move on," said the 39-year-old. "I feel honoured to be the biggest name in MMA and in boxing. And I don't even compete no more."
Check out some of the fights on the cards for this weekend (September 24) with Bet365 online sportsbook:
John Ryder v Jack Arnfield – 1.12 (1/8) v 6.00 (5/1)
Zakaria Attou v Emanuele Della Rossa – 1.50 (1/2) v 2.62 (13/8)
Anthony Crolla v Jorge Linares – 1.50 (1/1) v 2.62 (13/8)
(Check out Betting Herald's Bet365 Sports Review for more info about the online sportsbook – you can find some of the best sportsbook bonuses and a variety of sports markets.)