Betting Odds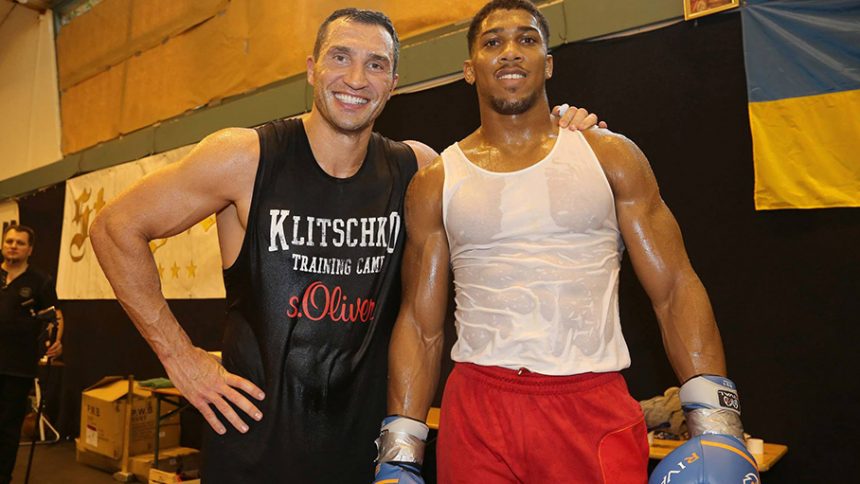 Anthony Joshua vs Wladimir Klitschko Bout Looking to Take Place Next Year
October 27, 2016
Three titles are set to be contested for in the Anthony Joshua vs Wladimir Klitschko fight, which could happen in March/April, 2017.
(Image credit: Profiboksz.hu)
The Ukrainian heavyweight – who will be turning 41 years of age in March next year – has no plans of retiring from the sport anytime soon, despite his next potential opponent being 13 years his junior.
The much-talked about Anthony Joshua vs Wladimir Klitschko bout could finally happen in either March or April the following year, after earlier talks about a fight in December this year fell through.
Over the last year, Klitschko has lost all three of his titles (IBF, WBO and WBA) to British heavyweight Tyson Fury in November last year. The prospect of facing AJ gives him a chance to reclaim some belts.
'Dr. Steelhammer' is confident he can continue boxing against the very best the sport has to offer and, even after succumbing to defeat and losing his belts 12 months prior.
"I've never thought about stopping, not once, after the defeat and losing my belts. As long as I can perform in the ring, am fit and motivated, I'll keep going," said the 40-year-old fighter.
"I want to box in March or April against IBF world champions Anthony Joshua. That'll be the biggest heavyweight fight for years and hopefully it'll be for three titles. There will be a couple of big, spectacular fights with me in the ring."
After a lack of promising heavyweights in the recent years, the Anthony Joshua vs Wladimir Klitschko fight could be the one to bring back the heavyweight category to its prime. Joshua boasts an impressive, undefeated record of 17 fights that all ended with knockouts, however Klitschko has experience on his side with 68 fights under his belt that ended with 64 victories (53 KOs) and only 4 losses.
Before the proposed Anthony Joshua vs Wladimir Klitschko bout takes place, Joshua is scheduled to face David Haye on December 31, 2016, however reports indicate the former may not be allowed a world title fight by the organizers considering there are other boxers waiting in line for their shot at the big stage, so it's yet to be seen whether Joshua and Haye will lock horns.
But let's be honest, a fight between the two of them would be something to really relish, if you're a boxing fan. If the bout comes to fruition, I would back Joshua considering his impressive form, as Haye is not the same fighter he was 5-6 years ago when he was on the rise, but then succumbed to defeat at the hands of Wladimir Klitschko in the summer of 2011.
Back Anthony Joshua 1.57 (4/7) with Bet365 Sports, but if you're confident the more-experienced David Haye will manage to pull off a surprise, place a wager on him with odds of 2.37 (11/8).
(For more info about the online sportsvbook, check out Betting Herald's Bet365 Sports Review – it features some of the best sportsbook bonuses couples with diversified betting markets.)
Check out some of the other fights with Bet365 Sports:
Jason Sosa 1.80 (4/5) vs Stephen Smith 2.00 (1/1) (Nov 12)
Sergey Kovalev 2.00 (1/1) vs Andre Ward 1.80 (4/5) (Nov 20)
Thomas Stalker 1.72 (8/11) vs Craig Evans 2.10 (11/10) (Nov 26)
Liam Williams 1.40 (2/5) vs Ahmet Patterson 2.87 (15/8) (Nov 26)