Soccer News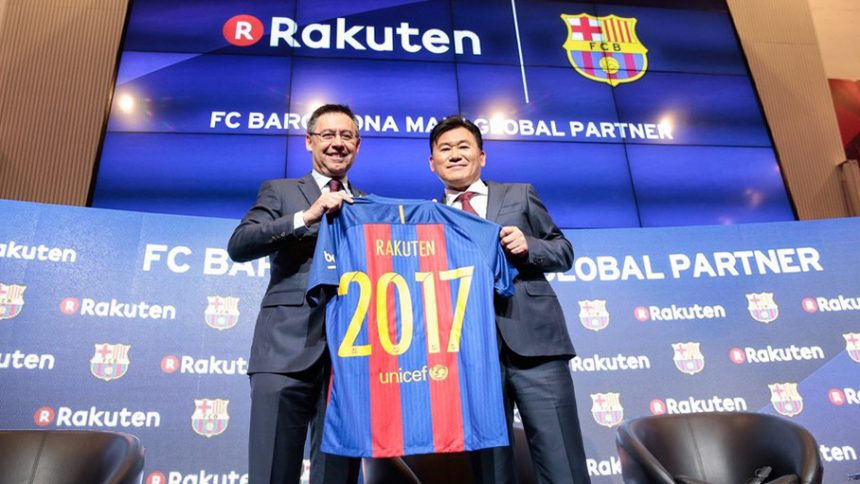 Barcelona Rakuten Sponsorship – Catalans Pen Four-Year €220M Sponsorship Deal with Japanese Online Retailer
November 17, 2016
Blaugrana President believes the Barcelona Rakuten sponsorship agreement positions the club at the 'forefront of sports club sponsorships.'
(Image credit: FC Barcelona)
The Catalan side are set to receive a guaranteed base income of €55m per season, starting from next season and lasting until the end of 2020/21, with the option of extending the agreement for a further year. The Barcelona Rakuten sponsorship deal also includes a number of incentives for the club if they manage to reach certain objectives: winning the domestic league will see them get a bonus of €1.5m, while a Champions League trophy is worth an additional €5m bonus.
The magnitude of the Barcelona Rakuten sponsorship agreement levels the playing field to an extent with other top European clubs. It positions them in the same league as Premier League side Manchester United – who receive around €60m ($80m) per season from Chevrolet – a sense of accomplishment that was echoed by Barcelona's Vice President of Marketing and Communications Manel Arroyo, "the Club is now on pay with Manchester United."
The Barcelona Rakuten sponsorship agreement will bring an end to Blaugrana's association with Qatar Sports Investment, who first featured Qatar Foundation on the front of their shirts for two years (2011-13), before switching to Qatar Airways at the start of the 2013/14 season. The initial agreement with the Qatari company was set to last for a duration of five years (2011-16), and Barcelona chiefs had hoped to extend the deal with Qatar Airways for another long-term agreement that would see them bank in around €65m per season.
However, after arduous negotiations the proposed deal collapsed and the airline decided to only extend the sponsorship agreement for another year (2016/17) under the same conditions that were in place before the negotiations, believed to be around €30m per season.
But in order to stay competitive in the financial department and on par with other European heavyweights, Barcelona sought new opportunities that would see them collect in excess of €50m per season in exchange for a corporate name emblazed on their kits. Several months prior the Barcelona Rakuten sponsorship deal was announced, rumours circulated that Pepsi and an unnamed Chinese company were ready to splash the cash to have their logos on the blue and red shirts.
But in the end it was the Japanese online retailer that sealed the sponsorship rights, and it seems that it's mainly thanks to the owner's links to a certain Barcelona player and his pop-star wife. When clubs sign any sort of commercial agreements with corporate entities it is standard for the chief execs and directors of the clubs to be involved in the deals. However, in the Barcelona Rakuten sponsorship case, the agreement may not have happened had it not been for Gerard Pique and his significant other, Shakira.
Barcelona President Bartomeu (third from left), Gerard Pique (fourth from left), Rakuten CEO Mikitani (fifth from right) and Shakira (third from right) at a dinner together.
(Image credit: Hiroshi Mikitani Twitter)
"It all started with a dinner organized by Gerard Pique at (Rakuten Chairman and CEO) Hiroshi Mikitani's house in San Francisco," commented Club President Bartomeu.
Thanks to the defender's relationship with Mikitani, the club were able to secure a deal that will allow them remain a top force in European football, by continuing to sign world-class players, while also retaining the services of current stars in the squad with improved contracts, namely five-time Ballon d'Or winner Lionel Messi.
Statements by Blaugrana President and Rakuten Chairman and CEO on the Barcelona Rakuten sponsorship deal
Josep Maria Bartomeu, FC Barcelona President, highlighted how the new partnership agreement with the Japanese online retailer places them at the very top of elite group of clubs that can command deals of this size, as they strive for further success both on and off the pitch.
"We are delighted with our agreement with Rakuten, a global brand in innovation whose experience and know-how in the fields of big data, communications and e-commerce will contribute to the future success of FC Barcelona," commented Bartomeu. "This agreement puts us at the forefront of sports club sponsorships, which has always been an objective for the current Board of Directors."
Hiroshi Mikitani, Rakuten Chairman and CEO, believes the Barcelona Rakuten sponsorship deal will play an important strategic role for his company in the long term, which should also see a number of their subsidiaries reap benefits off the massive kit agreement.
"This partnership opportunity is set to power our global brand strategy and, more importantly, as the Global Innovation and Entertainment Partner, we are looking to bring the collective power of our brands like Viber, Wuaki, Ebates, Kobo, PriceMinister to build a cool innovation framework that will deliver innovative solutions and services to fans, members and players," said Mikitani of the Barcelona Rakuten sponsorship deal.
Place wagers on this weekend's football action with Bet365 Sports!
Barcelona are second in La Liga with 25 points, 2 points behind fierce rivals Real Madrid, however the former is still deemed as favourite 1.72 (8/11) to clinch the Spanish league title per Bet365 odds – it would be their third straight domestic league triumph. Los Merengues are underdogs 2.37 (11/8) for La Liga at that moment, but that may change if they manage to clinch a win over their cross-town rivals Altetico Madrid.
(Take a look at Betting Herald's Bet365 Sports Review for more details about the online sportsbook – it features some of the best betting markets coupled with rewarding sportsbook bonuses.)
Check out some of the thrilling encounters in the Spanish top flight and other top leagues across Europe:
Barcelona v Malaga – H 1.12 (1/8) D 9.00 (8/1) A 21.00 (20/1)
Atletico Madrid v Real Madrid – H 2.40 (7/5) D 3.25 (9/4) A 3.10 (21/10)
Man United v Arsenal – H 2.50 (6/4) D 3.30 (23/10) A 2.90 (19/10)
Tottenham v West Ham – H 1.53 (8/15) D 4.33 (10/3) A 6.00 (5/1)
Bayer Leverkusen v RB Leipzig – H 2.30 (13/10) D 3.40 (12/5) A 3.10 (21/10)
Borussia Dortmund v Bayern Munich – H 3.50 (5/2) D 3.60 (13/5) A 2.05 (21/20)