Betting Odds
Cristiano Ronaldo Wins UEFA Best Player in Europe 2015/16 Award
August 26, 2016
Ronaldo claims the UEFA Best Player in Europe 2015/16 accolade after winning two major trophies and breaking countless records in the process.
(Image credit: The Guardian Nigeria)
Following the massive success both at club and international level in 2016, European football's governing body decided to award Ronaldo with the UEFA Best Player in Europe 2015/16 accolade. He is now tied with Barcelona's Lionel Messi with each of them claiming two 'Best Player' awards; the Argentine won in 2011 and 2015, while Ronaldo's first award came in 2014 and now.
After accepting the prestigious accolade, the 31-year-old forward immediately highlighted 'teamwork' as the main reason for his immense success.
"It's a great honour. My team-mates are the key – they are the key every year. I work hard myself but without their help this would not be possible," Ronaldo said. "Thanks to my team-mates from Real Madrid and Portugal.
Bet on UEFA Best Player in Europe 2015/16 with BetVictor!
(For more info about the online sportsbook, check out BetVictor Sports Review at Betting Herald.)
He also added that it was about time he had won silverware with the national team, believing it was the only piece missing form his glittering career after winning everything there is to win at club level which includes three Champions League titles so far in his career (Man United: 2007/08, Real Madrid: 2013/14 and 2015/16).
"(Winning Euro 2016) was different because I've won the Champions League three times now. To win something with Portugal was the highlight of my career," said the Madeira native.
During the 2015/16 campaign, the Portuguese has either broken or reached an impressive 14 different records and milestones. Some of his accomplishments include:
(Check out Ronaldo's full list of accomplishments during 2016/17 at UEFA's official website.)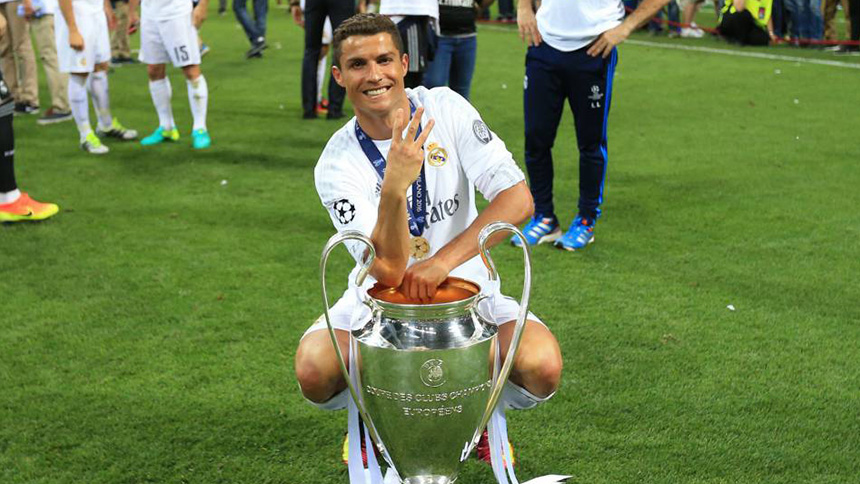 Ronaldo's third Champions League triumph on May 28, 2016
(Image credit: Purepeople)
Ronaldo is the absolute favourite to win the Ballon d'Or for 2016 1.16 (1/6), ahead of Lionel Messi 6.00 (5/1) and Antoine Griezmann 7.00 (6/1), per online sportsbook BetVictor. Messi missed out on another Copa America title with Argentina for the second year in a row to champions Chile, while also missing out on a second successive Champions League title with Barcelona. Antoine Griezmann reached the two finals this year (Champions League and Euro 2016), however neither Atletico Madrid nor the French national side were successful in their pursuit of glory.
Ronaldo enjoyed another yet another remarkable season with Real Madrid that saw him find the back of the net a total of 51 times (La Liga: 35, CL:16), and helped them win their 11th Champions League title against cross-town rivals Atletico Madrid at the famed San Siro. Despite lifting the trophy in May this year – their second in three years – Los Blancos have been dealt underdog chances 5.50 (9/2) to defend their title next season.
Bet on UEFA Best Player in Europe 2015/16 with BetVictor!
Instead, arch-rivals Barcelona are the favourite side to win Europe's elite competition 4.5 (7/2) – which would also be their second in three years – thanks mainly to bolstering their squad in critical areas (defence and midfield) over the summer transfer window. Bayern Munich are second in line for the trophy 5.00 (4/1), and considering they've got Carlo Ancelotti managing them – three-time Champions League winner with AC Milan (2x) and Real Madrid (1x) – they've got a realistic shot of clinching it for the first time since the glorious 2013 final which saw them scoop their 5th European title over fierce rivals Borussia Dortmund.
Juventus, with Higuain and other notable players among their ranks, are fourth favourites 13.00 (12.00), while Man City claim the same odds 13.00 (12/1) for continental glory in 2016/17 with two-time champion Pep Guardiola. Last season's runner-ups Atletico Madrid could very well reach the final and potentially win it, considering the players at Diego Simeone's disposal. Although their odds of actually doing so are slim 15.00 (14/1) (BetVictor online sportsbook), but you know what they say, "Third time is a charm," after they reached the final of the Champions League twice in three years.
Bet on UEFA Best Player in Europe 2015/16 with BetVictor!