Basketball Betting Odds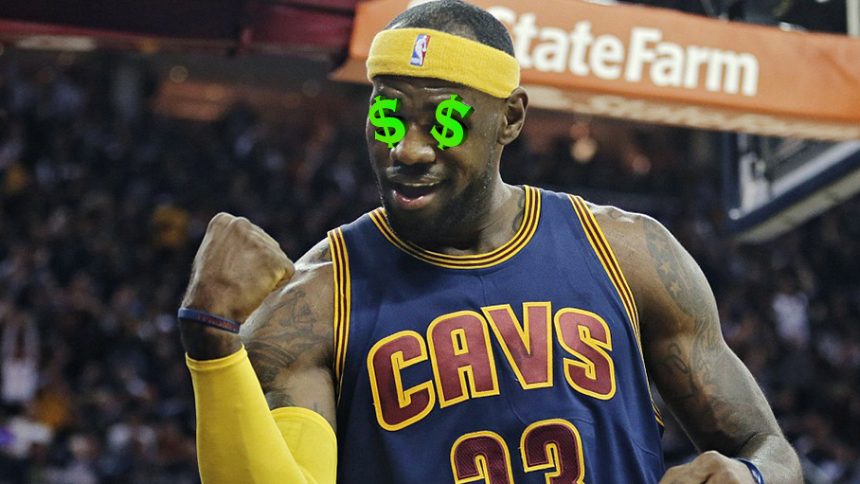 LeBron James Re-Signs with Cleveland for Record Deal (Bet on NBA)
August 12, 2016
King James puts all rumors to rest after putting pen to paper on three-year $100 million contract with the Cavs – bet on NBA with GTbets!
Three-time NBA champion LeBron James has agreed to resign with his hometown team Cleveland for the next three years that will see him net nearly $100 million over the course of the deal. He is set to make $31 million in the first year of his contract, while the following season he'll bank $33 million, according to ESPN.
If the reports about his contract are accurate, this means that the Akron, Ohio native will bank a jaw-dropping $36 million in the final year (2018/19) of his newly-signed contract. James made 'only' $22.97 million throughout last season – despite being one of the best players in the game at the moment – so his $8 million increase for the following season will be more in line with his status.
(Check out GTbets Sports Review at Betting Herald for more info about the online sportsbook.)
With the new deal in place, James joins the $30 million-per-year club that boats previous greats like Michael Jordon and Kobe Bryant who each collected the massive paycheck in the 1997/98 and 2014/15 seasons respectively, FOX Sports reports.
BREAKING NEWS: @KingJames announces on UNINTERRUPTED he will sign a new deal with the @Cavs.https://t.co/CXZ5qFK5o6

— UNINTERRUPTED (@uninterrupted) 11. kolovoza 2016.
"I just want to let y'all know I'm re-signing back with the Cleveland Cavaliers, my hometown team," said the 31-year-old. "I can't be more excited than this opportunity once again, man, to defend our crown, defend our title. We all know last year as a magical, inspiring – all the words you can come up with – it was an unbelievable season. I just can't wait to get the group back together, the fans. Without you guys, without your passion and commitment, we wouldn't have been able to do what we did this past season. I'm ecstatic. I can't wait to see my guys. I can't wait to get back out there in the wine and gold and just get the band back together. Lastly, let's get J.R. (Smith) done. It's that time."
The Golden State Warriors are favourites to retains the NBA title next season with odds of 1.75 (-150), per online sportsbook GTbets, thanks to their incredible performances in the last few seasons; it has seen them crowned champions in 2015 and then also reach the Finals this year only to be beaten by James' side following their remarkable comeback after initially going down 3-1.
Despite winning the historic NBA title in June – Cleveland's first trophy in any major sport since 1964 – the Cavs are second favourites for the title next year 3.00 (+200). The only other team that can match them on the odds charts are the San Antonio Spurs with them boasting third favourite chances 7.00 (+600) for the NBA title in 2016/17.