Betting Odds
Man City Boss Pep Guardiola Outlines His Goals to the Sky Blues Supporters
July 4, 2016
"Team spirit" and youth promotion will be one of the key points for new Man City boss Pep Guardiola, as he prepares to take on his first season in the Premier League.
(Image credit: Sky Sports)
"The first target is team spirit and to play good as much as possible, and then after try to win one game and then a second one, then another," said the Man City boss. "What I want is for our supporters and the people who love football to enjoy and be proud of what we did. Afterwards, we will see what is our level. Maybe we achieve titles, but if the people are not proud of us, it is nothing."
Guardiola stressed the Sky Blues faithful will play a big role in their title charge, while also emphasizing "team spirit" as one of the vital elements for success. "It's a challenge. That why I am here. But I cannot do it alone. We need our fans. Without that, it is impossible," said the former Barcelona and Bayern Munich manager. "As soon as possible we are going to try and create a team spirit. We need to create something special between each other. That is the most important thing. The rest will come."
It was announced in February the Catalan signed a three-year deal with the Sky Blues with an annual salary believed to be around £15 million before bonuses, according to The Guardian. This makes him one of the top paid managers in the sport, which ties him with former foe and cross-town rival Jose Mourinho, who's likely receiving the same level of compensation for his services as Manchester United's new manager.
Guardiola replaces former Real Madrid and Malaga manager Manuel Pellegrini, who won the Premier League title and the Football League Cup in his first season in charge (2013-14), however failed to deliver major silverware to the club in the following two season – only clinching another Football League Cup medal in his last season.
The Man City boss will now be tasked with reclaiming the domestic title, while Champions League glory is the prime reason he was brought in to manage the club. The club's hierarchy view him as the ideal blend man for the job, having tasted European success with Barcelona twice, in 2009 and 2011.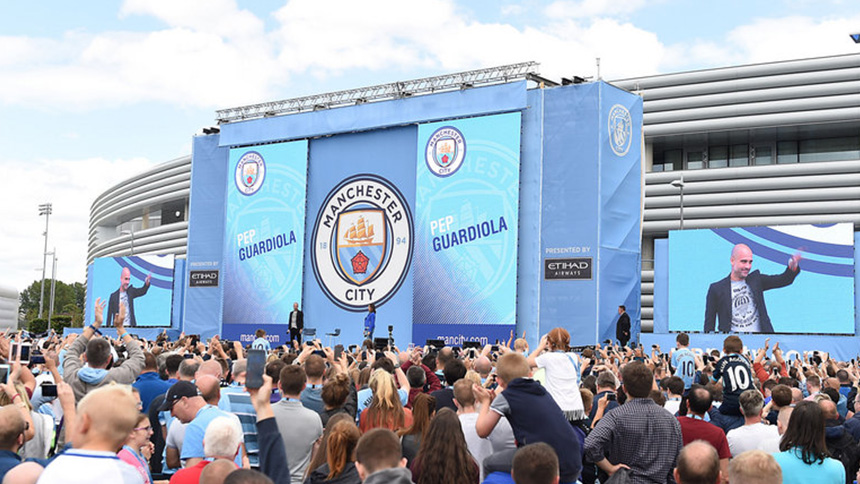 (Image credit: Sky Sports)
On top if that, Guardiola is viewed as someone that will strive to promote players from the club's youth academy, for which the bosses of Man City have dished out a massive £200 million on in efforts to ensure long-term success. Barcelona's iconic La Masia academy has developed some of the most popular talents in world football, including Guardiola himself, and it is believed that Man City chiefs Ferran Soriano and Txiki Begiristain (former Barcelona directors with whom Guardiola has worked with before) have modelled the youth academy after the one in the Catalan capital.
"I grew up in one of the most important academies in the world in Barcelona, where the young players are so important to develop and could maybe one day play in the first team," said the new Man City boss.
"One of the reasons I came here is because I know, from Txiki and other people here, how good they are working in the academy with the young players. For mre it's good to see young players of 13, 14 and 15 playing, growing and imagining that one day they can play in the first team. But it's important for the fans too because they can feel special about that player."
Man City's official betting partner is online sportsbook Betsafe, which offers special odds on select markets: potential transfer targets, Guardiola's success in his first season and other similar markets.
If you're confident that Man City will attract some of the following players before August 31, then place a bet wager on them joining with the online sportsbook: Paul Pogba 15.00 (14/1), Gareth Bale 25.00 (24/1) and Ross Barkley 25.00 (24/1). Guardiola has an enviable track record from his time with Barcelona and Bayern Munich where he won countless trophies, which automatically make Man City one of the title favourites for next season. Online sportsbook Betsafe offers them odds of 2.75 (7/4), while the chances of Man City boss being named the LMA Manager of the Year in his first season are decent 4.00 (3/1).
(For more info about the online sportsbook, check out Betting Herald's Betsafe Sports Review.)