Betting Reviews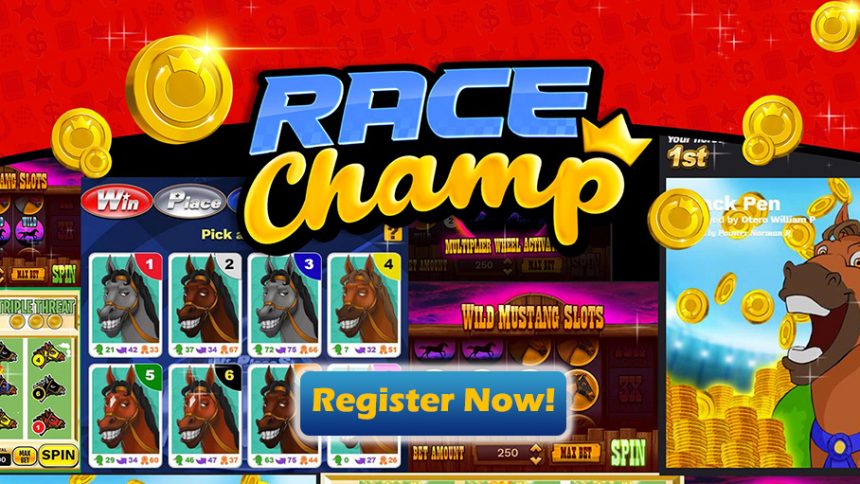 Race Champ Review
January 31, 2017
Race Champ
Bonus
Welcome Bonus: 5,000 Chips
(Bonus is given out every 3 hours)
Promotions
None
Loyalty Bonus
None
Founded
2017
Owner
Penn National Gaming Inc.
License
None (social games don't need one)
Currencies
USD
Languages
English
Depositing Methods
Visa, MasterCard, American Express
Available in US
Yes
Mobile
Yes
Customer Support
None
Restricted Countries
Iran, Cuba, Russia, Syria, Palestine, Central African Republic, Burundi, Democratic Republic of Congo, Libya, Lebanon, North Korea, Somalia, Sudan, South Sudan, Venezuela, Yemen, Zimbabwe
You can finally be a real Race Champ!
Race Champ is on the forefront of virtual horseracing betting with its highly interactive playing style and a great following in the sphere of social Facebook games. And that's exactly the whole point of Race Champ, as it allows players to log into the virtual racebook using their Facebook accounts, so they can instantly post and share their horseracing results with countless other wannabe jockeys that don't know how to actually ride a horse in real life.
The sign-up process is super easy and takes only a few seconds to complete, and before you know it you're choosing your very own horse from the stable that you want to race in the upcoming event. The number of horses on offer ranges from race to race, so at times you might be given six horses to pick from, while at other times there might be a whole dozen for you to browse through.
The cool thing is that each horse has its own set of strengths and weaknesses, so you have to be smart in selecting the right one to see it finish first and be a real Race Champ. There are three criteria that determine each horse's success rate before a race: the jockey, the speed and the pedigree of the horse itself.
Obviously, the higher the points are with each of these three criteria, the higher the chances are of your stud getting in (get it??) through the finish line first. But don't be fooled by thinking that a super high strength in one criteria automatically means your horse will be a Race Champ; you have to look at all three criteria combined to be a serial horse racing betting winner.
TIP: pick a horse that has a good balance between all three factors to increase your chances of winning the next race.
After certain races, Race Champ features special slots that can see you win even more credits. The higher up you climb on the levels, the more things you can unlock: races, slots and other special features.
SPECIAL FEATURE: chat with other players at Race Champ in the small window in the top-down corner of the screen and exchange your experiences at the virtual racebook.
When it comes to bonuses, you'll get a 5,000 in credits right after you sign up with Race Champ, and then every three hours you can claim additional bonuses.
NOTE: you must claim the bonuses yourself so that the timer for the next bonus resets. If you don't claim it, then the timer won't reset itself. Get your bonuses on a regular basis to get tons of credits.
When the race is on, you can adjust the speed of the race itself, so you can choose to enjoy the thrill of seeing your horse come in first or you can fast-forward the action to jump to the race results within seconds. Become a real Race Champ today!
(Take a look at the online racebook directory to find out more about other racebooks and virtual horseracing betting.)
In terms of gaming, Race Champ is a really unique and offers features that you see on any other high-quality social Facebook game. It truly is great in both entertainment and graphics, although you can't win anything of physical value.
Race Champ
[maxbutton id="409″]
Mark-Antonio Zivic used to be a professional footballer that won a record six Champions League medals... but decided to quit the game in his prime, believing he was better than both Ronaldo and Messi. Now he spends his time brainstorming ideas for Betting Herald, before he ventures into Hollywood movies, rubbing shoulders with Daniel Day-Lewis and Sofia Vergara.
Hot Topics
Photo courtesy: 101 Great Goals Eden Hazard has virtually sealed his fate post-Europa League final, which will likely be his last game for Chelsea. Chelsea can still win one last trophy with Hazard in their squad Real Madrid manager Zinedine Zidane has always been a vocal admirer of Eden Hazard.…