Sports News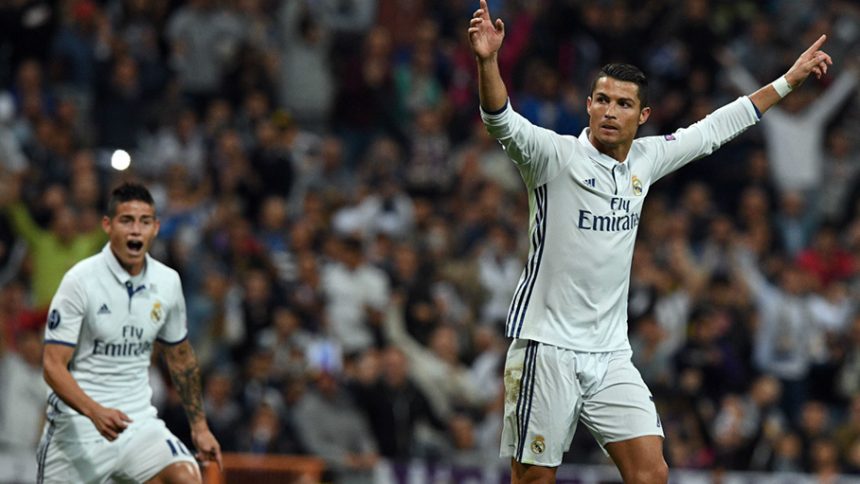 Ronaldo Could Become the First Franchise Player in Europe After Extending Bernabeu Stay Until 2021
November 7, 2016
Los Blancos hand Ronaldo a five-year contract renewal that could see him set another milestone – the first franchise player in Europe.
(Image credit: Sirkenayo)
Real Madrid released an official announcement on Monday evening regarding the 31-year-old's new five-year contract extension. It draws parallels with deals in the NFL, as Ronaldo looks set to become the first franchise player in Europe.
"The official event for the renewal of Cristiano Ronaldo's contract will take place tomorrow, Monday 7 November at 1:30 pm in the presidential box at the Santiago Bernabeu stadium. The Portuguese forward will extend his contract until 30 June 2021 at the event attended by club president Florentino Perez and the player himself."
Since arriving at the Bernabeu in the summer of 2009 for a then world record £80 million (€94 million), the Portuguese has become an icon, breaking countless records that includes becoming the all-time record goalscorer with 371 goals (as of November 7, 2016), surpassing Raul's 323 strikes during the previous campaign.
But Ronaldo doesn't seem to be bothered either by his age or his dip in form in recent times, by asserting in October he deserves a decade-long contract from the club – once again highlighting the possibility of being labelled the first franchise player in Europe.
"I don't know, you would have to talk with the president. Things are going well. The media have written it already, you know more than me," said the 31-year-old last month. "If I were the Madrid president, I would give me 10 more years. I don't see anything else in my career (except Madrid). That is what I want most. This is the biggest club in the world, so it should have the best players."
With a history of knee problems, the question lingers whether he can actually continue to produce 50+ goals per season – a feat he has done for the Bernabeu side since 2010. By current accounts, his form is steadily dropping and 7 strikes in 12 appearances overall is evidence of that. Madrid fans – the more realistic ones that aren't as emotional – will surely be asking themselves whether Ronaldo warrants a five-year deal, especially since he'll be turning 32 in February.
Granted, he has helped Los Merengues seal their 11th Champions League trophy last year – a season in which he bagged 16 goals in the CL and 51 overall – but to be fair the former Man United star reached his peak four years prior, at the age of 27. Since then he has managed to maintain his impressive form, but has seen his influence on games actually diminish.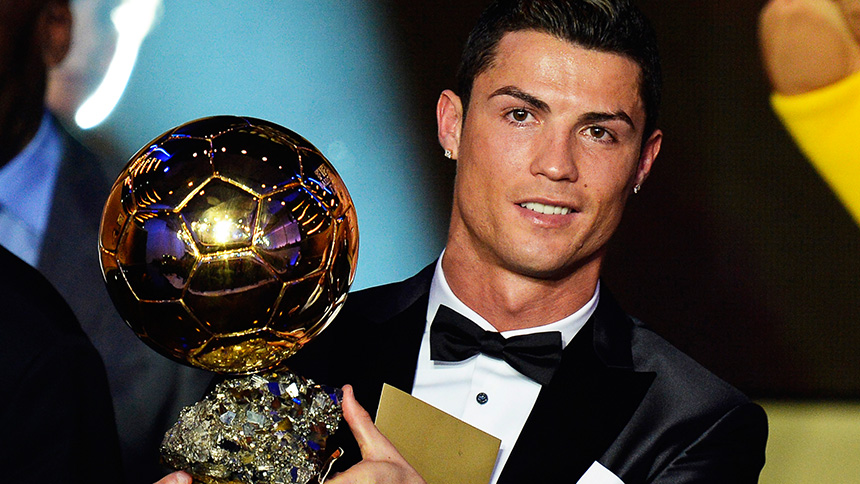 CR7 is the favourite to win his fourth Ballon d'Or in January, and become the first franchise player in Europe once he retires. (Image credit: bknpk)
But then again, Ronaldo is both a physical and metaphorical 'bella figura' with the latter point bearing more importance. He will be hailed – once he retires – as arguably an even bigger icon than his predecessor Raul, with all subsequent generations that join the club striving to match his level of success. Ronaldo's contract extension can be likened to NFL deals across the pond, which sees certain household names become 'franchise players' for their teams.
And to be completely honest, this seems to be the exact thing that Real Madrid's hierarchy – run by their president Florentino Perez – are playing at here. It appears they're trying to make Ronaldo the first franchise player in Europe, which would achieve two things: another milestone for the Portuguese and another Galactico-like move for the club.
Yes, yes. There are plenty of one-club players – Xavi, Totti, Giggs, Carragher and many others – that have stayed with one side throughout their entire professional careers, while Real Madrid is in fact Ronaldo's third club. However, the point is that all those players are not considered in the same realm as Ronaldo; he's currently on course to win his fourth Ballon d'Or after a year in which he lifted his third European title and won a historic European Championship with Portugal.
The Portuguese currently tops the chart for the leading goalscorer in Champions League with 95 strikes, while Barcelona's Lionel Messi is on 90 goals. The Argentina is Bet365's favourite to be crowned the top goalscorer in Europe's elite competition in the current campaign with odds of 1.57 (4/7), while Ronaldo is second in line 9.00 (8/1) – the former has found the back of the net 7 times in 3 CL appearances, while the latter has bagged only two in four matches.
Back Ronaldo – the likely first franchise player in Europe – to become the Champions League top goalscorer with Bet365 Sports!
(For more info about the online sportsbook, check out Bet365 Sports Review – it offers some of the best sportsbook bonuses in the industry.)
Barcelona and Bayern Munich are both the frontrunners 4.33 (10/3) for Europe's most coveted trophy (Bet365 Sports); Real Madrid have been dealt outsider chances 7.00 (6/1), despite being the defending champions.
Real Madrid have been brilliant in Europe over the past few season, winning their 10th (2013/14) and 11th (2015/16) Champions League trophies, however that same level of success hasn't been replicated on domestic territory. The last time Los Blancos won La Liga was in 2012, under then manager Jose Mourinho which saw them clinch the league title with a record 100 points.
After 11 rounds in the Spanish league, Zidane's men are top of the table (27 pts) sitting two points above their fierce rivals Barcelona – the Catalans have clinched La Liga six times in the last eight season, only missing out on a title in 2011/12 (Real Madrid) and 2013/14 (Atletico Madrid). Bet365 Sports strongly favours Barcelona to seal another domestic championship 1.72 (8/11), while Real Madrid remain underdogs for the title 2.37 (11/8), for the time being.
Bet on Real Madrid with Bet365 Sports!