Betting Odds
Ronaldo's Form Affects Real Madrid's Performances, Says Capello – Bet on Real Madrid
October 6, 2016
Former Los Merengues boss Fabio Capello believes the team's lacklustre performances are down to Cristiano Ronaldo – bet on Real Madrid with Paddy Power Sports!
(Image credit: Mirror)
Real Madrid currently sit in second position in La Liga behind cross-town rivals Atletico Madrid due to the latter's better goal difference. But the 11-time Champions League winners cannot ignore the fact that they've been playing badly since the new season began, recording only 4 victories in 7 outings so far, while the other games ended in 3 draws.
Considering the immense wealth in their squad – that features a three-time Ballon d'Or winner – they should have been doing better at this stage. Their arch-rivals Barcelona are favourites 1.91 (10/11) to defend their title – which would be their third successive this season – while the Bernabeu side are behind them on the odds chart 2.87 (15/8), despite being ahead of the Catalans on the table – who are fourth with 13 points.
Bet on Real Madrid with Paddy Power!
(For more details about the online sportsbook, take a look at Paddy Power Sports Review – it features tons of betting markets (including lots of specials) and rewarding sportsbook bonuses.)
The last time Real Madrid won the league was in 2012 under then manager Jose Mourinho, but to lessen their own pain from lack of domestic success, they've clinched two European titles in a span of three years, in 2014 and 2016.
"The problem for Real Madrid now is Cristiano Ronaldo. Because he is not well physically and is their best player," commented Capello, who was in charge of Los Blancos on two separate occasions (1996/97 and 2006/07).
The Portuguese star joined the royal club in 2009 for a then world record €94 million, and in his maiden season he scored 'only' 33 goals in all competitions. But since 2010 he's maintained a consistency that no other player in the history of the sport has managed to achieve, by scoring more than 50 goals in each of his last six seasons with the Los Blancos. In the process the 31-year-old has broken countless records and even dethroned Real Madrid legend Raul as the club's all-time leading goalsocrer; at present (October 7, 2016) Ronaldo has a staggering 367 goals in only 353 appearances Los Merengues, which equates to more than a goal per outing – a ratio that not even Barcelona's Lionel Messi can match for his club.
Bet on Real Madrid with Paddy Power!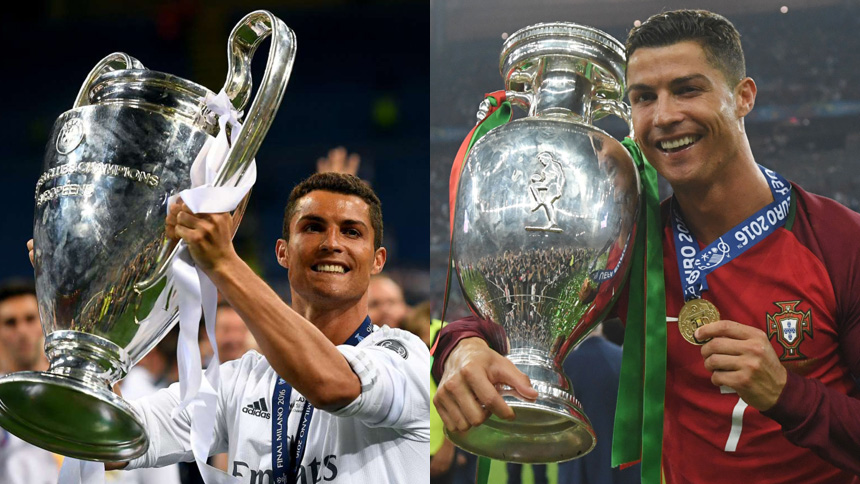 It's fair to say 2016 was a pretty good year for Ronaldo.
However, it seems that Ronaldo is ready to come back to normalcy this season, after having found the back of the net only once in four La Liga appearances so far this campaign. The injury he sustained at the Euro 2016 final probably took a more serious toll than initially suspected, which might have very well hampered his god-like scoring ability.
Bet on Real Madrid with Paddy Power!
Guillem Balague – Sky Sports's Spanish football correspondent – highlighted Ronaldo's situation at the Bernabeu, believing Zidane is the 'only' man that has the courage to take off the Portuguese.
"Against Las Palmas we saw something unique. It's the first time Ronaldo has been replaced at Real Madrid for tactical reasons. It's never happened before. Only Zidane could do that, because nobody else is brave enough to do so, but Ronaldo is not in good form," commented Balague. "Ronaldo should only be upset at himself. He's peaked physically, and now I think ZIdane is responding to that."
Ronaldo is the ultimate favourite 1.11 (1/9) to win the Ballon d'Or for 2016, after achieving remarkable success for both club and country this past year. He first won the Champions League with Real Madrid – defeating rivals Atletico Madrid on penalties – and then he managed to guide Portugal against France in the final – from the sidelines – to their first-ever European title.
Bet on Real Madrid and their all-time leading goalscorer Ronaldo!
Sealing Europe's two biggest trophies will more than likely see him crowned the world's best player for the fourth time in his career. We can only imagine how many golden balls he could have won had it not been for the diminutive Argentine Lionel Messi – who is currently two Ballon d'Ors ahead of the Portuguese with five in his trophy cabinet, but that'll likely be reduced to only one this January.
Barcelona's maestro is tied as second favourite 6.00 (5/1) with Antoine Griezmann, who enjoyed a wonderful 2015/16 campaign that saw him score a whopping 32 goals across all competitions, and end up runner-up in both the Champions League and Euro 2016. Luis Suerez is the fourth favourite 6.50 (11/2) for the accolade, following a stellar season in which he found the back of the net an impressive 59 times overall.
Bet on Real Madrid and Ronaldo now!