Soccer News
What's Guardiola's Next Club Going to be?
January 8, 2016
After being the boss of Bayern Munich for the past two and a half seasons, Guardiola is ready to call it time on his stay in Germany at the end of the season as he eyes the Premier League as his next destination. "The reason why I didn't extend my contract with Bayern is very simple: I want to be a coach in England, in the Premier League. That's the only reason," said Guardiola. That's certainly great news, but the question on everyone's mind is, "what's Guardiola's next club going to be?"
Currently, there are no indications what club he's leaning towards, only that he at this stage he has offers from Premier League sides, according to Bayern's site. "I have several offers, but I haven't signed anything yet. When I have a new club I'll announce that," Guardiola stressed.
If you think you know better than us, Bet365 Sports offers odds on Guardiola's next club. Man City are the favorites to get his signature 1.20 (1/5), while Chelsea are second in the running 6.00 (5/1). Arsenal and Man United are outsiders with equal chances 11.00 (10/1). (To bet on Guardiola's next club, follow these steps: go to Soccer – Antepost Betting – Next Permanent Managers Job – Pep Guardiola.)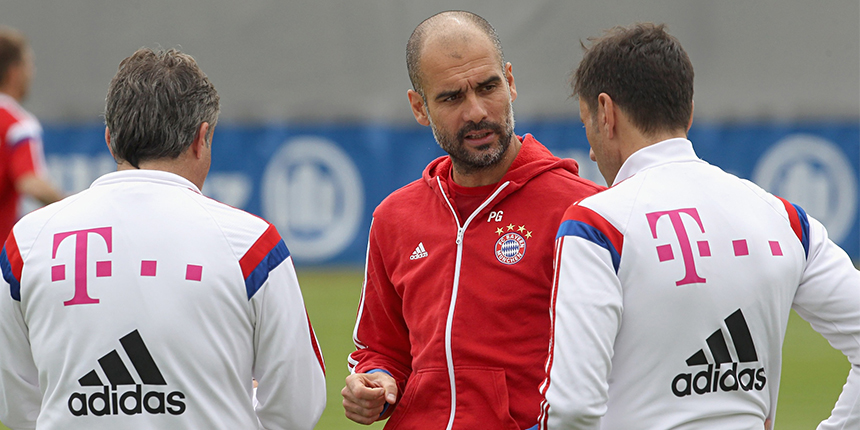 (Image credit: The Guardian)
The Telegraph suggested that Guardiola might even stay with Bayern until managerial positions in the Premier League become more clear. However, the likelihood of that happening is virtually zero, especially since the chiefs of the Bavarian side have already announced that former Real Madrid manager Carlo Ancelotti will be taking over from the Spaniard. Guardiola has stated that if he were older he would probably have opted to stay at Bayern, but instead believes he is "young enough" to try out something different after managing three years in the Bundesliga. "If I were 55 or 60 I'd stay here until Karl-Heinz Rummenigge, Uli Hoeness or Matthias Sammer say, it's enough, Pep," said the two-time Champions League winning manager.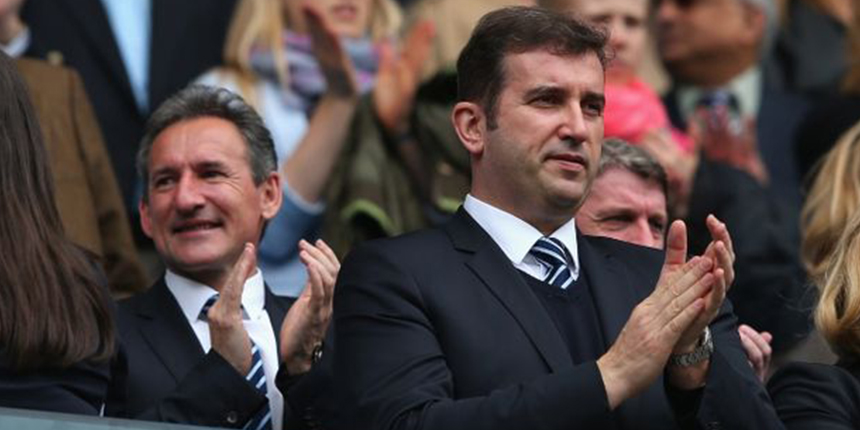 Txiki Begiristain and Ferran Soriano (Image credit: Irish Mirror)
Man City – Guardiola's next club?
You might automatically think that Guardiola's next club would be a side that maintains a long-standing tradition in the sport, as he appears to be a romantic at heart interested in creating a legacy. Manchester City are certainly not a club that have that standing, as they were nowhere near challenging for the biggest titles before foreign money started rolling in.
But there are several elements that might propel him to consider The Sky Blues as a realistic destination. City's CEO Ferran Soriano and director of football Txiki Begiristain used to hold high positions at Barcelona before taking their respective posts at the Manchester club. Guardiola enjoyed a fruitful relationship with the two men during his first two years at the Catalan side, and if he takes up the job he could be reunited with them, striking a potent partnership behind the scenes in the boardroom. The Telegraph reported that "The Philosopher" maintains "regular contact with Begiristain, in particular, and City believe this relationship can help them land him."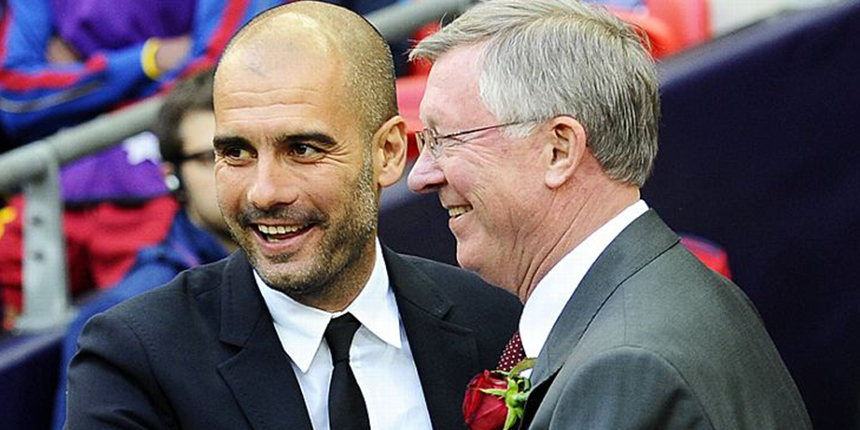 Guardiola and Ferguson (Image credit: ESPN)
When Sir Alex Ferguson stepped down as the head of the most-successful club in England, Guardiola was his first choice to replace him. "I asked Pep to phone me before he accepted an offer from another club but he didn't and wound up joining Bayern Munich in July 2013," said Ferguson, as reported by The Express. Considering that the Scot still enjoys great influence – serving as the global ambassador for The Red Devils – he may be exploring possibilities to make Manchester United Guardiola's next club.
It would be interesting to see how the 44-year-old would shape United, although there would again need to be a major overhaul of the squad. Guardiola would bring his winning football philosophy to the club, however the pressure would be huge to deliver trophies instantly, considering the money spent on players and the fact that they haven't tasted success since Ferguson retired.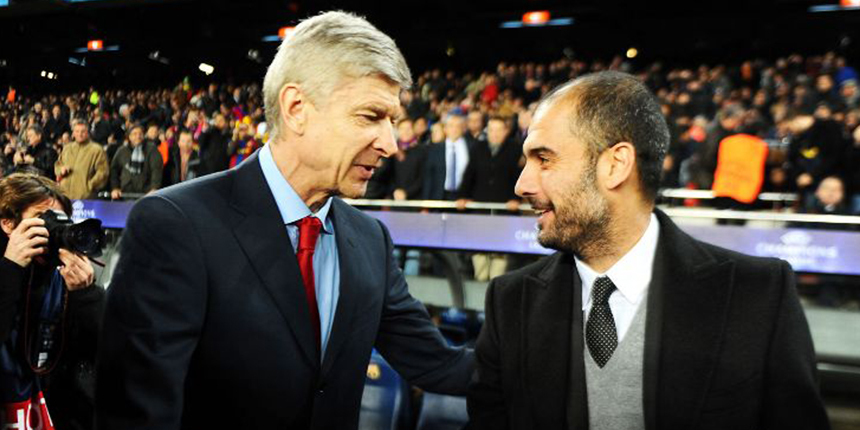 Wenger and Guardiola (Image credit: ESPN)
It's no secret that players and managers alike prefer the prospect of living in London, as opposed to other towns, no matter how appealing their clubs are. Arsenal are currently top of the table, and they boast a promising group of players that might appeal to Guardiola. It would be a great match-up, as the board doesn't seem to interfere with the work of the manager and they are well-known to afford plenty of time to deliver titles. This would be a great environment for the Catalan to prosper in, and it would definitely see the club achieve success that has avoided it for so long.
But there is one apparent stumbling block to Arsenal becoming Guardiola's next club. There is no indication that Arsene Wenger is ready to step down just yet, and if they finally manage to win the Premier League for the first time since 2004, it's very likely that the Frenchman will stay on for a little while longer. This essentially puts The Gunners out of the running for Guardiola's signature.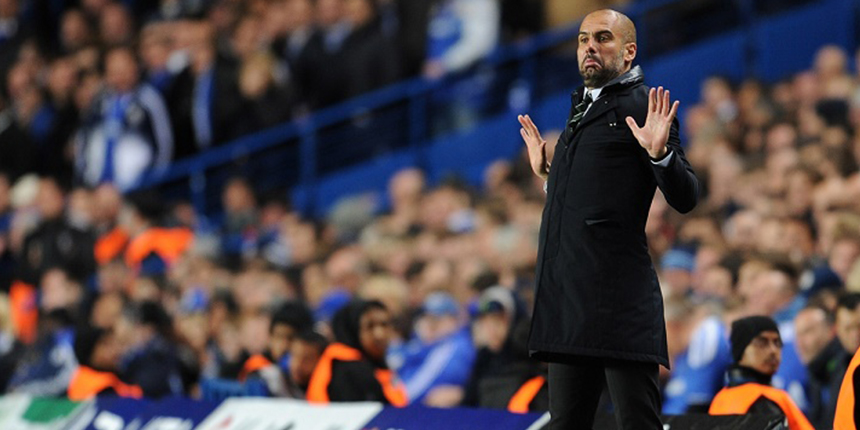 Guardiola at Stanford Bridge (Image credit: Liga Futbol)
The only other club that can match Arsenal's pedigree in London are Chelsea. It's also been highly circulated in the news that Abramovich is a huge Guardiola admirer, and the recent sacking of Jose Mourinho seems like the perfect timing for the Catalan to take over. He would command a massive paycheck along with a sizeable transfer budget to shape his squad, but judging by the past it seems like that wouldn't be a problem for The Blues.
However, looking at the nature of a side like Chelsea it's not likely that will become Guardiola's next club. Abramovich is always ready to wield the axe, not matter who the manager is. The minimum requirement to keep the Chelsea job for the subsequent season is to win the Premier League or the Champions League, otherwise managers are immediately shown the door. The only exception of that was when Mourinho came back for his second stint, and the Russian granted him two seasons to lift the title.
The pressure would be too great to handle, and Guardiola has stressed before that was one of the main reasons why he left Barcelona (he had to take a full year as a sabbatical to recuperate from that job). Another point is that The Blues might very well miss out on the Champions League next season if they don't start climbing up the table. Would Guardiola be willing to manage a team that solely plays in the Premier League?
Considering all the options, it's most likely he will end up with Manchester City. But even if he doesn't, fans will simply appreciate watching the action he'll deliver to the best league in the world.