Betting Odds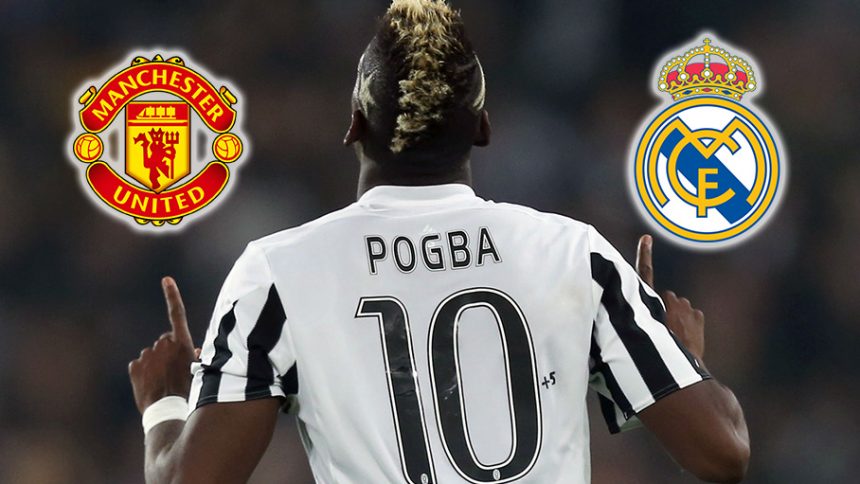 Interest in Paul Pogba Heats Up as Man United Prepare Record-Breaking Bid – Bet on Football Transfers with Paddy Power!
July 19, 2016
Amid growing interest from Real Madrid, Manchester United is understood to be preparing a world-record £100 million bid for Juventus' star player Paul Pogba. The Guardian reports that the Old Trafford club – the most successful English side with 20 domestic titles – are looking to open the bidding with £100 million offer that would include £13 million in performance-related add-ons.
Bet on football transfers with Paddy Power! (For more info about the online sportsbook, check out Betting Herald's Paddy Power Sports Review.)
Juventus are in no rush to sell the 23-year-old midfielder to any suitor unless their demands are met, as Pogba's deal with the Turin side runs until the summer of 2019. The Old Lady are not likely to consider any bid below the £100 million mark (€120 million), while some other sources are speculating the bid could go as high as £117 million (€140 million), if Man united boss Jose Mourinho decides the Frenchman is imperative to his plans.
The player's agent Mino Raiola – a man that also represents recent Man United recruits Ibrahimovic and Mkhitaryan – is expected to demand a contract worth around £250,000 (€300,000) per week for his client, which translates to £13 million (€15.6 million) per season (not bad for a 23-year-old).
If the world-record move materializes it would see Pogba return to the North West of England after leaving Old Trafford in 2012 for free. He only made 7 appearances during his senior year at Man United (2011-12), half of which came in League Cup games. In contrast, after making the switch to Juventus, Pogba immediately integrated himself into the squad which saw him appear in 37 matches across all competitions (27 in Serie A) and helped the club defend their league title.
Over the next three years, he made another 141 appearances for the Turin side, picking up Serie A medals in each of the seasons there, while also finishing as runner-up in the Champions League in 2015. Overall, he's made 178 appearances and scored 34 goals during his time in Italy.
Bet on football transfers with Paddy Power!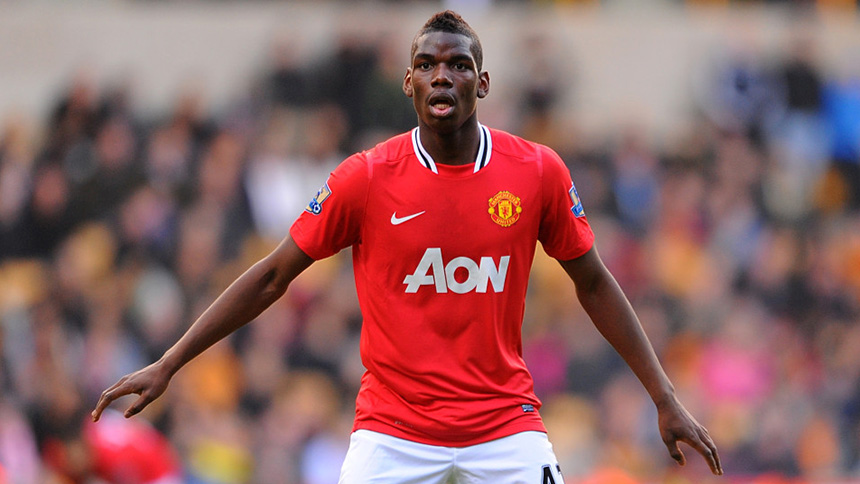 Pogba during his short spell (2011-12) with Man United
(Image credit: The Sun)
Although Man United is Pogba's most talked-about destination, Real Madrid boss and fellow Frenchman Zinedine Zidane has expressed his admiration for the talented midfielder, who just came back from international duty with France at the Euros where they finished second as hosts of the tournament.
"I'm very happy with the squad I have available. It's difficult to improve," Zidane confessed before adding, "Do I like Pogba? Of course, he's a very good player and every club wants the best players, but right now he's at Juve and we have a large squad already."
"There are still lots of player yet to join up with the squad and with the Euros going on we couldn't do anything. We have three games coming up and that's the focus at the moment," said the 44-year-old French legend.
Bet on football transfers with Paddy Power – Paul Pogba's next permanent club
Manchester United is the favourite 1.40 (2/5) to get his signature as they look to revamp their squad under new manager Jose Mourinho. Real Madrid are the second in the running 2.62 (13/8) per online sportsbook Paddy Power, despite the fact that Zidane hasn't signaled an imminent move by first offloading one of his big stars to another club to make room for the Frenchman.
After the current Champions League winners comes Barcelona 9.00 (8/1), although they are not in the market looking for another midfielder after bringing back former youth player Denis Suarez from Villarreal. Man City are tied 9.00 (8/1) with Barcelona when it comes to signing the 23-year-old, but Guardiola already acquired Ilkay Gindogan from Borussia Dortmund earlier in the summer, while Ukrainian Oleksandr Zinchenko joined the Sky Blues at the beginning of July, which rules them out of the running for Pogba.
Bet on football transfers with Paddy Power!