Features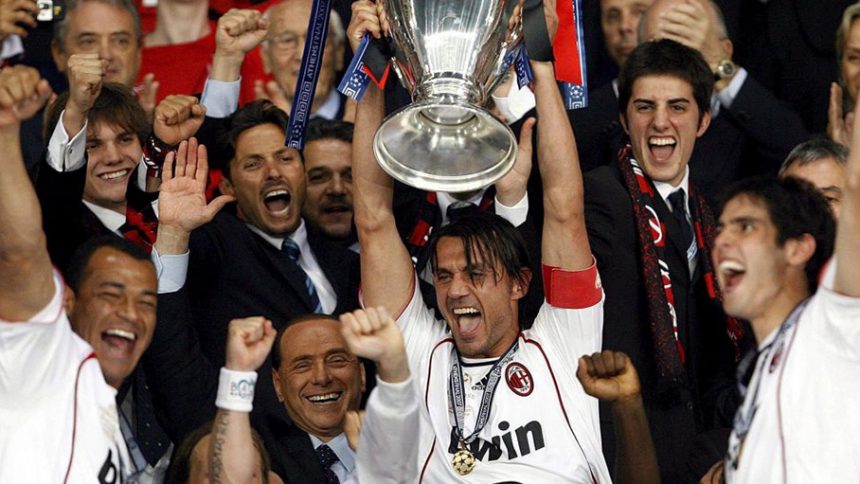 Most Successful Footballers: Players with Most Champions League/European Cup Titles (4 or More Medals)
July 19, 2016
(Image credit: Eurosport)
Betting Herald brings you a list of the most successful footballers that have won 4 or more Champions League/European Cups during their careers. Some of the players with multiple titles have retired along ago, but their records remain untouched which gives active players the impetus to push for more glory.
---
Andres Iniesta 4 – (2006, 2009, 2011 and 2015)
(Image credit: Stellanaija)
Iniesta has four Champions League trophies to his name, and is the player that has the most minutes in Champions League finals out of all the Barcelona players on the Most Successful Footballers list. When Guardiola took over the reigns of Barcelona in 2008, Iniesta went on to collect two more winners medals that saw him prove indispensable in midfield in both of the finals against Manchester United, in 2009 and 2011. When Luis Enrique got appointed as the new Blaugrana boss in the summer of 2014 he made Iniesta the new permanent captain which proved highly fruitful as the No. 6 player picked up his fourth Champions League medal the following season; Barcelona defeated Juventus 3-1 at the Olympic Stadium in Berlin in 2015 to seal their fourth European triumph in the span of 10 years.
Bet on football with Bet365 Sports!
(Check out Bet365 Sports Review for more info about the online sportsbook.)
---
Xavi Hernandez 4 – (2006, 2009, 2011 and 2015)
(Image credit: Gentside)
After 17 years of service to Barcelona, Xavi left the club in 2015 after winning his fourth Champions League trophy, although he came on as a late substitute in the final against Juventus in final last year. He now plies his trade in the Qatar Stars League with Al Sadd, but during his tenure with the Catalans he formed one of the most potent midfield partnerships with Andres Iniesta which saw them conquer Spain and Europe many times over, so it's no surprise the former Barcelona No. 6 is hailed as one of the most successful footballers in Blaugrana's history.
Due to injury earlier in the 2005-06 season, Xavi missed out on the 2006 final against Arsenal and was forced to watch the game from the substitutes bench. But in the following two finals (2009 and 2011) he was one of the key players on the pitch as Barcelona lifted their third and fourth Champions League trophies. Before leaving for Qatar, Xavi made his final appearance for the club as a late substitute for Iniesta in the final of the 2015 Champions League which saw the Catalans win yet another title.
---
Gerard Pique 4 – (2008, 2009, 2011 and 2015)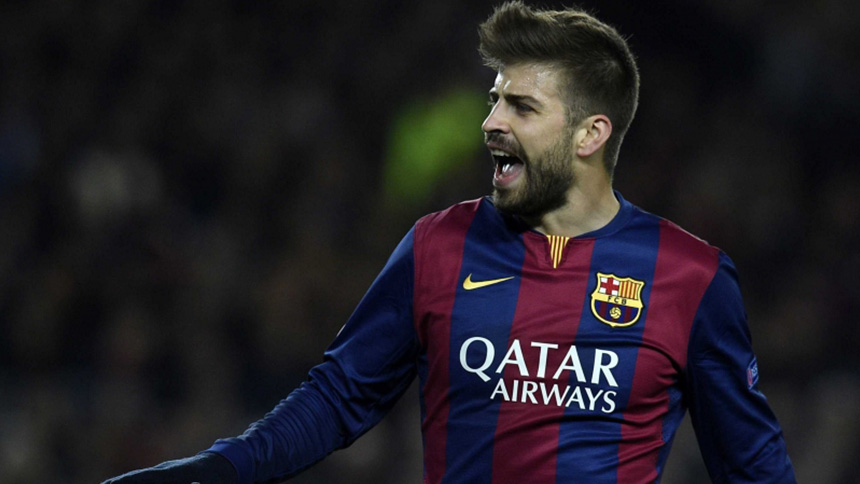 (Image credit: NDTV)
Pique is the only player on the list that managed to win the trophy with two different clubs in succession; winning his first in 2008 with Manchester United and then adding another a year later with his home team Barcelona. Although he wasn't selected to be part of the 18-man squad travelling to Moscow, Pique nonetheless received a winners medal after being part of the 25-man Champions League squad. The imposing defender was an integral part of Pep Guardiola's side that made a historic achievement in 2009 by becoming the first team in football to win all of the competitions they entered; it is now known as the "Setuple" season. In Guardiola's penultimate season with the Calatan giants, Pique lifted his third European title, while four years later he added a fourth to his name after Barcelona's victory against Juventus.
---
Lionel Messi 4 – (2006, 2009, 2011 and 2015)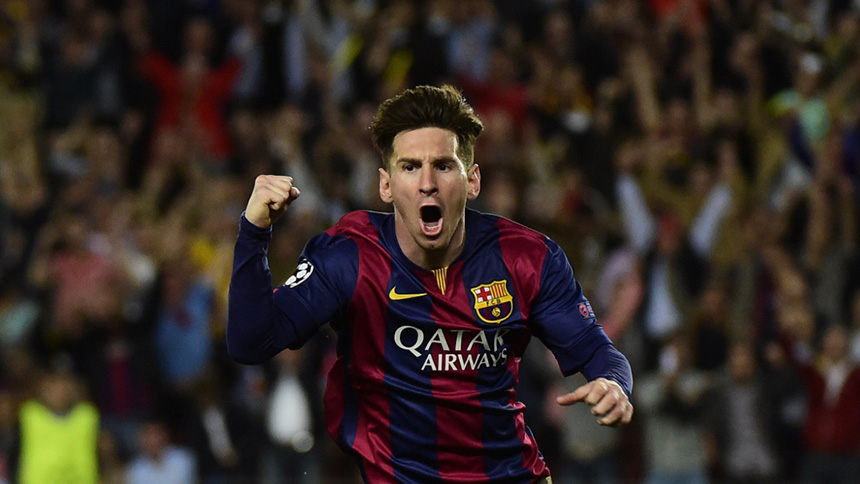 (Image credit: TheBigLead)
The five-time Ballon d'Or winner claimed his first Champions League medal in 2006 as Barcelona beat Arsenal 2-1 in a thrilling final at Stade de France, however he suffered an injury that season which ruled him out of the quarter-finals, semi-finals and the final in Paris itself. When Frank Rijkaard got sacked and Guardiola got appointed as his successor in the summer of 2008, Messi finally had the breakthrough season all the Catalan fans had been waiting for at that point.
He scored 38 goals overall the following season that included a fine header against the Europe's defending champions Manchester United in the 2009 final at Stadio Olimpico. Messi's header was the second strike in the 2-0 victory over Alex Ferguson's side that saw them lift the first of two Champions League trophies under Gaurdiola. It signaled a start to Messi's reign as the king of Europe for the next four years as he claimed four Golden Balls in succession.
The Argentine claimed his third title in 2011 which was a repeat of the 2009 final, where he once again found himself on the scoresheet, before going on to claim his fourth medal under Luis Enrique in 2015 against Turin side Juventus. With 4 Champions League titles and countless other medals, along with tons of personal accolades, Messi is rightfully one of the most successful footballers of all time.
Bet on football with Bet365 Sports!
(Check out Bet365 Sports Review for more info about the online sportsbook.)
---
Phil Neal 4 – (1977, 1978, 1981 and 1984)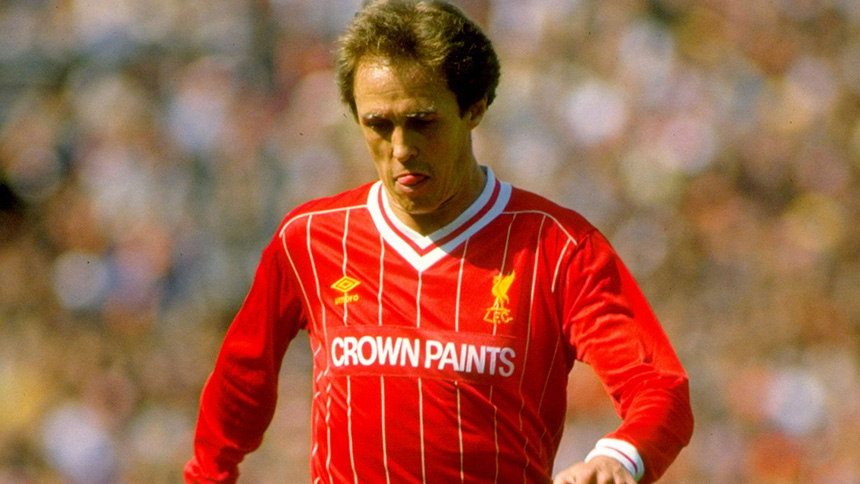 (Image credit: Alchetron)
Liverpool's "Zico" lifted four European titles during his 12-year stay at Anfield, thus becoming one of the most successful footballers (in terms of European glory) in the club's history. Neal transferred to Liverpool from Northampton Town in the summer of 1974 and within three years he was already planting a kiss on the European Cup, after the Reds defeated Borussia Monchecngladbacj 3-1 at Stadio Olimpico, in a game that saw Neal convert a penalty. Liverpool successfully defended their European title the following season in 1978 against Club Brugge with a 1-0 victory at Wembley Stadium.
Three years later, Neal managed to lift his third European Cup as the Reds overcame Real Madrid 1-0 thanks to Alan Kennedy's strike in the 82nd minute. In the 1984 final against AS Roma, Neal found himself on the scoresheet early in the match, however Roberto Pruzzo's 42nd minute goal leveled the score that saw the game go to extra-time and eventually penalties. Liverpool's "Zico" managed to convert his penalty that helped both him and the Reds claim their fourth European Cup.
---
Clarence Seedorf 4 – (1995, 1998, 2003 and 2007)
(Image credit: Open Answer)
Seedorf started his European success with Ajax in 1995, before moving to Sampdoria for a year and then on to Real Madrid in the summer of 1996 where he lifted another Champions League crown in 1998. During his initial time with Los Blancos Seedorf made himself an instrumental player, however his fortunes at the club subsided in Guus Hiddink's second season in charge (1999-2000). This propelled the talented midfielder to seek a move elsewhere in the winter transfer window and Inter Milan came calling. Following his trophy-less two-and-a-half seasons with the Nerazzurri, he made a switch to fierce rivals AC Milan in 2002, where he tasted immediate success as the Rossoneri won the Champions League 2003, before claiming another trophy four years later.
---
Paolo Maldini 5 – (1989, 1990, 1994, 2003 and 2007)
(Image credit: Sportskeeda)
Maldini spent the entirety of his 24-year career with AC Milan which reaped massive benefits for the loyal defender, especially early on in his career. The Rosonerri were the last side in the European Cup to successfully defend their title, after winning it in 1989 and then lifting it again a year later – this feat (back-to-back titles) was never done in the modern format of the competition: the Champions League.
With the new format taking effect in 1992, Maldini claimed his first Champions League medal (third overall) in 1994 as Milan unexpectedly thrashed Barcelona 4-0 in the final. Nine years later he lifted the European crown yet again, this time against domestic rivals Juventus, while in 2005 they suffered a heartbreaking loss to Liverpool on penalties following extra-time, despite leading 3-0 at the end of the first half (the 2005 Champions League final is hailed as one of the best finals the competition has ever held). But two years later Milan once again faced Liverpool in the final which saw them exact revenge on the Reds with a comfortable 2-1 win. This saw Maldini seal his fifth and final Champions League/European Cup medal, before announcing his retirement from the sport two years later. Today he is considered an icon and is regarded as one of the most successful footballers of his generation.
Bet on football with Bet365 Sports!
(Check out Bet365 Sports Review for more info about the online sportsbook.)
---
Alessandro Costacurta 5 – (1989, 1990, 1994, 2003 and 2007)
(Image credit: Super Skor)
Costacurta is the only other player from AC Milan that enjoyed the same level of success as fellow legend Maldini; besides spending a year on loan with Monza (1986-87), he played for the Rossoneri for a total of 21 years between 1986 and 2007. With Maldini, Costacurta formed a fearsome backline that helped them achieve great success becoming champions on multiple occasions during his stay with the Milan side. Although he played a decreasing role as he got older, Costacurta nonetheless collected the Champions League medal AC Milan won in 2007 against Liverpool, shortly before he announced his retirement at the age of 41.
---
Real Madrid 1950s Legends 6 – (1956-60 + 1966)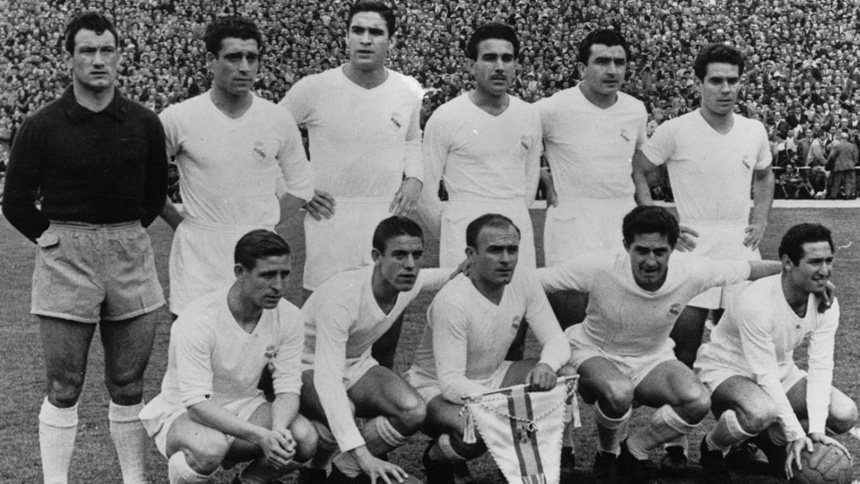 (Image credit: CNN)
Real Madrid players of the 1950s are among the most successful footballers in the competition, as Los Blancos won the first five editions of the European Cup that effectively saw them lay the groundwork for future success. Many Los Blancos players from the glorious 1950s era have claimed 4-5 European Cup medals, while Francisco "Paco" Gento has collected a total of 6 for himself, after Real Madrid won their sixth title in 1966 against Partizan. No other player has ever managed to match or surpass Gento's six medals, although quite ironically the some Barcelona players on this list still have time on their hands to accomplish this feat.
Here's a full list of the Real Madrid players with 4 or more medals from the 1950s:
Jose "Joseito" Fernandez 4 – (1956, 1957, 1958 and 1959)
Jose Hector Rial 5 – (1956, 1957, 1958, 1959 and 1960)
Juan Alonso 5 – (1956, 1957, 1958, 1959 and 1960)
Juan Santisteban 5 – (1956, 1957, 1958, 1959 and 1960)
Marco (Marquitos) Alonso Imaz 5 – (1956, 1957, 1958, 1959 and 1960)
Rafael Lesmes 5 – (1956, 1957, 1958, 1959 and 1960)
Jose Maria Zarraga 5 – (1956, 1957, 1958, 1959 and 1960)
Alfredo Di Stefano 5 – (1956, 1957, 1958, 1959 and 1960)
Francisco "Paco" Gento 6 – (1956, 1957, 1958, 1959, 1960 and 1966)
Bet on football with Bet365 Sports!
(Check out Bet365 Sports Review for more info about the online sportsbook.)