Betting Odds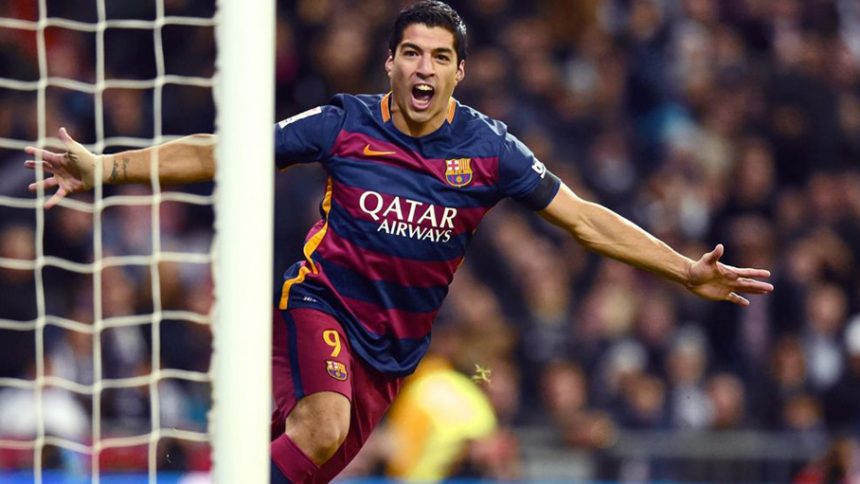 Brendan Rodgers Hails 'Beautiful' Luis Suarez (Bet on Barcelona with Bet365)
September 13, 2016
Barcelona will host Celtic at the Nou Camp in tonight's Group C of the Champions League – Bet on Barcelona with Bet365!
(Image credit: Eurosport)
Ex Liverpool boss Brandan Rodgers has praised Barcelona's Uruguayan striker as they prepare for a reunion in Europe's elite competition. Rodgers – now in charge of Celtic – will go up against Barcelona and their main attacking threat Luis Suarez – the man that bagged an incredible 61 goals during his two years with the Northern Irish boss.
Bet on Barcelona to lift the Champions League this season.
(Check out Betting Herald's Bet365 Sports Review for more info about the online sportsbook.)
"First of all, when you speak about Luis Suarez, you have to speak about the man. Luis Suarez is one of the most beautiful men you could come across," said Rodgers. "He's a very humble guy who works tirelessly at his profession. He is super-professional, a family man who gives everything for his life as a footballer and his family."
"I had the pleasure of working with him for two years and he was incredible and as a footballer, he is the best in the world. The biggest compliment you can give Luis is that he came to an already world-class team and he made them even better," stressed the 43-year-old manager.s
"When I see them play now, Barcelona would not be the same team without Luis Suarez. Like all world-class players, they always find a space. You can have tactical ideas, you can park two double-decker buses in front of the goal, but I think that sometimes the best players in the world will always find a space."
Bet on Barcelona to top the Group C in the Champions League.
So far this season, Suarez has already found the back of the net on four occasions in three matches, which brings his overall goalscoring record for Barcelona to an astonishing 88 strikes in merely 99 official games.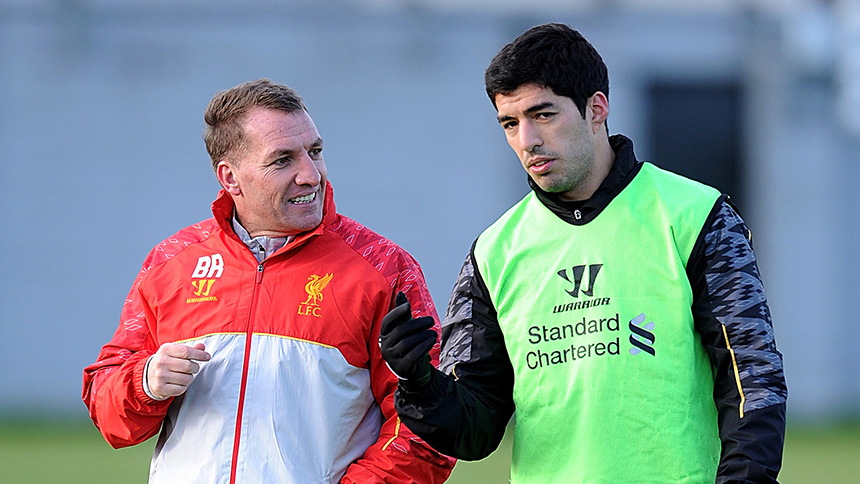 Rodgers enjoyed a fruitful relationship with Suarez during his time at Liverpool
(Image credit: Mersey Reds)
Despite suffering a shocking 1:2 loss at home to Alaves over the weekend, Barcelona are nonetheless the absolute favourites 1.090 (1/11) to beat Celtic 34.00 (33/1) in their opening Champions League group game. The best that Brendan Rodgers' men can hope for is a draw 12.00 (11/1), although they're likely to concede a whole set of goals by his former striker.
But just in case you are hoping that Barcelona will go on to record a second-straight defeat at the Nou Camp, then try your luck and place a wager on the Celts; if your prediction comes true, you could pocket a pretty penny off this bet!
Real Madrid extended their lead over other European sides after clinching their 11th Champions League crown last season by defeating Atletico Madrid on penalties. Despite the great achievement by Los Merengues, their fierce rivals Barcelona are actually the favourites to win the competition this season 4.00 (3/1).
Bet on Barcelona to win the competition outright.
Bayern Munich are second in the running 4.50 (7/2), while the 11-time champions are underdogs with odds of 6.00 (5/1). We're guessing they've been dealt these chances, due to their modest transfer business over the summer, after singing only a striker in the form of Alvaro Morata – Juventus allowed him to leave after real Madrid exercised their buy-back option for 30 million.
Juventus have bolstered their squad pretty well, and so are fourth favourites to win 11.00 (10/1) the Champions League for the first time since 1996. With Guardiola on their side, Man City are also fourth favourites for the title 11.00 (10/1), while last year's runners-up Atletico Madrid are fifth in line to win outright 15.00 (14/1).
Check out some of the other games scheduled for tonight and tomorrow:
Today (September 13)
Basel vs Ludogorets Razgrad H 1.70 (7/10) D 3.90 (29/10) A 5.50 (9/2)
Benfica vs Besiktas H 1.75 (3/4) D 3.80 (14/5) A 5.25 (17/4)
PSG vs Arsenal H 1.95 (19/20) D 3.60 (13/5) A 4.20 (16/5)
Tomorrow (September 14)
Club Brugge vs Leicester City H 3.10 (21/10) D 3.30 (23/10) A 2.50 (6/4)
Legia Warsaw vs Borussia Dortmund H 10.00 (9/1) D 5.25 (17/4) A 1.36 (4/11)
Lyon vs Dinamo Zagreb H 1.61 (8/13) D 4.20 (16/5) A 6.00 (5/1)
Bet on Barcelona and other Champions League encounter!
(Take a look at the best young footballers 2016!)