Betting Odds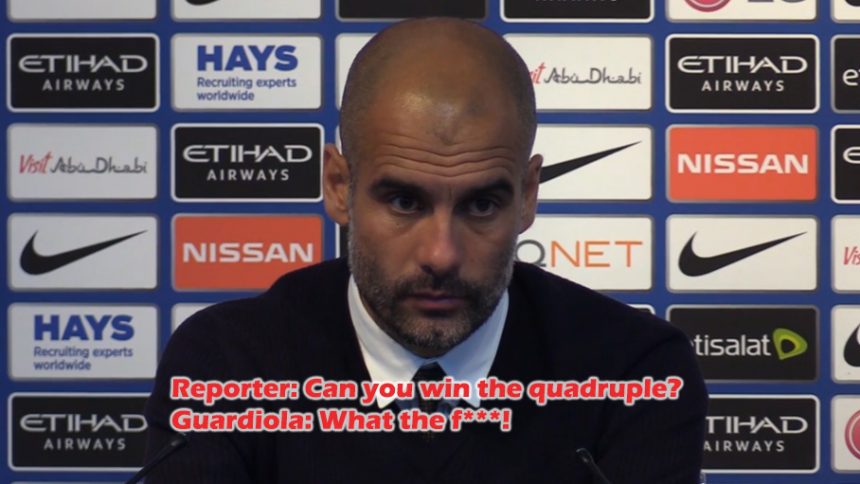 Man City Boss Blurts 'What the F***!' to Club's Quadruple Chances (Pep Guardiola Specials)
September 19, 2016
The 45-year-old manager dismissed Man City's chances of clinching four trophies this season, despite winning his eighth straight game with the club – bet on Pep Guardiola Specials with Betsafe!
Following Man City's 4-0 victory over Bournemouth at the weekend, the highly decorated manager Pep Guardiola was asked whether he can win all four competitions this season with Man City – the Premier League, the Champions League, the FA Cup and the League Cup. However, the Catalan dismissed those chances in his usual calm fashion, but not before he made an unorthodox remark with a "What the F***" exclamation.
But just in case you're confident Guardiola can clinch all four trophies in his first season in England, Betsafe offers odds of 300.00 (299/1) under 'Pep Guardiola Specials' on the site. So far, they seem to be on cruise control, after being the only side to maintain a 100% record in all competitions. Clinching a domestic double of Premier League + FA Cup stands at 8.50 (15/2), while a Premier League + League Cup double has odds of 7.50 (13/2). The chances of Guardiola being empty handed in terms of trophies at the end of the season are minimal 1.60 (3/5).
Betsafe Sports is the official betting partner of Manchester City and they offer a full range of Pep Guardiola Specials for the current and the following seasons. (For more info about the online sportsbook, check out Betsafe Sports Review.)
Q: is the aim to win four trophies?
A: WTF pic.twitter.com/CbF3ifT4rt

— Sam Lee (@Sammy_Goal) 18. rujna 2016.
Right after the impulsive 'WTF' blurt, he took a few moments to compose himself before going on to explain that expectations may be a bit exaggerated when it comes to Europe's elite competition, despite him lifting the Champions League trophy on two occasions.
"Manchester City arrived in the Champions League semi-final once, so when the people believe I am going to win the Champions League because I am a really good coach, I don't think so," said the Man City boss.
"My happiness does not depend on if I am going to win all the titles or not. My target is now to be happy today, drink a little bit of wine and prepare the (next) game – and of course I am going to try to win that League Cup game (vs Swansea), there is no doubt about that. After that we are going to see," stressed the former Barcelona and Bayern Munich boss. "So my question is: did the people who came to the Bournemouth game really enjoy it? Yes? Wow, that is enough. To win titles or not we will have to see."
Besides the Pep Guardiola Specials, Betsafe online sportsbook features some of the best odds for the Outright market on the Premier League, with the top three sides for the title being: Man City, Man United and Liverpool.
Even before the 2016/17 campaign got underway Man City were the title favourites, however now – with their impressive form – their chances have been upped to 1.65 (9/14), while Man United's odds for winning the title have been cut to 11.00 (10/1), making them outsiders for the Premier League crown. Liverpool are second favourites 6.50 (11/2) following their promising displays in recent games.