Soccer News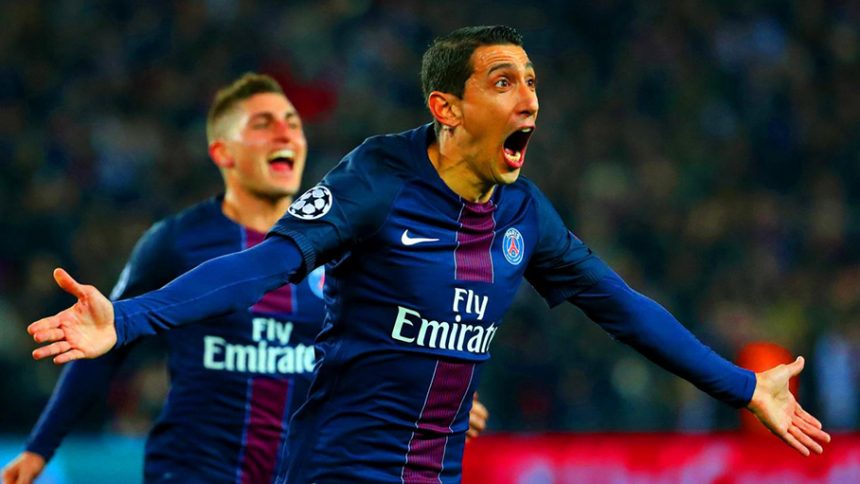 MSN Defeated by PSG 4-0, with Luis Enrique Facing Possible Exit from Barcelona
February 15, 2017
Five-time European champions Barcelona face an uphill battle at the Nou Camp three weeks from now, after suffering a humiliating 4-0 loss to PSG last night in the round of 16.
(Image credit: Eurosport)
Before the encounter took place at Parc des Princes last night, all everyone talked about was by what margin PSG will lose by, however the end result proved to be the complete opposite than what was generally expected. It's safe to say that PSG completely thrashed Barcelona with their far superior performance in front of a packed stadium with over 48,000, although objectively speaking the Catalans didn't put up much of a fight against the Parisiens.
Former Real Madrid winger Angel Di Maria – who celebrated his 29th birthday yesterday – opened the scoring in the 18th minute from a beautiful set-piece. PSG's new recruit Julian Draxler made it 2-0 for the hosts 22 minutes later, while Di Maria bagged another after the break in the 55th minute to record a brace. Uruguayan striker Edinson Cavanai – who also celebrated turning 30 years of age on the night – struck the back of the net in the 72nd minute to finish off the game 4-0 for the Parisiens, which also saw him bag his 34th goal across all competitions this campaign.
Immediately following the drumming of Blaugrana, speculation about Luis Enrique receiving the sack from the club's board has surfaced, with a number of online sportsbook already offering odds on the next permanent manager of Barcelona. In an ironic twist, PSG boss Unai Emery – who has taken over the club last summer from Laurent Blanc – has emerged as one of the potential candidates to become the new head of the Nou Camp side, should current Barcelona boss receive the axe.
William Hill Sports has identified some of the following managers that could take over Barcelona, if Luis Enrique is shown the exit door: Jorge Sampaoli 3/1 (4.00), Roland Koeman 5/1 (6.00) Frank de Boer 8/1 (9.00), Thomas Tuchel 10/1 (11.00), Unai Emery 10/1 (11.00), Ernesto Valverde 12/1 (13.00), Laurent Blanc 12/1 (13.00) and others.
Bet on Barcelona's next permanent manager with William Hill Sports!
(Learn more about the online sportsbook with William Hill Sports Review at Betting Herald – bet on the hottest markets and collect sportsbook bonuses daily.)
Enrique, who led Barcelona to the treble (La Liga, Champions League and Copa del Rey) in his first season with Barcelona, confessed the 4-0 hammering by PSG showcased just how 'inferior' his side were in the encounter.
"It is difficult," stressed the Barcelona boss. "They were superior to us from the start. It was a disastrous night for us in which we were clearly inferior. There's not much more to say. PSG did what we expected them to do and produced their best version and we were at our poorest."
Barcelona has an almost insurmountable task of overturning a 4-0 deficit from last night's game, and what's even more startling for them are the stats that say no side in Champions League history has ever managed to fight back from a 4-0 result in the knockout stages of the competition and proceed to the next round or go on to win the game. With all honestly, we don't see Luis Enrique coming up with some genius plan at the Nou Camp in three weeks time that will see MSN score at least four goals and not let a single one slip by.
Blaugrana have already been underperforming domestically in La Liga (48 points), which has seen their fierce rivals Real Madrid take the lead on the table (49 points), having played two games less. Once the Bernabeu side finally play those two matches, they will likely create a large gap between them and the second-placed Barcelona. The shock loss to PSG has only made matters worse for Luis Enrique, which leaves them in contention for only one competition – Copa del Rey. The good news is that Barcelona are the overwhelming favourites to win the final of the Spanish Cup, as they'll face lowly side Alaves on their home ground, Nou Camp.
Barcelona will likely finish off the 2016/17 campaign having solely won the Copa del Rey – for the third time in a row. And in all fairness, we're thinking Enrique will be given the support by the club's hierarchy, despite missing out on the biggest trophies this season. Former Barcelona manager Frank Rijkaard won the double in 2005/06 (La Liga and Champions League), but the club decided to dismiss him two years later, after failing to deliver another notable trophy. Taking this into account, Enrique might be looking at the same fate, so Blaugrana supporters shouldn't start worrying about his successor now, but if this trend continues into the following season (2017/18) and he's unable to replicate the same level of success that he achieved in his first two years at the Nou Camp, then the board will be forced to search for a suitable replacement.