Betting Odds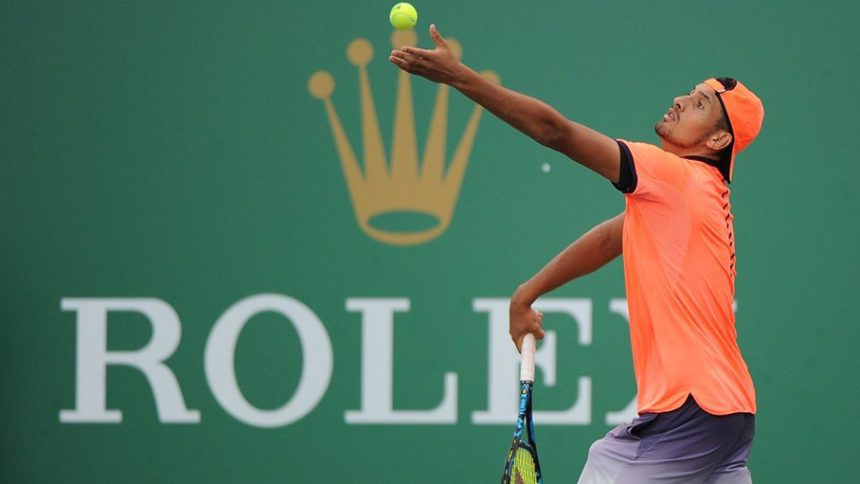 Nick Kyrgios Lands Himself in Hot Water Twice in Two Days at the Shanghai Masters (Tennis Betting Odds)
October 12, 2016
Australian Nick Kyrgios courts controversy (yet again) after his second-day meltdown at the Shanghai Masters – check out tennis betting odds at Bet365!
(Image credit: 24.hu)
The young tennis star reached new heights this week by after achieving a career-high 14th position on the ATP rankings, while also attracting unfavourable attention to himself with his 'bored' performances. Kyrgios unexpectedly crashed out of the Shanghai Masters in the second round at the hands of Mischa Zverev – a man that sits all the way down in 110th position.
Bet with the best tennis betting odds at Bet365!
But the Australian's defeat had little to with Zverev's prowess and more to do with Kyrgios' overall attitude and lack of effort during the match. He was visibly playful and made little efforts when swerving the ball towards his opponent. At a certain point, Kyrgios went over to the umpire Ali Nili asking him to throw in the towel, "Can you call time so I can finish this match and go home?"
After giving him a code violation for inappropriate language on the court, Nili replied with a warning, "Nick, you can't play like that. It's just not professional. This is a professional tournament."
The Association of Tennis Professionals (ATP) could fine the 21-year-old to the tune of $10,000 for his unsportsmanlike behaviour, which is handed as a penalty to any player that fails to showcase 'best efforts' during a match.
Check out some of the best tennis betting odds now!
Nick Kyrgios not exactly trying his hardest at the #ShanghaiMasters pic.twitter.com/p2XQy9krWZ

— Spreadex Sports (@SpreadexSport) 12. listopada 2016.
On Tuesday – the day before – Kyrgios defeated Sam Querry 6-4, 6-4 in the third round of the competition on Tuesday which saw him progress to the next round, however he claimed he was 'bored' during that game. Despite winning the match in unorthodox fashion, the victory gave him enough points to reach 14th spot on the ATP rankings.
"I was just a bit bored at times. I was feeling very tired. It was just tough… maybe I just wanted to get the job done," confessed the 21-year-old player. "I didn't have the greatest sleep last night and obviously got in late the day before. The ride to the courts isn't great either."
To Kyrgios' defence, he played his first match in the Shanghai Masters merely two days after winning the Japan Open, therefore it makes sense he could have been suffering from fatigue. On the other hand, he does have a track record when it comes to public outbursts and controversial behaviour, so this is not new territory for the newly crowned World's No. 14.
Check out some of the upcoming matches for Round 3 (October 13) of the Shanghai Masters with Bet365's tennis betting odds:
Gael Monfils vs David Goffin – 1.50 (1/2) vs 2.50 (6/4)
Gilles Simon vs Stan Wawrinka – 3.75 (11/4) vs 1.25 (1/4)
Milos Raonic vs Jack Sock – 1.33 (1/3) vs 3.25 (9/4)
Jo-Wilfried Tsonga va Aleksander Zverer – 1.83 (5/6) vs 1.83 (5/6)
(Tale a look at Betting Herald's Bet365 Sports Review for more details about the online sportsbook – this is the place that offers some of the best ssportsbook bonuses to complement the tennis betting odds.)