Betting Odds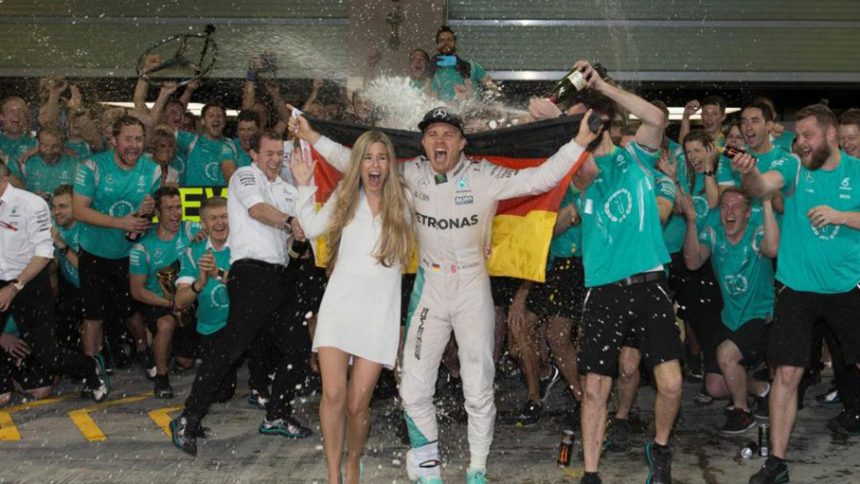 Nico Rosberg Crowned F1 World Champion 2016 with Five Points Ahead of Teammate Lewis Hamilton
November 28, 2016
The German finished the season with 385 points to become the F1 World Champion 2016, despite finishing second at the finale at Abu Dhabi.
(Image credit: Formula 1)
Lewis Hamilton came in first at the Yas Marina in the final race of the season – his fourth straight victory – however with 380 points to his name, it wasn't enough to see him crowned F1 World Champion 2016. Instead, his teammate Nico Rosberg picked up the world championship title after collecting a mere five points more than the Briton, in a season that features 21 races in total. The Mercedes team also took home the Constructors' Championship after they amassed 765 points, way above Red Bull Racing Tag Heuer (468 pts) and Ferrari (398 pts).
The German had a hard time coming to grips (pun intended) after clinching the F1 World Champion 2016, highlighting that yesterday's Abu Dhabi Grand Prix was one of the greatest challenges of his career due to its extreme levels of intensity that could have easily seen him miss out on the championship had he made even a minor mistake.
"It is unbelievable that I managed to do it. It's an amazing feeling because the race was so intense. So, so, so horribly intense," stressed the 31-year-old driver. "It's not possible to explain the intensity. Even the battle with Max (Verstappen), it was a horrible feeling out there. Then again at the end as they were coming up from behind with two laps to go, and this is the world championship we're talking about, if I drop behind those two, if I make a mistake."
Although sealing the F1 World Champion 2016 title is a triumphant moment for the 31-year driver, he is still behind fellow countrymen in terms of championships won. This is Rosberg's very first world title, while the likes of Sebastian Vettel and former legendary driver Michael Schumacher have won the championship on four and seven occasions respectively.
The F1 World Champion 2016 also commented immediately after the race that he's glad 'it's over,' as the pressure was quite unpleasant. "That was definitely not the most enjoyable race I've ever had. Those laps were really not very enjoyable. I'm glad it's over, and I am ecstatic."
Lewis Hamilton – who finished the season second with only five points behind Rosberg – might be facing disciplinary charges from his team after failing to follow orders on the track at the Yas Marina. According to The Guardian, while the three-time world champion was ahead of the pack of drivers, he intentionally drove slower in efforts to put Rosberg under pressure, who was then surrounded by Sebastian Vettel and Max Versteppen.
Had Rosberg finished fourth in the race, it would have seen Hamilton crowned F1 World Champion 2016 instead – it would have been his third successive title. But in the end, the German finished second on the podium – behind his teammate – granting him enough points to seal his maiden world title.
"Undermining a structure in public means you are putting yourself before the team," said Toto Wolff, the head of motorsport for Mercedes. "It is very simple. Anarchy does not work in any team and in any company."
It is believed that Mercedes are now preparing a penalty for the Briton that can either see him fined or even receive a suspension, which could potentially put his hopes for a fourth championship the following season in jeopardy.
Bet on F1 Drivers' Championship 2017 with William Hill!
Despite Nico Rosberg winning the championship this season, William Hill Sports believes Lewis Hamilton will go back to winning ways in 2017, giving him favourites odds 2.50 (6/4) for the Drivers' Championship. Nico Rosberg is right behind him on the odds chart with 3.75 (11/4), while Red Bull's duo Max Verstappen 4.33 (10/3) and Daniel Ricciardo 5.00 (4/1) are fourth and fifth favourites respectively. Ferrari's Sebastian Vettel – four-time champion – is an outsider at this stage 13.00 (12/1), per William Hill Sports.
(For more info about the online sportsbook, check out William Hill Sports Review – you can find daily enhanced odds markets and a range of sportsbook bonuses.)