Enhanced Odds Bonuses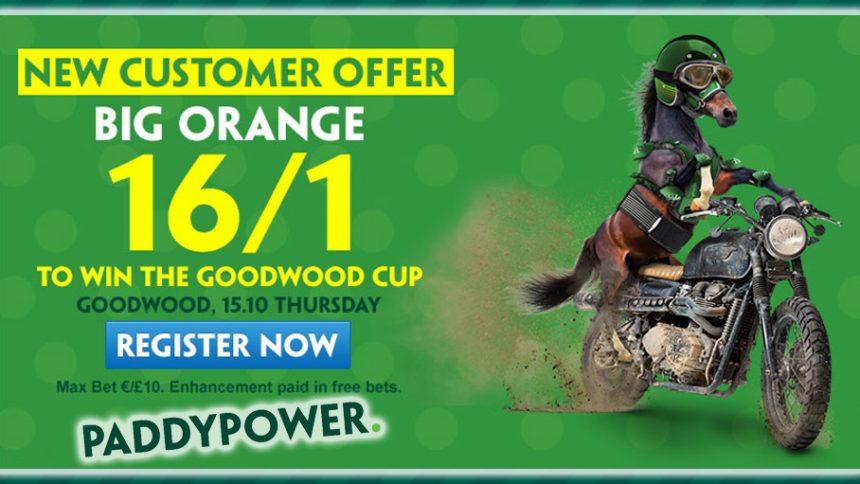 Bet on Big Orange to Win the Goodwood Cup with Paddy Power's Horse Racing Enhanced Offer 17.00 (16/1)
July 27, 2016
Horse Racing Enhanced Offer
Promo Type
Enhanced Odds/Free Bet/Insurance Bonus
(+ £5 Free Bet)
Promo
Big Orange to Win the Goodwood Cup 17.00 (16/1)
Cashable
No
Wagering Requirements
£10
Valid Until
15:10 BST - July 28, 2016
Accepted Countries
UK and Ireland (only)
Online sportsbook Paddy Power gives out Horse Racing Enhanced Offer for the Goodwood Cup tomorrow (July 28).
Place a simple £10 bet on Big Orange to win the Goodwood Cup and you could be pocketing 17 times that amount with the Horse Racing Enhanced Offer 17.00 (16/1)! Make the wager ASAP before the offer runs out at 15:10 BST tomorrow (July 28)!
If Big Orange crosses the finish line first you'll receive your winnings based on the original price offered by the online sportsbook, while the rest of the of the amount will be paid to you in Free Bets that will see the total winnings get up to 17.00 (16/1).
Besides the Horse Racing Enhanced Offer, Paddy Power dishes out promos and other enticing deals on a daily basis, so make sure to come back regularly to scoop the best offers! (Check out Betting Herald's Paddy Power Sports Review for more info about the online sportsbook.)
Under jockey Jamie Spencer and trainer Michael Bell, Big Orange won the Goodwood Cup last year so the team will be looking to replicate the success to clinch back-to-back titles. The last horse to win consecutive Cups was Double Trigger in 1997 and 1998 – trained by Mark Johnston – although the riders were different with Michael Roberts claiming the first trophy and Darryll Holland clinching the second one.
Big Orange recently gave a wonderful performance at Newmarket, which trainer Bell believes he could build on this success at tomorrow's Goodwood Cup. "Visually it was a career-best (at Newmarket) and the handicapper agrees – he's on a career-high mark now of 117 and you could argue he should be a little bit higher on some form lines," said Bell. "We are the highest-rated in the race and he deserves to be favourite provided the rain stays away. He's very effective on fast ground."
Place your bets now with Paddy Power's Horse Racing Enhanced Offer 17.00 (16/1)!
Wager with Horse Racing Enhanced Offer!