Features
Can Guardiola Have a Fairy Tale Ending at Bayern by Clinching the Champions League Trophy in His Final Season?
April 27, 2016
Bayern Munich boss Pep Guardiola is set take over Manchester City from next season, so this is his final chance to lift the Champions League trophy before he departs. But can he do it?
Since taking over the Bavarian giants in the summer of 2013, Guardiola has made the Bundesliga Bayern's training ground by collecting title after title almost effortlessly. But the same cannot be said for their efforts in Europe, as the Champions League trophy has eluded them since he took the reins, despite commanding some of the most prolific players in football.
Bayern's third successive Bundesliga title is practically in the bag, as they lead the table with 81 points, with second-place Dortmund having 7 points less with only 3 games to go. This allows the Catalan manager to focus all his efforts on claiming his third Champions League trophy as a manager and Bayern's sixth overall.
But doubts linger whether he can actually pull it off in his final year at Allianz Arena, as he has failed to guide the Germans to the final in the previous two semi-finals, losing to Real Madrid and Barcelona in 2014 and 2015 respectively.
Guardiola has stressed that he's fully aware of the expectations people have of him, despite achieving great success domestically. "In three years, we have got to three semi-finals, but I know that people say if I don't win the Champions League, my work won't be complete," said the soon-to-be Manchester City boss. "But I've been very lucky to have experienced what I have in Germany. I think I am a better coach, a better person, more relaxed."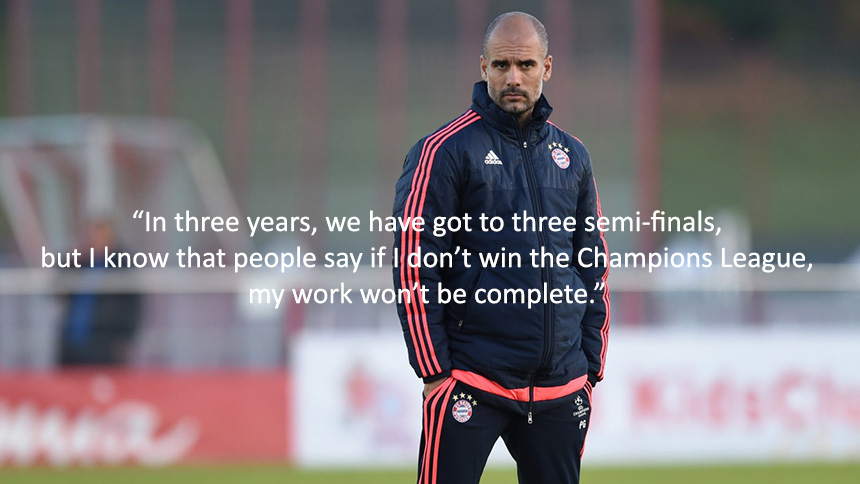 This is Guardiola's last chance to clinch the Champions League trophy with the Bavarian side
In regards to the threat that Atletico poses, the former Barcelona manager acknowledged the impressive organization and overall structure of the team they are set to face in the semi-finals. "It has been five years since I was involved against them, but from what I have seen and what people say, they defend well, through that's not all they do," Guardiola said. "They're extremely well organized, they've got a good structure defensively, they close space, they have a great counter-attack. In football, you have to adapt and we will adapt to get the best result we can. We know all the teams are difficult and Atletico are no exception."
The Bayern Munich boss likened Atletico Madrid to fellow Spanish giants Real Madrid and Barcelona, both of whom lifted the Champions League trophy in the last two editions of the competition respectively. "You can compare them to Barca and Madrid – when they play against the big European clubs, they can confound the favorites. It will be a great game, complete and fun at the same time, and we will do all we can to get the final."
"They have been fighting for the league title for the last three or four seasons as well as in Europe, so you to do almost everything very well against them, But we have to see what we can do in order to hurt them," said Guardiola, as he prepares to face a side that outwit his former side Barcelona in the quarter-finals.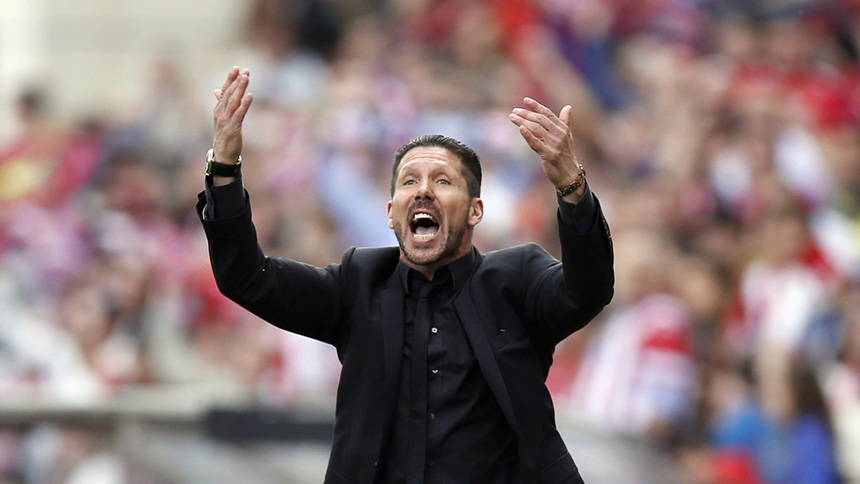 Diego Simeone remains confident ahead of the clash with Bayern (Image credit: International Business Times)
Atletico Madrid's manager Diego Simoeone has a clear and simple objective on his mind – to win. "We have to be thinking about one thing: winning. I am expecting a hard match against an opponent with a lot of attacking potential, against a coach who changes from game to game. We will try to take the game into our hands where and when we can."
The Argentine manager highlighted that a victory is not reserved for the one with the most resources, but rather the one that manages his resources the best. "Obviously we have a coach and players with different characteristics, but in wars, it isn't the side with the most soldiers that wins, rather the side that uses its soldiers better. They are in the same position as us – and to win the league, you have to win games. I want my side to win, nothing more," Siemone said.
Bet365 Sports favors the Germans to win 2.45 (29/20) the match at Vicente Calderon, while a draw between the two stands at 3.10 (21/10). A win for Diego Simeone's men is even less likely 3.40 (12/5), but they'll have one important factor going for them – the home support.
(Take a look at Bet365 Sports Review for more details about the online sportsbook.)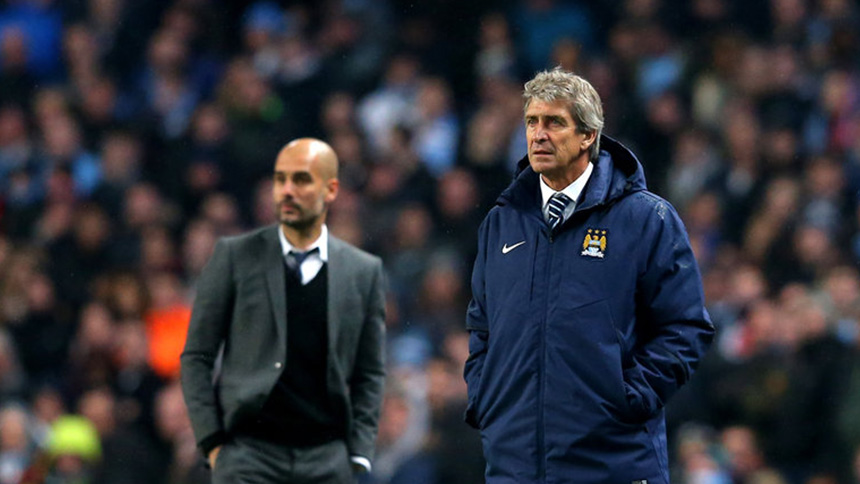 Pellegrini is set to be replaced by Guardiola even if he wins the Champions League trophy (Image credit: Sky Sports)
Manchester City are outsiders to lift the Champions League trophy 8.00 (7/1), but it would certainly be interesting to see them beat Real Madrid at the Bernabeu next week and proceed to the final. And should Bayern triumph over Atletico in the semi-finals, they could potentially meet The Sky Blues at San Siro on May 28.
Just imagine that if by some miracle, Manuel Pellegrini would outsmart his imminent replacement Pep Guardiola in the final, only to be shown the door the next day. Sure, he would get a hefty bonus for clinching the elite competition, but it would be viewed as unjust for a man that landed them the Champions League trophy. With all respects to Guardiola's genius and accomplishment, the whole affair of replacing the Chilean with Pep would be made to look quite bizarre and ironic.
But considering the form they're in and their sole focus lying on European glory, Bayern will most likely prevail over Atletico Madrid and go on to the final where they'll most probably meet Real Madrid. Despite the threat posed by Ronaldo and Co., Guardiola's cunning should be the determining factor in having a fairy tale ending to his Bavarian adventure.
Bayern Munich are favorites to land their sixth European title 2.50 (6/4), while Spanish giants Real Madrid are right behind them with odds of 2.87 (15/8). Real's cross-town rivals are third favourite to win the Champions League trophy 4.50 (7/2).