American Football Betting Promotions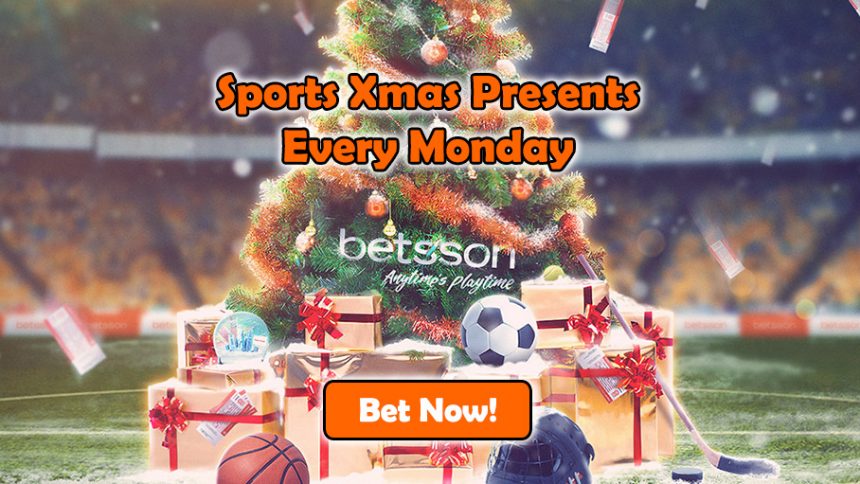 Celebrate Xmas in Style with Betsson's Sportsbook Christmas Presents
December 6, 2016
Sportsbook Christmas Presents
Promo Type
Cash/Giveaways/Free Bets/Tournament/Specials Bonus
Promo
New York NHL/NBA packages
Europa League final packages
Cancún packages and travel vouchers
Cash prizes, risk free bets and free bets worth up to €1,000
Bonus Code
None
Cashable
Yes
Wagering Requirements
Risk Free Bet + Free Bet: 1x (odds of 1.50 (1/2) or higher)
Free Spins: 35x at the online casino
(No wagering requirements for Cash Prizes)
Valid Until
Week 1: Nov 28 - Dec 4
Week 2: Dec 5 - Dec 11
Week 3: Dec 12 - Dec 18
Week 4: Dec 19 - Dec 25
Accepted Countries
Sweden, Finland, Norway, Poland, Germany, Iceland, Netherlands, Peru and Brazil
Unwrap anything from Cash Prizes and tickets to sports finals, to Risk Free Bets and travel packages with Sportsbook Christmas Presents!
This is your chance to enjoy the thrilling December sports action and also get properly rewarded for it every single Monday thanks to Sportsbook Christmas Presents at Betsson Sports. All you have to do is Opt-In for the special Xmas tourney to win Cash Prizes, Risk Free Bets, Free Bets, Giveaways, Travel Vouchers and Free Spins (online casino)!
There's so much to gain with Sportsbook Christmas Presents for a minimal bet of €30 weekly during the campaign. This is a limited time offer, so join Betsson Sports now and take advantage of Santa's good will before the tourney comes to an end on December 25. The best part about Sportsbook Christmas Presents is that once you make a €30 bet during one week, you can place another €30 worth of wagers the following week, thus allowing you to win multiple prizes, instead of you getting solely one gift for Christmas.
(Take a look at Betting Herald's Betsson Sports Review for more info about the online sportsbook – it boasts some of the best sportsbook bonuses for lots of customers, but especially the ones that come from Scandinavian countries.)
Week 1 (Nov 28 – Dec 4) saw players scoop tickets to both the NHL and the NBA, while during Week 2 (Dec 5 – 11) Betsson Sports is giving away five packages to the Europa League final, which is set to be played in the Swedish capital of Stockholm on May 24, 2017.
And let's not forget about the extraordinary vacation trip to Cancun, Mexico, that is up for grabs during Week 3 (Dec 12 – 18), while the final, Week 4 (Dec 19 – 25) can see you win Cash Prizes, Risk Free Bets, Free Bets and Free Spins worth up to a whopping €1,000! Offers like Sportsbook Christmas Presents don't come around often; if you don't believe us, just check out Betting Herald's Sportsbook Review section and see what other online sportsbook are offering this time of year.
(If you're interested in trying your luck at the online casino tables, check out Betsson Casino Review at Gambling Herald.)
Continue being a good boy/girl throughout December and make €30 worth of bets ever week to win special items with Sportsbook Christmas Presents, and then after that go crazy with all your gifts!
[maxbutton id="356″]
Win all sorts of present with Sportsbook Christmas Presents!