American Football Betting Promotions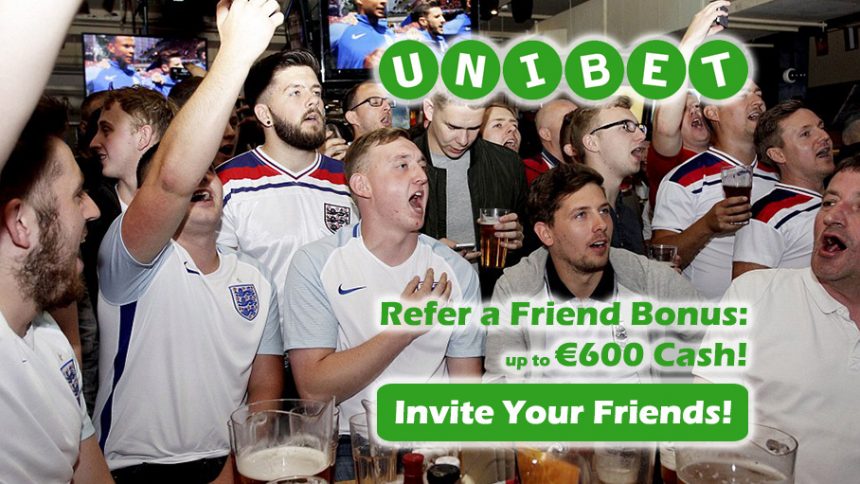 Collect up to €600 Cash with Unibet's Refer a Friend Bonus!
January 5, 2017
Refer a Friend Bonus
Promo Type
Refer a Friend/Cash/Deposit/Specials Bonus
Promo
€120 Cash per friend (5x)
Total: up to €600 Cash
Cashable
Yes
Wagering Requirements
No
Valid Until
NA
Restricted Countries
Afghanistan, Australia, Denmark, Estonia, Ethiopia, France and other French territories, Hong Kong, Iran, Iraq, Italy, Jordan, Kuwait, North Korea, Pakistan, Philippines, Portugal, Spain, Syria, Turkey, USA and other US territories, Yemen
Invite your betting buddies to join you at Unibet and pocket a cool €120 for each one of them (up to five players) with the Refer a Friend Bonus!
Unibet Sports kicks off the year in great style with €600 Cash up for grabs. You read that correctly! Forget about Free Bets, because this special Refer a Friend Bonus gives out "cold, hard CASH via commission" – Mark Hannah, Wolf of Wall Street (2013).
Take matters into your own hands by earning €120 Cash for every friend that you refer to Unibet Sports; you can invite a total of five betting buddies which will see you collect a tidy sum of €600 Cash overall with the Refer a Friend Bonus.
All you have to do is activate the 'Invite a Friend-Program' on your Unibet account to begin earning huge commissions every time one of your friends joins the 'green' online sportsbook – you see why we refer to it as a 'green' betting site, don't you?? Your select group of friends will receive emails with invitations to sign up, right after you activate the Program.
Just make sure to give your betting buddies a heads up that they'll be greeted with a Welcome Bonus that will match their first deposit up to €50 as soon as they open an account with Unibet Sports.
(For more details on the online sportsbook, take a look at Betting Herald's Unibet Sports Review – enjoy daily sportsbook bonuses and lucrative odds.)
The Refer a Friend Bonus is activated in three simple and quick steps: 1) Sign up to invite your friends, 2) send out invites for them to join and 3) your friends fulfilling the wagering requirements will then activate the Refer a Friend Bonus that dishes out up to €600 Cash in total, spread over five betting buddies.
The best part about this special Refer a Friends Bonus is that there are absolutely no wagering requirements for you. That's right! And on top of that, the funds that you receive are all in CASH, which can be withdrawn at any time from your Unibet account. And the fun doesn't end there; don't forget to tell your friends they're entitled to take advantage of the Welcome Bonus that matches their deposit up to €50.
Start inviting friends now and get €120 for every one of them that joins you at Unibet (up to five players) with the Refer a Friend Bonus!
Invite a buddy and get €120 with Unibet's Refer a Friend Bonus!