Cash Back Bonuses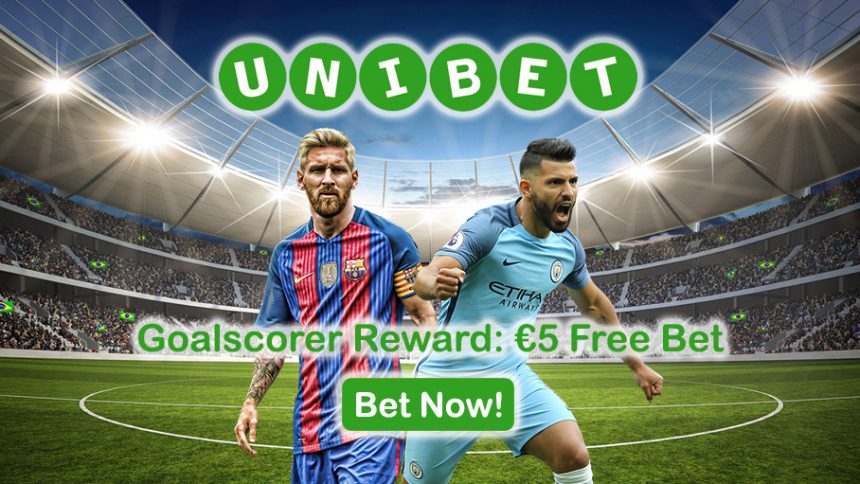 Goalscorer Reward: Scoop €5 Free Bet on Select Players
October 27, 2016
Goalscorer Reward
Promo Type
Cash Back/Free Bet/Parlay/Specials Bonus
Promo
€5 Free Bet on Select Players

Sergio Aguero - West Brom v Man City
Lionel Messi - Barca v Granada
Gonzalo Higuain - Juventus v Napoli
Mario Balotelli - Nice v Nantes
Luuk de Jong - Vitesse v PSV Eindhoven
Marco Reus - Borussia Dortmund v Schalke 04
Cashable
No
Wagering Requirements
None
Valid Until
October 29-30, 2016
Restricted Countries
Afghanistan, Australia, Denmark, Estonia, Ethiopia, France and other French territories, Hong Kong, Iran, Iraq, Italy, Jordan, Kuwait, North Korea, Pakistan, Philippines, Portugal, Spain, Syria, Turkey, USA and other US territories, Yemen
Back your favourite players this weekend and win €5 Free Bet with Goalscorer Reward for each player that scores a goal!
Join Unibet today, opt-in for the Goalscorer Reward and place a €10 wager (or more) on any of the select games above. When the select player strikes a goal in the respective game, you'll receive €5 Free Bet, and in total there are six matches that qualify towards the Goalscorer Reward, so there's plenty of Free Bets up for grabs this weekend with the online sportsbook.
Unibet has picked proven strikes that find the back of the net as easily as you down a bottle of cold beer, so you're practically guaranteed to win 6 x €5 Free Bets with Goalscorer Reward. This offer is valid only for this weekend (October 29-30), so make sure to place your bets on Europe's best strikers before they take to the pitch.
Note: live bets don't count towards the Goalscorer Reward, so you'll have to place your bets on the select matches before kick-off time. The minimum wagering amount is €10 and the odds have be at least 1.40 (2/5).
(Take a look at Unibet Sport Review for more info about the online sportsbook – if offers enticing sportsbook bonuses regularly.)
Check out the list below for info about the number of goals each player has scored so far in their respective domestic leagues and on aggregate:
Aguero – Premier League 5 / Agg. 11
Messi – La Liga 7 / Agg. 14
Gonzalo Higuain – Serie A 6 / Agg. 7
Mario Balotelli – Ligue1 5 / Agg. 6
Luuk de Jong – Eredivisie 3 / Agg. 4
Marco Reus – Bundesliga 12* / Agg. 23*  (*2015/16 season)
All of the players above have a penchant for scoring goals and considering it a failure if they don't strike the back of the net. Considering that a number of these forwards will be playing against lower sides this weekend, you can expect them to bag a few goals in their respective games, which translates to mucho dinero in 'Free Beto' my amigo!
Opt-in for this special Goalscorer Reward offer and win 6 x €5 Free Bets on Europe's deadliest attackers!
Collect €5 Free Bet with the Goalscorer Reward!