Basketball Betting Guide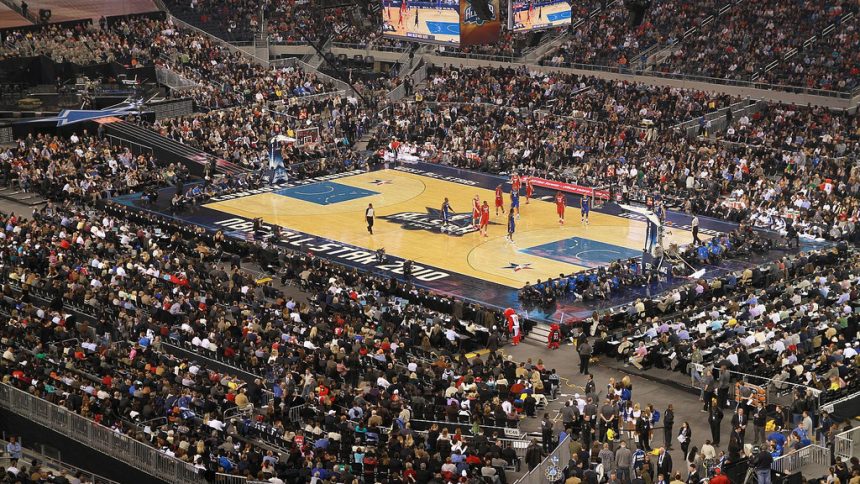 How to Bet on Basketball: The Definitive Guide
December 10, 2015
Basketball is now the world's second-most popular team sport after association football. We'll fill you in on everything you need to know about placing wagers on this great game.
Basketball may not have the massive global following of football, but it's one of the world's most popular sports and is growing fast. After being confined almost exclusively to North America long after its invention in 1891 it gained popularity in Europe after the Second World War, with the first European stars appearing on the international scene during the 1980s.
Toni Kukoc of Croatia and Vlade Divac of Serbia helped build basketball's worldwide profile after arriving in the US during the late 1980s. Since then, international stars like Dirk Nowitzki, Tony Parker, Yao Ming and Pau Gasol have made it evident that the game is no longer American; it's global.
It has also gained a foothold in Africa, coming in behind football as the second-most popular sport in some countries. And in China, the world's most populous nation, basketball is now the most popular team sport. With the game enjoying such tremendous popularity worldwide, it comes as no surprise that fans the world over are placing wagers on it. Every reputable international sportsbook regardless of location takes bets on the game, and it has become a very big business. Here is our guide if you are interested in learning about how to bet on Basketball.
What are the biggest and best basketball leagues worldwide?
Each year people wager billions of dollars on basketball events from the NBA playoffs to the Euroleague to Spain's Liga ACB to the NCAA March Madness tournament. On March Madness alone it's estimated that $12 billion was wagered worldwide in 2011, $3 billion of which was put down in informal office pools in the US. That makes it the largest betting event in the US, dwarfing the Super Bowl by far.
The NBA is without a doubt the biggest draw for sports bettors worldwide, as it is home to the world's top teams and most marketable stars, many of whom started their careers in Europe, Africa, Asia or Latin America before coming over to the US. However, the global playing field has improved so much that there are strong leagues in Europe and Latin America as well.
Some examples? Europe has two great leagues, FIBA and the Euroleague. Both bring together top clubs from across the continent to compete in intense tournament play. Two of the world's best clubs, Real Madrid and CSKA Moscow, play in the Euroleague.
In 2007 the FIBA Americas League was launched, bringing together the best in basketball from across Latin America. While few would associate the region with basketball, it is home to some top-quality clubs and players, and the Argentine national team took home the gold medal at the 2004 Athens Olympics.
In terms of the best professional leagues by country, some notables are the ACB League in Spain, which is arguably the world's second-best after the NBA. In addition the French, Italian and Greek leagues have produced high quality clubs in both FIBA and the Euroleague, and the CBA in China has been impressive as well. In short, no matter where you live there is likely to be a highly competitive club or league close by.
How to bet on basketball games?
There are numerous different wagers you can place on basketball games. The most popular way is by placing a bet on the "point spread." When doing so you are picking a winner in a head-to-head matchup. The point spread handicaps the favored team. For example, let's assume that the Boston Celtics are playing against the Los Angeles Lakers.
Being the better team the Celtics are favored to win by 10 points. This means that in order to bet on them to win, you wager money that they will win by 11 points or more. Predicting that they will win by less than 10 points is making a bet for the Lakers. If the Celtics win by exactly 10, it's a push and no money changes hands. The point spread is a way for bookmakers to bring the odds closer together.
A straight bet without a point spread is called a "money line" in basketball speak. You choose a winner, although the odds are adjusted depending on which team is favored. For example, let's say the lines for a Lakers/Celtics game is:
Celtics -300
Lakers +240
This means that the Celtics are favored to win. You need to put up $30 in order to win $10. By contrast, if you choose the underdog Lakers you can rake in $24 by putting up only $10. However, your chances of winning the bet are smaller.
Another popular way to bet on basketball games is to place a wager on the "over/under." Let's say that Bet365 predicts that the combined score of the Lakers vs. Celtics game will be 198 points. Rather than choosing a winner, the bettor predicts whether the combined score will be over or under 198. Bettors are usually given 11/10 odds, so if choosing correctly when wagering $11, you will receive $21 back. If the score winds up an even 198, it's a push and your bet is returned to you.
What are parlays and prop bets?
Aside from the standard offerings there are other ways of betting on basketball games as well. If you plan to bet with a Canadian sportsbook, the only legal option is to place a parlay. That means wagering on at least three different events simultaneously. Most bettors dislike this because betting on more events most likely means they will lose at least one of them.
Prop betting is relatively new but has become extremely popular. Rather than predicting the winner or point total of a game, participants wager on in-game events not directly related to the outcome. For example, one could place a bet on whether Lebron James or Kevin Durant will score more points during a head-to-head matchup, whether a given player will receive a technical foul, or whether someone will score a game-winning shot. These bets are a great way to add to the fun of watching any sporting event.
What are the best sportsbooks for basketball betting?
When choosing the site best for you, it's important to consider a few factors. First off, your location matters. Some sites aren't available everywhere (for example, it's tough for Americans to find online bookmakers who will serve them). Some sites only offer support in a few languages or only take deposits in a few major currencies. And of course, you should choose a site that has a diverse basketball offering with player-friendly odds. Lastly, looking around for the best bonus for basketball bets is also beneficial.
Luckily for fans, there are tons of top-notch international bookmakers with great basketball offers. Some sites we recommend are Bovada (which is available in the US!), Bet365, Bodog, William Hill and Unibet. Bet365 is known for offering a great range of props in addition to standard wagering offers on leagues on all continents as well as international basketball.
Series Synopsis
7 Basketball Betting Tips Certain to Increase Your Bankroll
Becoming a professional basketball handicapper isn't easy, but you need to start somewhere. This piece is a one-stop shop for getting you the direction you need to start placing winning bets.
The 4 Biggest Basketball Betting Events Worldwide
As basketball has built an international following there are now high-quality leagues in Europe and Asia as well as North America, giving bettors more options than ever before. Join us for an in-depth look at the top draws for basketball punters, regardless of location.
From the Euroleague to the NBA, Key Dates to Mark on Your Basketball Betting Calendar
There is much more to the world of basketball betting than just the NBA, so the standard late-October and mid-May calendar just doesn't hold up anymore. These are crucial dates to remember in each of the world's top basketball leagues, and enough to keep you busy placing basketball wagers almost year-round.
Laws and Regulations You Must Consider before Betting on Basketball Games
Online sportsbooks like Bet365, Bodog and Paddy Power have become popular places to bet on basketball games almost everywhere. But many governments aren't so keen on the activity, so you need to know the laws and regulations of the jurisdictions that you live in. This piece cuts through the legal jargon to explain the situation on the ground in the major betting jurisdictions.
4 Reasons Why the NBA is a Basketball Bettor's Dream Come True
Within the sportsbetting world basketball is just one option. If it's your favorite option, there are many leagues worldwide to consider betting on. But without a doubt the NBA is the most exciting venue for betting on basketball games. Click to find out why.
6 Common Mistakes to Avoid when Betting on Basketball Games
Basketball betting beginners cost themselves money by repeating silly mistakes that result in lost bet after lost bet. It's important to get these things right early on if you want to build a bankroll big enough to be a serious handicapper.
How Prop Betting Tells the Story of the NBA vs Euroleague
Prop betting on basketball games is one of the most fun features of the sportsbetting market today. But it can also tell us a lot about how basketball is played in the NBA vs in the Euroleague. If you're looking for an interesting analysis on competing style of play, this piece is for you.
Early Odds on the Best Basketball Teams at the 2016 Summer Olympics in Rio
The 2016 Rio Olympics may be two years away, but countries around the world are busy building top basketball teams. The US won the gold medal in London in 2012, but will it repeat the same feat against tougher competition?
The 7 Best Basketballers Outside of the US to Place Prop Bets On
Basketball is perfect for prop bets because we can watch out favorite players perform fantastic individual feats. If you're a fan of international basketball, there are lots of great non-NBA players exciting enough to bet on.
The Next Crop of International Stars Soon to Hit the NBA is Stacked with Euroleague Talent, But Doesn't Stop There
Non-US players have been making a splash in the NBA for three decades. This piece is an introduction at the next group of youngsters from Europe, Africa and the Pacific poised to serious waves in the NBA over the next few years.
Meet Haralobos Voulgaris, the World's Greatest Basketball Handicapper
There are only a handful of people talented and lucky enough to make a pretty penny solely betting on NBA games. This is a profile of Harabolos Voulgaris, a Canadian NBA junkie with so much knowledge of the game he was hired as a consultant for NBA teams.
How March Madness Went from a Sideshow to America's Biggest Sportsbetting Event
Most people would expect the Super Bowl to be the biggest sportsbetting event in America. Actually it's the NCAA's annual March Madness tournament, and by a wide margin. Every year millions of Americans wager money on the games in informal betting pools.
How Google Glass and other New Technologies Stand to Rapidly Change the Face of Basketball Betting
Nothing describes the world of basketball betting more fittingly than a single word: change. Tech innovations have always altered the way we wager on our favorite teams and players. Thanks to the rapidly developing technology, we have many ways and ideas concerning how to bet on basketball.