Betting Odds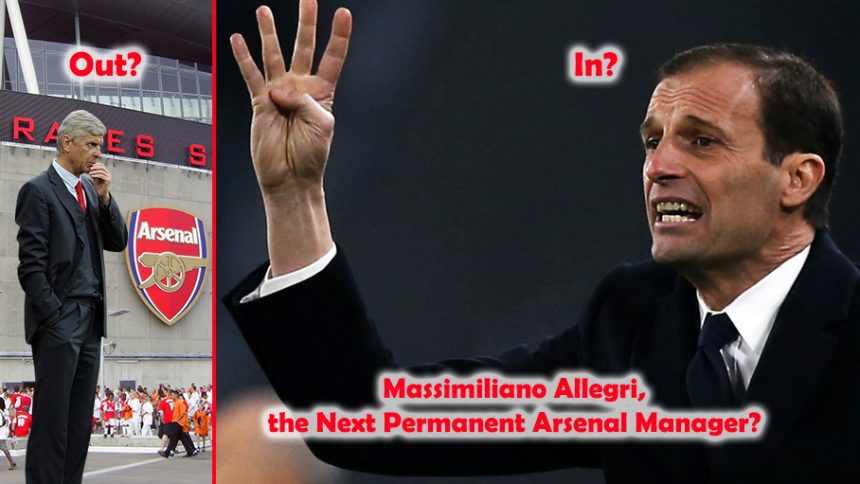 Next Arsenal Manager Odds: Massimiliano Allegri 7/2 Favourite to Take Over the Emirates Stadium
February 17, 2017
Paddy Power Sports has earmarked the current Juventus boss to succeed Arsene Wenger at the end of the season, with favourite Next Arsenal Manager Odds.
Arsene Wenger has come under increased scrutiny by both the media and Arsenal fans, after his side were thrashed 5-1 by German champions Bayern Munich in the last 16 of the Champions League on Wednesday night. Supporter groups have called for his resignation following the huge loss, which immediately propelled the Next Arsenal Manager Odds at Paddy Power Sports.
Wenger reassured the press that he'll continue to manage next season, but didn't specifically indicate whether that will be at the Emirates or somewhere else.
"No matter what happens I will manage next season, is it here or somewhere else. That's absolutely for sure," said the 67-year-old manager, who has been in charge of the club since 1996.
This leaves the door open for other potential candidates to replace him, which is why the Next Arsenal Manager Odds are high when it comes to Massimiliano Allegri 7/2 (4.50) and others on the list that could take charge at the Emirates next campaign: Thomas Tuchel 4/1 (5.00), Eddie Howe 5/1 (6.00), Diego Simeone 9/1 (10.00), Rafael Benitez 12/1 (13.00), Patrick Vieira 12/1 (13.00) and others.
Place a wager on the best Next Arsenal Manager Odds at Paddy Power Sports!
Allegri is on course to win another Scudetto with Juventus this campaign, which would be the club's sixth straight and his third straight, since taking over the club in the summer of 2014. He also managed to lead the Turin side to their first Champions League final in his first season with the club, but eventually lost the final to Barcelona 3-1 in Berlin 2015.
"On a night like that (5-1 loss to Bayern Munich last Wednesday), of course I hate defeat and I hate to lose games" commented Wenger. "I want to do extremely well for this club, and I feel a big responsibility. You do not stay somewhere for twenty years and you walk out of a defeat like that and you whistle. It is difficult to take, but as well I have the strength and the experience to respond to that."
Besides the Next Arsenal Manager Odds, Paddy Power Sports is also offering a special market on 'Arsene Wenger to be Arsenal Manager on the 1st day of next season' – NO 8/11 (1.72) or YES 1/1 (2.00).
(Take a look at Paddy Power Sports Review to learn more about the online sportsbook – it's one of the very best betting sites when it comes to niche markets and specialized offers.)
At this moment, Arsenal have once again succumbed their own cliché of being fourth on the table after 25 rounds in the Premier League. The Gunners sit 10 points behind leaders Chelsea, who are likely to be crowned champions at the end of the campaign, if they continue their impressive performances.
On top of their poor performances both domestically and in Europe, Arsenal are also having internal problems within the squad. Their star player Mesut Ozil seems to have lost his magic touch that made Arsenal appear like potential contenders for the title earlier in the season, while Alexis Sanchez looks to be on the way out of the club, with reports linking him to the Chinese Super League (CSL) that could console his modest trophy shelf by pouring loads of cold-hard cash on him.
It's safe to say that Arsenal are in need of a shake up if they are to ever get back to winning ways. It was commonly understood that Wenger would be given time to deliver silverware, as the club moved to the new state-of-the-art Emirates Stadium in 2006, which left their budget depleted so they had to opt for youngsters – who are cheaper – instead of going for proven talent that comes with a hefty price tag.
But it appears that 2013 marks the time that Wenger once again was able to dig deep into Arsenal's accounts, as they signed Ozil for £42.5m (€50m) from Real Madrid – a fee that was deemed astonishing for Arsenal's standards, compared to their done deals in previous transfer windows. They followed that heavy spending trend the following summers, with the acquisitions of Sanchez for £36m (€42.5m) from Barcelona in 2014 and recently Granit Xhaka for £38m (€45m) from Borussia Monchengladbach last summer.
As a simple comparison, Leicester City managed to win the Premier League last campaign by spending only a fraction of those sums on their entire squad, while Arsenal will soon stretch their run without a title to 13 years, having last lifted the league crown in 2004.
Have your say whether Wenger should call it time on his two-decade long stay with the Gunners by placing a bet Next Arsenal Manager Odds at Paddy Power Sports.