Free Bet Bonuses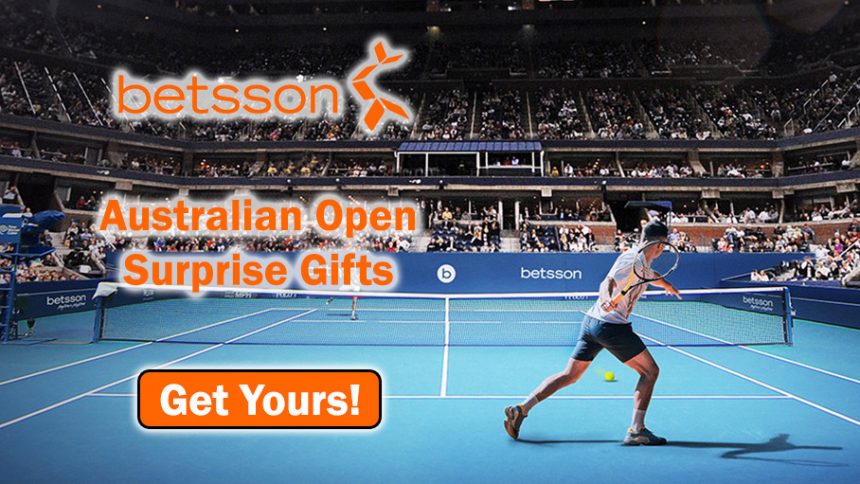 Tennis Bonus: Grab Surprise Gifts Every Monday During the Australian Open
January 17, 2017
Tennis Bonus - Australian Open Giveaways
Promo Type
Giveaways/Free Bets/Specials Bonus
Promo
Roland Garros Packages
Travel Vouchers
Risk Free Bets and Live Casino Free Chips
Bonus Code
None
Cashable
No
Wagering Requirements
1x with minimum odds of 1.50 (1/2)
Valid Until
Week 1: January 16 - 22 (get your present on Jan 23)
Week 2: January 23 - 29 (get your present on Jan 30)

Accepted Countries
Sweden, Finland, Norway, Poland, Germany, Iceland, Netherlands, Peru and Brazil
Claim special sports giveaways with Betsson's Tennis Bonus while the first major event of 2017 is in full swing.
There's no chance you can let this one slip by your fingers! Bet on the hottest matchups during the Australian Open for a shot to scoop cool giveaways with the special Tennis Bonus! All you have to do is place a €20 wager (or more) on any of the tennis matches during the week to qualify for the Tennis Bonus, that can see you get present the following Monday.
Week 1 is active for the first week of the Australian Open (Jan 16-22), while Week 2 is valid for the subsequent week (Jan 23-29). Tennis Bonus giveaways will be given out to the lucky players the following days, after Week 1 and Week 2 have ended. You'll receive the specials presents from Betsson's Tennis Bonus at random, which entitles you to any of the three packages: Roland Garros Packages,  Travel Vouchers and Risk Free Bets and Live Casino Free Chips.
(For more info about the online sportsbook, take a look at Betting Herald's Betsson Sports Review – you can find daily promotional offers and great sportsbook bonuses.)
NOTE: the presents won with the Tennis Bonus cannot be redeemed or exchanged for cash, so make sure to use them up in time before they expire.
Betsson Sports is giving out two special Tennis Bonus presents during the promo campaign that runs out on January 29. Be quick, be first and you could be the one to get your hands on any of the following presents:
Ronald Garros Packages: there are a total of 4 packages for two, and that includes flight tickets to Paris, hotel stay and most importantly, match tickets to the thrilling tennis events.
Travel Vouchers: the special Tennis Bonus gives out 4 travel vouchers that are worth a whopping €1,500/€1,000 each.
Risk Free Bets and Live Casino Free Chips: bet on the Australian Open to win this Free Bet and Free Chip bonanza that carries Risk Free Bets worth €100, €50, €25, €10 and €3, while the Live Casino Chips go up to €20 in value.
(Check out Gambling Herald's Betsson Casino Review for more details on the online casino that features some of the best classic table games and huge portfolio of online slots.)
Join Betsson Sports today and place your €20 bets on the hottest matches of the Australian Open to qualify for the special Tennis Bonus giveaways!
[maxbutton id="393″]
Join Betsson Sports and open your Tennis Bonus on Monday!