Betting Odds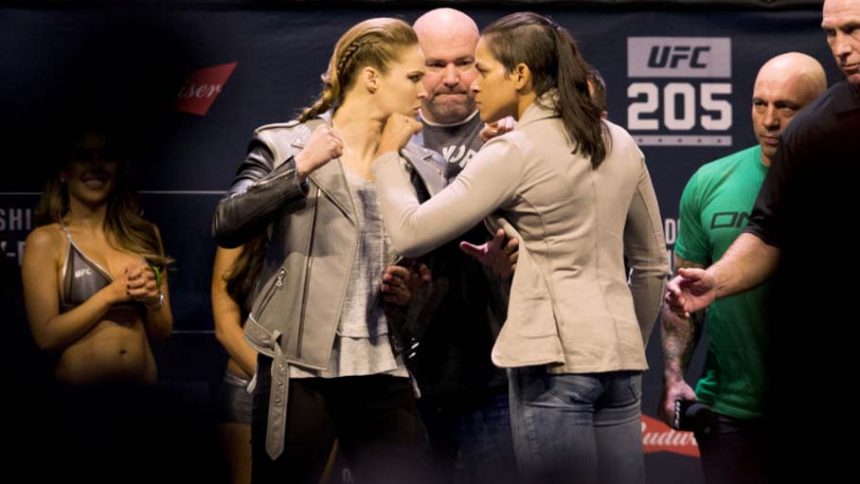 UFC 207 Amanda Nunes vs Ronda Rousey Betting Odds & Predictions
December 30, 2016
UFC 207 is just around the corner and the fans are about the witness breathtaking fights. The major match is indeed will be Amanda Nunes vs Ronda Rousey.
This week's UFC 207 fights are quite exciting. The main match is Amanda Nunes vs Ronda Rousey. The Arm Collector Rousey has not been in a fight for 13 months since the last fight which ended in Holly Holm's KO victory in Melbourne, Australia.
The former women's bantamweight champion's opponent is the current champion Amanda Nunes. The Brazilian Lioness won 13 out of 17 professional fights so far. Is it a matter of curiosity among the UFC fans whether Nunes can retain her title against Rousey in T-Mobile Arena Las Vegas tonight.
According to the latest online boxing betting news, Rousey has menaced Nunes via her Instagram account. She implied that she is in a better physical condition than the time when she defeated Cat Zingano in 14 seconds. The same Cat Zingano defeated Amanda Nunes 2 years ago in UFC 178 competition.
Rousey seems to be determined to reclaim her bantamweight title. She won her last two title defense matches in 30 seconds in total which makes her a stern opponent for The Lioness. Her shredded muscles and cool Instagram pictures are not enough to point her out as the favorite of the Amanda Nunes vs Ronda Rousey fight. Nevertheless, her determination is something a bettor cannot ignore. Which determination? Hmm this one:

Or maybe this one:
These are all part of the show of course; however, we know that Rousey has been watching Rocky movies and training in the mountains for her return. She will do whatever it takes to reclaim the belt from Nunes.
While Rousey prepares herself for the challenge, Amanda Nunes doesn't go hiking in the forest with her championship belt.
Nunes also has been exhibiting her shredded abs to let Rousey know that she is also in good shape and getting ready to defend her title.
Amanda Nunes vs Ronda Rousey Betting Odds
Before we get into Amanda Nunes vs Ronda Rousey betting odds, it is better to mention what the professionals think about this exciting UFC 207 fight. MMA writer Brandon Wise claimed that Rousey is the best female UFC fighter ever. She is so pissed off that she will perform her best to make a point. Therefore, it is hard to bet against her.
According to columnist Bill Reiter, Nunes is an unusual opponent for Rousey. The Arm Collector's many opponents were submissive; but, Nunes is a real fighter who will come back whenever she falls.
The latest UFC 207 online betting odds indicate that Ronda Rousey has the advantage against Amanda Nunes. One of the best USA online betting sites to bet on UFC Bovada Sports has set Ronda Rousey's odds to beat Amanda Nunes in UFC 207 fight as -175 (1.57). The Brazilian fighter's odds to defend her title are +145 (2.45). Click her to bet on Amanda Nunes vs Ronda Rousey at Bovada Sports! Don't forget that new players get 50% up to $250 welcome bonus at Bovada Sports.
The popular UK sportsbook bet365 has set Rousey's odds to win the match as 1.62 (31/50) while Nunes odds are scaled at 2.30 (13/10). Click her to bet on Amanda Nunes vs Ronda Rousey at bet365! New players get 100% up to €100 welcome bonus at bet365 Sports.
Another well-known online betting site that accepts bets on Amanda Nunes vs Ronda Rousey fight is Betsafe. Like the other online betting sites, Betsafe also favors Rousey against Nunes. The American fighter's odds to win the game are 1.60 (3/5) while her opponent's chances to clinch to the belt are 2.33 (133/100). Click her to bet on Amanda Nunes vs Ronda Rousey at Betsafe!  If you bet €10, you will get €20 free bet at Betsafe!