American Football Betting Promotions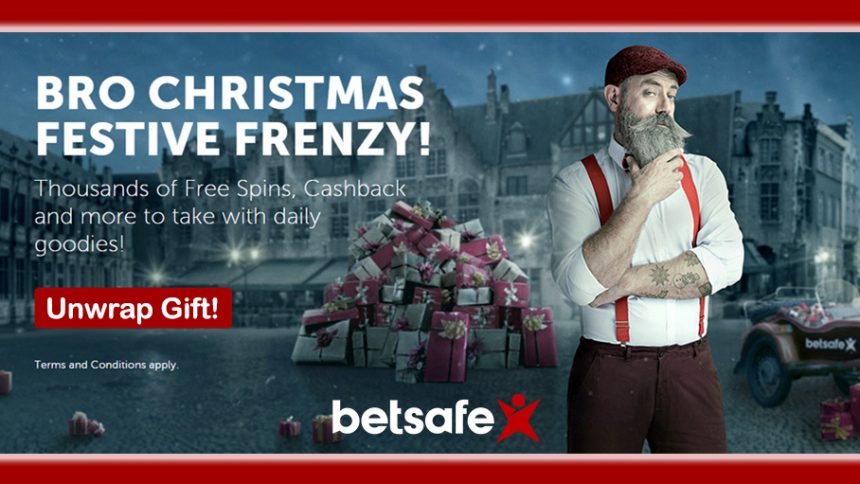 Unwrap Free Bets, Bonuses and All Sorts of Cool Prizes with Betsafe's Christmas Sports Giveaways
December 8, 2016
Christmas Sports Giveaways
Promo Type
Giveaways/Free Bet/Cash Back/Deposit/Match/Mobile/Specials Bonus
(Online Casino: Free Spins/Casino Bonuses/Reloads)
Promo
BETSAFE SPORTS:
Giveaways (sports items + gadgets)
Santa's Ladder Campaign
Mobile Profit Boost: €50
Sportsbook Year Long Promo: €10 Free Bet every week for the whole of 2017
Manchester City Experience
ATP Finals
Africa Cup of Nations: €10 Free Bet every day of the Cup
US Sports Jersey Giveaway
Virtual Sports Free Bonus Money
2.5K Gadget Thursdays

BETSAFE CASINO:
Free Spins: up to 80 Free Spins (Mobile: up to 110 Free Spins)
Deposit Bonus: 25% up to €50
Jackpot Leaderboard: Mega Fortune slot + Mega Fortune Dreams
Casino Bonus: up to €100
Casino Cashback: 25% up to €500
Mini Riddler
Slots Battle: 10 Free Spins
4K Tournament
Super Spins Draw: 10 Free Spins (weekly)


Cashable
Yes
Wagering Requirements
Relative to the type of bonus
Valid Until
January 3, 2017
Restricted Countries
Afghanistan, Algeria, Angola, Bahrain, Belgium, China, Cuba, Denmark, Eritrea, Estonia, Ethiopia, France, Guadeloupe, Guyane (French Guiana), Hungary, Hong Kong, Indonesia, Jordan, Iran, Iraq, Italy, Kuwait, Libya, Malaysia, Martinique, Mauritania, Mauritius, Morocco, Norfolk Island, N. Korea, Oman, Pakistan, Qatar, Rwanda, Saudi Arabia, Sudan, Somalia, South Sudan, Spain, Syria, Turkey, Tunisia, UAE, Yemen, United States and its dependencies, military bases and territories including but not limited to Am. Samoa, Guam, Marshall Islands, N. Mariana Islands, Puerto Rico, and Virgin Islands
Betsafe has gone all out this festive period with their exclusive Christmas Sports Giveaways; win anything from Free Bets and Giveaways to Free Spins and Cashbacks at their online casino!
There's no other Xmas offer like Betsafe's Christmas Sports Giveaways that gives out awesome rewards daily, both you the online sportsbook section and the online casino. Enjoy best of both worlds; bet on your favourite sportsbook club and win some cool memorabilia, while then two second later you're using the Free Spins on the hottest slot and give your huge massive winnings!
That is the Betsafe way, "In it to win it" all the way baby!
Unlike most Christmas Sports Giveaways, Betsafe's December Calendar will see you to claim rewards long past Xmas. You have the chance to claim prizes every single day until January 3, which means that Betsafe's Christmas Sports Giveaways extends the gift winning deal almost 10 days longer than the one that seen at other online sportsbooks.
(Check out Betsafe Sports Review at Betting Herald for more details on the online sportsbook – make sure to claim the sportsbook bonuses on offer and bet on a range of markets.)
The online sportsbook features all of the following prizes that you win with the Christmas Sports Giveaways: Giveaways, Free Bet, Mobile Profit Boost of €50, ATP Finals tickets, Free Bets for Africa Cup of Nations, US Sports Jersey, Virtual Sports Free Bet Bonus and and the 2.5 K Gadget Thursdays.
But the greatest gifts – in our opinion – are the Man City Experience and the Sportsbook year Long Promo that can see you receive €10 Free Bet every single week all throughout 2017, which equates to €520 Free Bet! Just imagine the score that you can win by placing this on your favourite betting markets; it's practically a robbery!
Players that like to combine sports betting and online casinos, check out the list of presents that Betsafe's Santa has will bring to you under the tree of Christmas Sports Giveaways: various Free Spins offers that will rewarded you with up to 80 Free Spins on desktop and up to 110 Free Spins if you play on mobile, two Casino Deposit Bonuses (one of 25% up to €50 and the other one is worth €100), Slots Battle of 10 Free Spins, 4K Tournament, Mini Riddler, and let's not forget about the Casino Cashback offer that gives out 25% up to €500!
And the best part about the Casino Bonuses are the Jackpot Leaderboard that's valid for two games (Mega Fortune slto and Mega Fortune Desires Dreams slot), and the a similar deal that you stand to make at the online sportsbook, only this one can see you get 10 Free Spins weekly for the entire 2017, when you unwrap the Super Spins Draw.
What are you waiting for? An invite from Santa? Head on over to Betsafe ASAP and start collecting prizes today with the Christmas Sports Giveaways, all the way until January 3, 2016!
[maxbutton id="359″]
Receive the best gifts this December with Christmas Sports Giveaways!