American Football News
Zinedine Zidane Gets Re-Appointed as Real Madrid Manager
March 12, 2019
Picture Credit: BBC
Zinedine Zidane has returned to the Bernabeu dugout just 10 months after leaving the post.
Zidane is raring to get started again
After a string of poor results both domestically and in Europe, Real Madrid have sacked Santiago Solari and decided to hand the job to the man that has brought them 3 straight Champions League titles – Zinedine Zidane.
The Frenchman's second spell with the club comes as a complete surprise, considering he's left the same position last May,just days after winning the Champions League against Liverpool.
His appointment also marks Real Madrid's third manager this season; former Spain manager Julen Lopetegei was selected as the man to lead the club post- Zidane, before he was replaced by Solari who has now also lost his job.
Nobody can take the excitement that I have to get back to coaching and ensure that the team performs better away from me," said the 46-year-old.
"I'm feeling good and am happy to be back.I'm delighted to be back working at this great club and with this squad of players. When the president called, the first thing that I thought about was coming back and here I am. This is an important day and I'm here because I really love this club."
Despite football betting sites in Spain initially linking Jose Mourinho (another former Real Madrid manager) with the managerial position, the Bernebau's hierarchy opted to give to the 1998 World Cup winner with France.
Real Madrid president Florentino Perez is rumoured to be willing to sanctions a massive squad overhaul by giving Zidane a €300 m transfer kitty. It is widely thought Chelsea's Eden Hazard tops the list of potential targets, as the Frenchman is a known admirer of the Belgian forward. Some of the other stars on the list are: Neymar, Kylian Mbappe and Harry Kane, among others.
Can Zinedine Zidane do wonders for Real Madrid in his second coming?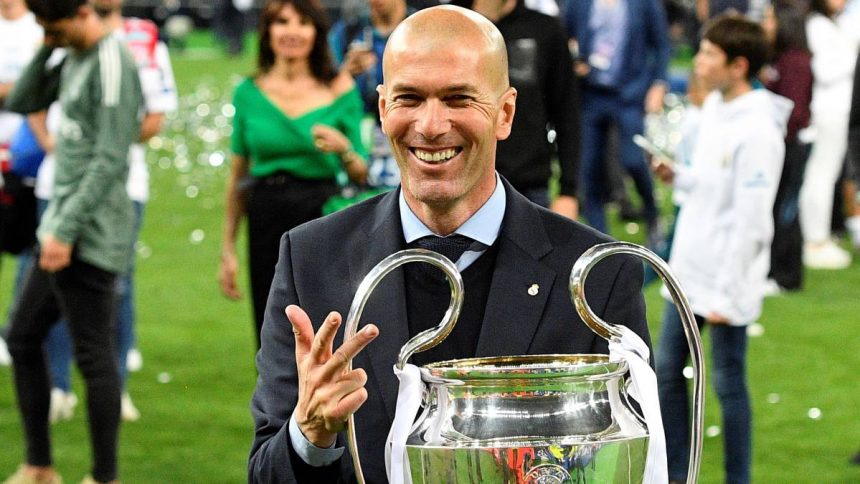 Real Madrid are languishing in 3rd position in La Liga with 51 points to their name, and with only 11 games to go until the end they have to make sure to collect as many points as possible to stay in the top 3. Any lower side would be flying high if they were in 3rd, but not the royal club; everything except the 1st spot isn't deemed good enough.
To make matters worse, even their crosstown rivals Atletico Madrid sit 5 points above them on the table and they're not showing any signs of relenting their position. Barcelona on the other hand are the league favourites per football bettingsites in Spain, having attainted a comfortable positon at the top of the table with 63 points.
When Real Madrid dismissed Rafael Benitezon January 4, 2016, they decided to hand over the post to the inexperienced Zidane, who, at the time, only had managerial experience with the Real Madrid Castilla team (the club's youth setup).
After putting pen to paper on a two-and-a-half year deal with the Bernabeu side, the fans immediately took a liking to his appointment, considering he's one of the club's greatest legends that has brought them their 9th Champions League crown as a player back in 2002.
No one expected him to do anything out of the ordinary, especially since he had no prior experience of managing a side at the top level. Nonetheless, Zidane pulled off a massive coup when he defeated Atletico Madrid in the final of Europe's elite competition in his first season as a manager, and thus delivered the 11th Champions League.
He repeated the feat the following season by overcoming Juventus in the final (no club has managed to defend a CL title in the modern format of the competition), while also adding a La Liga title to his impressive list of accomplishments.
And in his third and final season (2017/18) with Los Balncos, Zidane replicated the success of sides from the 1970s (Ajax and Bayern Munich) that managed to win 3 straight European titles.