Accumulator Bonuses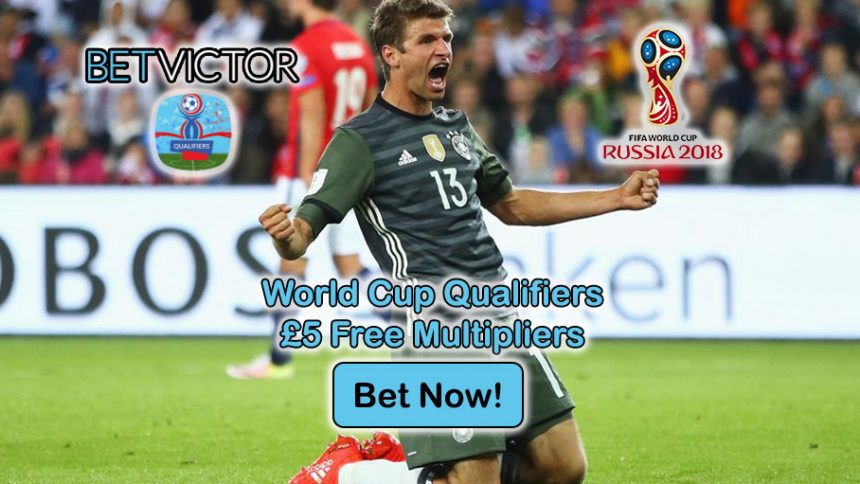 Collect £5 Free Multiples for WC Qualifying Matches
October 5, 2016
| | WC Qualifying Free Multiples | |
| --- | --- | --- |
| | Promo Type | Accumulator/Specials Bonus |
| | Promo | £5 Free Multiple Bet on WC Qualifiers |
| | Cashable | Yes |
| | Wagering Requirements | None |
| | Valid Until | October 8, 2016 |
| | Restricted Countries | Azerbaijan, Burkina Faso, Georgia, Greece, India, Iran, Japan, Kazakhstan, Kyrgyzstan, Macau, Macedonia, Montenegro, Nigeria, Russia, Slovakia, Slovenia, Taiwan, Thailand & Vietnam. |
Back any national side for the current World Cup qualifiers and claim £5 Free Multiples to use on other matches during the period.
Russia 2018 is only 600 days away and all the nations are gearing up to face one other in round 2 of the World Cup qualifiers. With BetVictor offering £5 Free Multiples during the current international break, you stand to earn a tidy sum for your efforts, if you back the right teams!
Make a £10 multiple wager (treble or higher) on any match of World Cup qualifiers (all markets apply) and you'll receive a cool £5 Free Multiples that can be used on other qualifying matches for Russia 2018. But just make sure to use the most of your time; this offer is open until October 8 (Saturday), so you only have a few days remaining until the end of the Free Multiples campaign.
And remember, you can place a bet on any matches during this qualifying period, regardless of the continent. This means bets on the Americas, Europe, Africa, Asia and Oceania all count towards your £5 Free Multiples.
(Check out BetVictor Sports Review for more details about the online sportsbook – it offers a range of sportsbook bonuses and niche betting markets.)
Russia 2018 will mark the first time the tournament will be played on European soil since 2006 (Germany), after South Africa and Brazil hosted the 2010 and 2014 World Cups respectively. Germany – the defending champions – are the favourites to lift the World Cup in Russia 6.00 (5/1), which would see them become the first side since to win back-to-back titles since the legendary Brazil team that won the 1958 and 1962 editions of the competition.
Argentina are second in the running 8.00 (7/1), while Brazil are third favourites 9.00 (8/1) to win their sixth World Cup crown. Some of the other nations that a realistic chance (according to sportsbook odds) of clinching the most coveted trophy in football are: Spain 10.00 (9/1), France 11.00 (10/1) and England 15.00 (14/1).
Here are some of the most exciting match-ups you can expect this Word Cup qualifying campaign:
Turkey v Ukraine – H 2.25 (5/4) D 3.30 (23/10) A 3.50 (5/2)
Italy v Spain – H 3.125 (85/40) D 3.00 (2/1) A 2.625 (13/8)
Iceland v Finland – H 1.70 (7/10) D 3.70 (27/10) A 5.75 (19/4)
Austria v Wales – H 2.30 (13/10) D 3.25 (9/4) A 3.50 (5/2)
Germany v Czech Republic – H 1.20 (1/5) D 6.50 (11/2) A 15.00 (14/1)
Place a bet on World Cup qualifiers now and earn yourself an added bonus of £5 Free Multiples!
Grab your £5 Free Multiples now!