Accumulator Bonuses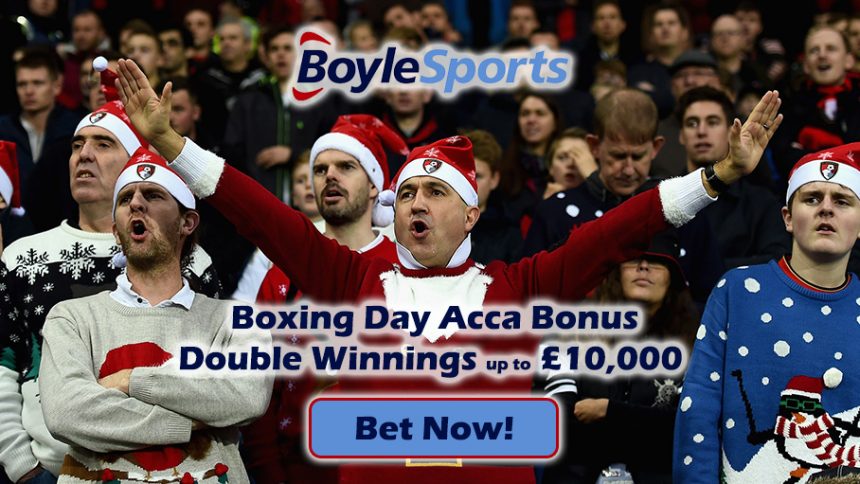 Double Your Winnings This Xmas with Boxing Day Acca Bonus!
December 22, 2016
Boxing Day Acca Bonus 5+
Promo Type
Accumulator/Free Bet Bonus
Promo
Double Winnings on 5+ Accas
(Max Bonus up to £10,000 Free Bet)
Cashable
No
Wagering Requirements
None
Valid Until
December 26, 27 & 28, 2016
Restricted Countries
Germany, USA, The Netherlands, Turkey, Spain, Denmark, Italy, Greece, Switzerland, Serbia, Israel, Poland, Cyprus, France, China, Belgium, Canada, Singapore, North Korea, Iran, Algeria, Ecuador, Indonesia, Myanmar, Afghanistan, Albania, Angola, Guyana, Iraq, Kuwait, Lao, Namibia, Nicaragua, Pakistan, Panama, Papua New Guinea, Sudan, Syria, Uganda, Yemen, Zimbabwe and Cambodia
Make a bet slip with 5+ Premier League selections to double your winnings with the special Boxing Day Acca Bonus at BoyleSports!
In case your missus doesn't 'give you some' for Christmas, BoyleSports sure will! Bet on the hottest Premier League Xmas action with the Boxing Day Acca Bonus and you'll be in line to double your earnings all the way up to £10,000 Free Bet.
Just simply place 5+ football selections with Boxing Day Acca, and if ALL the sides on your bet slip score in their respective matches, your winnings will be doubled in Free Bets. Note: if even one club that you've included on your bet slip fails to score a goal, the double winnings will be void.
Make sure you select markets that offer odds of 1/3 (1.33) or greater for it to count towards the Boxing Day Acca Bonus. This offer is mainly valid for December 26 (Boxing Day), as eight of the Xmas games are set to take place on that day, but the good news is the Boxing Day Acca Bonus will also be open for the remaining matches in round 18 of the English top flight. So make sure to place bets on encounters scheduled for the 27th and 28th December as well, to maximize your earnings.
(For more details about the online sportsbook, take a look at BoyleSports Review – you can find an assortment of sportsbook bonuses coupled with niche markets.)
This year, the Premier League doesn't have any big derbies scheduled for Boxing Day, but that's actually a blessing in disguise considering that teams are evened out, thus creating bigger odds and as a direct result, bigger earnings for the special occasion.
Chelsea are leading the Premier League table with 43 points from the 17 rounds so far, and they've been enjoying impeccable form for the past three months that has seen them win all of their previous eleven encounters in the league. When they face Bournemouth at Stamford Bridge on Boxing Day, they could easily extend that incredible lead to twelve straight winnings games.
Double your winnings up to a staggering £10,000 Free Bet this Christmas with Boxing Day Acca Bonus!
Liverpool are in second (37 pts), while Man City (36 pts) and Arsenal (34 pts) are trailing behind in third and fourth, respectively. It seems that at this point the only managers that can challenge Antonio Conte's dominance at the top of the table are Jurgen Klopp and Pep Guardiola, as Arsene Wenger seems to have blundered yet again, after the Gunners have dropped down to fourth after two successive defeats.
Make your bet slip for the Boxing Day Acca Bonus with any of the selections below:
Watford v Crystal Palace – H 13/10 (2.30) D 23/10 (3.30) A 2/1 (3.00)
Arsenal v West Brom – H 1/3 (1.33) D 15/4 (4.75) A 17/2 (9.50)
Chelsea v Bournemouth – H 2/5 (1.40) D 7/2 (4.50) A 13/2 (7.50)
Leicester v Everton – H 29/20 (2.45) D 23/10 (3.30) A 15/8 (2.88)
Hull City v Man City – H 17/2 (9.50) D 4/1 (5.00) A 3/10 (1.30)
In case you don't already have an account with BoyleSports, this is the perfect opportunity to do so! Register with the online sportsbook today and place 5+ Premier League Xmas selections to double your winnings up to £10,000 Free Bet with Boxing Day Acca Bonus!
[maxbutton id="375″]
Make a killing with Boxing Day Acca Bonus!