Basketball Betting Promotions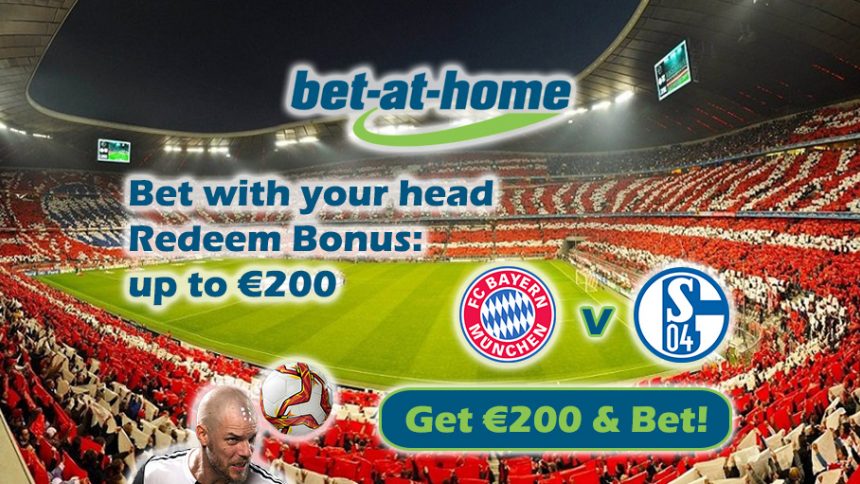 Earn up to €200 Sports Betting Bonus & Bet on Bayern v Schalke Derby
February 3, 2017
Sports Betting Bonus
Promo Type
Deposit/Specials Bonus
Promo
Up to €200
Cashable
Yes
Wagering Requirements
3x (with odds of 2.00 (evens) or higher)
(German customers and players who deposited over €400, must roll over €1,890)
Valid Until
February 13, 2017
Accepted Countries
Austria, Bosnia and Herzegovina, Croatia, Czech Republic, Cyprus, Finland, Germany, Gibraltar, Great Britain, Ireland, Italy, Liechtenstein, Malta, Montenegro, Netherlands, Poland, Serbia, Slovakia, Slovenia, Sweden, Switzerland
Let's get straight to the point, just like Germans do! Claim your Sports Betting Bonus and back a side in this weekend's thrilling Bayern v Schalke match.
You'll know what's good for you; we don't need to convince why the Sports Betting Bonus is useful when you're betting on some of the hottest betting markets with bet-at-home Sports! This is a limited time offer, so if you want to have an edge when placing wagers with the online sportsbook, claim 50% up to €200 with the Sports Betting Bonus before it expires on February 13.
Bonus Code: please make sure to use the following code to get your Sports Betting Bonus: BET17.
There's nothing to it, all you have to do is log into your account with bet-at-home Sports and click on the 'Redeem Bonus' in the account management section of the site. After that, enter the Bonus Code that we provided above, and voila! You'll instantly be entitled to the 50% Sports Betting Bonus that can see you get all the way up to €200!
Bayern v Schalke – H 1.22 (11/50) D 6.33 (53/10) A 12.42 (57/5)
EXTRA INFO: the Sports Betting Bonus is also known as 'Bet with your head' – a campaign by bet-at-home Sports that's aimed at promoting smart bets, considering the slogan is derivative of the expression 'think with your head.' But the campaign is only open until February 13, which leaves the window of opportunity open for a limited time span.
(Check out bet-at-home Sports Review for more info about the online sportsbook – it specializes in German sports leagues and offers great sportsbook bonuses.)
Use the opportunity extended with the Sports Betting Bonus to bet on the Bayern V Schalke match at the Allianz Arena this weekend (February 4, 15:30 – GMT+1). Die Roten have clinched four-straight Bundesliga titles since 2013, however this season they've encountered some unexpected competition in the form of RB Leipzig.
The Red Bull sponsored team have made great efforts to make their mark in the German top flight, and they're currently in second position on the table with 42 points, merely three points behind the leaders Bayern Munich. Carlo Ancelotti's men need all the points they can get this season, if they want to defend the title, so they'll be aiming to seal another victory this weekend when they receive a visit at the Allianz Arena from Schalke, who are in 11th spot with only 21 points from 18 rounds in the Bundesliga.
Don't waste time, get in on the action now and claim the Sports Betting Bonus to receive 50% up to up to €200. After that, check out any of the betting markets offered by bet-at-home Sports and place your wagers to maximize on the special bonus offer.
[maxbutton id="417″]
Grab your €200 Sports Betting Bonus today!