Betting Odds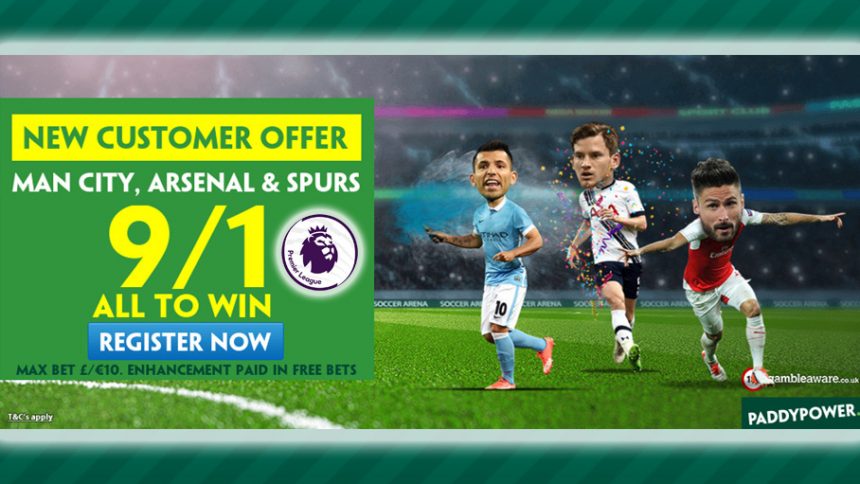 Today's Enhanced Offer 10.00 (9/1): Man City, Arsenal and Spurs All to Win
October 13, 2016
| | Today's Enhanced Offer | |
| --- | --- | --- |
| | Promo Type | Enhanced Odds/Free Be Bonus |
| | Promo | 10.00 (9/1) Man City, Arsenal and Spurs All to Win |
| | Cashable | Yes |
| | Wagering Requirements | None |
| | Valid Until | 15:00 BST - October 15, 2016 |
| | Accepted Countries | UK and Ireland (only) |
Back the biggest Premier League sides this weekend and win £100 with Today's Enhanced Offer!
Bet on Man City, Arsenal and Spurs to be victorious against their opposition and earn yourself an easy £100 for a minimal investment. Maximize your earnings for round 8 by placing a £10 wager on the Premier League trio before 15:00 BST this Saturday (October 15) and walk away with ten times that amount!
We know, we know, it's too easy considering the sides playing, but some things that sound too good to be true actually are that good! And that's especially the case with Today's Enhanced Offer at Paddy Power.
The qualifying games for Today's Enhanced Offer are:
Man City v Everton
Arsenal v Swansea
West Brom v Tottenham
(Check out Paddy Power Sports Review at Betting Herald for more info about the online sportsbook – you can find tons of daily sportsbook bonuses to aid your betting efforts.)
You'll get your winnings – if all three of the sides win – based on the normal odds on the site, while the rest of the winnings will be paid out in Free Bets. Overall, this adds up to 10.00 (9/1) odds advertised with Today's Enhanced Offer for the Premier League trio.
The international break saw all top flight action across Europe suspended for a fortnight, so use this chance to make up for the lost time with some of the highly anticipated games this weekend:
Chelsea v Leicester City – H 1.60 (6/10) D 4.00 (3/1) A 5.50 (9/2)
Stoke v Sunderland – H 2.04 (21/20) D 3.40 (12/5) A 3.75 (11/4)
Crystal Palace v West Ham – H 2.15 (23/20) D 3.30 (23/10) A 3.50 (5/2)
Liverpool v Man United – H 2.20 (6/5) D 3.30 (23/10) A 3.50 (5/2) (Monday, October 17)
The last match of round 8 will see Anfield host one of the greatest and oldest rivalries in English football – Liverpool v Man United. It will see 'The Normal One' clash with the 'The Special One' which should bring all the more excitement to the match. The two sides have faced one another a total of 224 times until this point, with the Old Trafford side claiming the bragging rights with 87 victories, while 75 games ended in favour of the Reds and 62 resulted in draws.
The Liverpool v Man United match will take all the limelight, but don't forget to back Man City, Arsenal and Spurs all to win this weekend as well! Use Today's Enhanced Offer for the Premier League trio and scoop £100!
Win £100 with Today's Enhanced Offer!