Betting Odds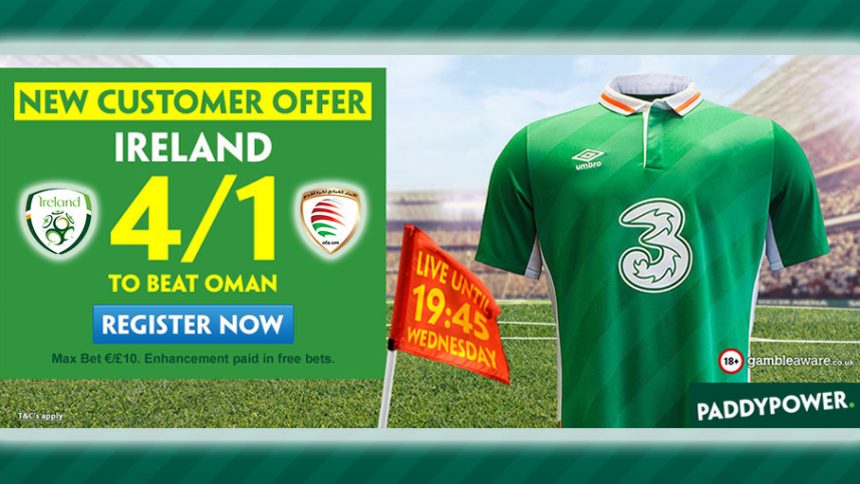 Today's Enhanced Offer: Ireland 5.00 (4/1) to Beat Oman in Friendly International Match
August 31, 2016
| | Today's Enhanced Offer | |
| --- | --- | --- |
| | Promo Type | Enhanced Odds/Free Bet Bonus |
| | Promo | 5.00 (4/1) Ireland to Win Against Oman |
| | Cashable | Yes |
| | Wagering Requirements | None |
| | Valid Until | 19:45 BST - August 31, 2016 |
| | Accepted Countries | UK and Ireland (only) |
Place a wager up to £10 on Ireland to win in tonight's Friendly International against Oman to win up to £50 with Today's Enhanced Offer at Paddy Power. It's that simple! But just make sure to hurry up since this offer expires at 19:45 BST!
If Ireland clinch a victory against Oman tonight, Paddy Power will credit your account with cash based on the normal price on the site, while the rest of the winnings will be paid out in Free Bets. This will take your total winnings with Today's Enhanced Offer to the 5.00 (4/1) odds.
Note: Today's Enhanced Offer for Ireland is open to customers from the UK and the Republic of Ireland. But there are tons of other offers from Paddy Power on a daily basis.
(For more info about the online sportsbook, check out Paddy Power Sports Review at Paddy Power.)
Out of their last ten games, Ireland have won three, drawn 4 and lost on four occasions, but considering their superior ranking and greater experience at major tournaments, the encounter against Oman should be a routine victory.
Besides Today's Enhanced Offer for Ireland, Germany is also 3.00 (2/1) to beat Finland. If you're feeling extra lucky today, make a double wager with both Ireland and Germany on your bet slip with Today's Enhanced Offer and collect nearly £80 on a mere £20 wager (£10 on Ireland and £10 on Germany)!
Check out some other Friendly International matches set for tonight:
Norway vs Belarus – H 1.66 (4/6) D 3.50 (5/2) A 5.50 (9/2)
Turkey vs Russia – H 2.50 (6/4) D 3.20 (11/5) A 2.75 (7/4)
Albania vs Morocco – H 2.29 (13/10) D 2.87 (15/8) A 3.30 (23/10)
Support the Boys in Green for tonight's match against Oman with Today's Enhanced Offer 5.00 (4/1)!
Win £50 with Today's Enhanced Offer 5.00 (4/1)!