Betting Odds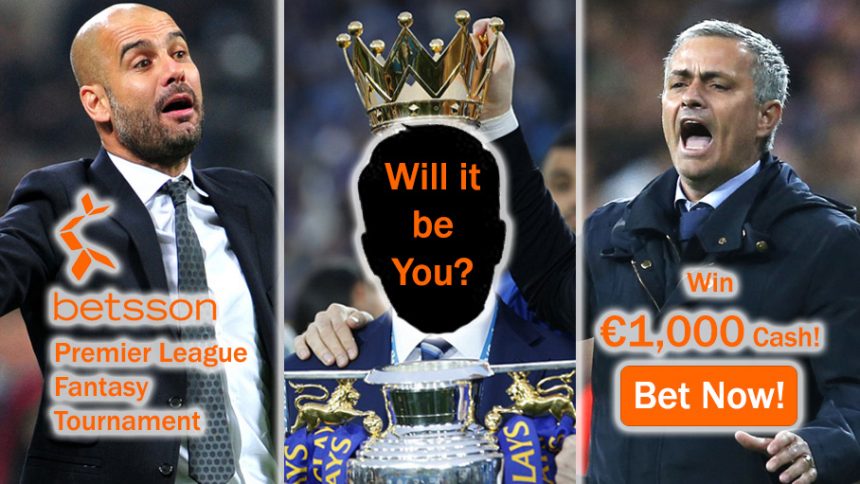 Win €1,000 Cash with Betsson's Premier League Fantasy Tournament
September 6, 2016
Premier League Fantasy Tournament
Promo Type
Cash/Tournament/Specials/Free Bet Bonus
Promo
€1,000 Cash
(Risk Free Bets: €50 + €20)
Bonus Code
128444-62261
Cashable
Yes
Wagering Requirements
Risk Free Bets: 1x (minimum odds 1.50 (1/2))
Valid Until
End of Premier League season (May 21, 2017)
Restricted Countries
Afghanistan, Algeria, Angola, Bahrain, Belgium, China, Cuba, Denmark, Eritrea, Ethiopia, France, Hong Kong, Indonesia, Jordan, Iran, Iraq, Italy, Kuwait, Libya, Malaysia, Mauritania, Mauritius, Morocco, Norfolk Island, N. Korea, Oman, Pakistan, Qatar, Rwanda, Saudi Arabia, Sudan, Somalia, South Sudan, Spain, Syria, Turkey, Tunisia, UAE, Yemen, United Kingdom United States and its dependencies, military bases and territories including but not limited to Am. Samoa, Guam, Marshall Islands, N. Mariana Islands, Puerto Rico, and Virgin Islands.
Create the best line-ups in the English top flight and scoop a four-digit prize with Premier League Fantasy Tournament!
Assemble the dream team and win all the biggest trophies in the 2016/17 campaign that includes a whopping €1,000 Cash Prize for you at the end of the season. Join the Premier League Fantasy Tournament today, create the best team and collect tons of Risk Free Bets, before going on to win the grand prize of €1,000 Cash!
The best part about the Premier League Fantasy Tournament is that it's 100% Free to register, so you don't have to make a deposit before you go on a winning run.
Firstly, choose the players that you want to have in your team and then join the Premier League Fantasy Tournament with the "Join League Code": 128444-62261. Personalize your dream team with a promising name (exp. 'Superstars FC'), and then submit your Betsson account email so you can collect Risk Free Bets and the €1,000 Cash Prize directly. And lastly, select Opt In to join the tournament and start making money while you're following all the thrilling Premier League action.
(Check out Betting Herald's Betsson Sports Review for more details about the online sportsbook.)
The Premier League Fantasy Tournament runs until the end of the season, but the sooner you join the bigger your rewards will be; not only in Risk Free Bets (range between €20-€50), but you'll also have a greater chance to claiming the €1,000 Cash Prize – the winner of the Grand Prize will be announced on May 21, 2017, so join now to get ahead!
After a short international break, the Premier League is back this weekend with Round 4 promising to deliver a host exciting encounters. The first match of this weekend (Saturday) will see Manchester United 2.37 (137/100) go head to head with cross-town rivals Manchester City 3.35 (47/20) at Old Trafford – in what will likely be a thrilling derby.
Later, Arsenal 1.61 (61/100) will host Southampton 6.20 (26/5) at the Emirates, while Tottenham 1.91 (91/100) will take on Stoke City 4.45 (69/20) away from home. Liverpool 1.64 (16/25) will face a tough challenge against Premier League champions Leicester City 5.40 (22/5) at Anfield, and Chelsea 1.62 (31/50) are set to play against Swansea 5.80 (24/5) on the road.
Join Betsson online sportsbook and assemble the best team in the Premier League Fantasy Tournament!
Collect €1,000 with Premier League Fantasy Tournament!