Betting Odds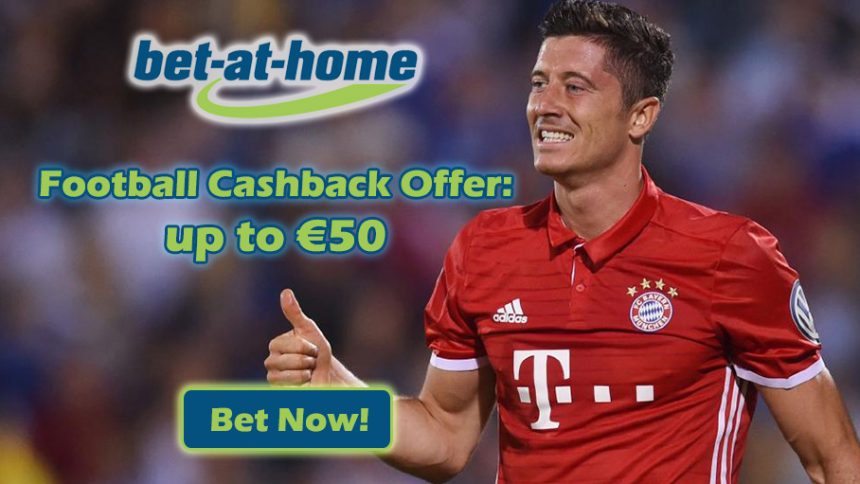 Stay Ahead of Your Competition with Football Cashback Offer: Money Back up to €50
January 19, 2017
| | Football Cashback Offer | |
| --- | --- | --- |
| | Promo Type | Cash Back/Insurance Bonus |
| | Promo | Up to €50 Cashback |
| | Cashable | Yes |
| | Wagering Requirements | 3x (odds: 1.50 (1/2) or higher) |
| | Valid Until | January 22, 2017 |
| | Accepted Countries | Austria, Bosnia and Herzegovina, Croatia, Czech Republic, Cyprus, Finland, Germany, Gibraltar, Great Britain, Ireland, Italy, Liechtenstein, Malta, Montenegro, Netherlands, Poland, Serbia, Slovakia, Slovenia, Sweden, Switzerland |
Insure your bets on the Bundesliga games with Football Cashback Offer to collect up to €50 in case any of your selections end with a scoreless (0:0) result after the final whistle.
The Bundesliga is back for the first time in 2017 this weekend, so get out your betnig money anc back your favourite clubs to make a killing in the first encounters of the new year. If any of the games end with a 0:0 end result, you can collect up to €50 with the Football Cashback Offer!
After 16 rounds in the German league, Bayern Munich are once again top of table (39 pts), after losing the grip on the No.1 spot for a short while to title rivals RB Leipzig. Dortmund on the other hand seem to have lost all hopes of landing the championship, finding themselves in sixth on the table (27 pts), a whole 12 points behind their fierce rivals. At this stage, only RB Leipzig could usurp Die Roten's ambitions of clinching their fifth straight Bundesliga plaque., considering they're only three points behind the league leaders.
Bayern will kick off the weekend action with an away match to Freiburg, so make sure to use this chance to begin Friday night in style with a wager on this match at bet-at-home Sports. The Bavarian side have won all of their last five encounters, while during the same period Freiburg have recorded two draws and two victories, and have suffered only one loss. That's why it might be wise to ensure your bet on this match with the Football Cashback Offer, in case the game ends with a 0:0 draw on the scoreline.
Freiburg v Bayern – H 10.94 D 5.74 A 1.24
(For more details about the online sportbook, take a look at bet-at-home Sports Review – it features some of the best Bundesliga offers and loads of sportsbook bonuses.)
Bayern Munich are top of the table, but not everything seems to be in order for some of their players. Last season, attacker Thomas Muller was firing on all cylinders when he bagged an incredible 32 goals across all competitions, while so far this campaign, he's only managed to find the back of the net once in the Bundesliga and 4 overall.
"I have no concerns at all," commented Carlo Ancelotti – Bayern Munich boss – about Muller's lack of form in front of goal. "He's a winner. He has an inner serenity, he never gets depressed. He's hugely positive and secure in what he does, and he can laugh at himself too."
Use the Football Cashback Offer on some of the following matches in round 17 of Bundesliga this weekend:
Werder Bremen v Borussia Dortmund – H 5.33 D 4.43 A 1.52
Schalke v Ingolstadt – H 1.79 D 3.48 A 4.44
Augsburg v Hoffenheim – H 2.75 D 3.24 A 2.51
Wolfsburg v Hamburger – H 1.88 D 3.45 A 4.02
Bayer Leverkusen v Hertha BSC – H 1.70 D 3.59 A 4.94
Join bet-at-home Sports today and place a bet on any of the thrilling encounters set for this weekend in the German top flight And don't forget to use the Football Cashback Offer to claim up to €50, just in case any of the matches end with a 0:0 draw.
[maxbutton id="396″]
Insure your wagers on the Bundesliga matches with Football Cashback Offer!